Panama Travel Insurance and Safety Tips for Visitors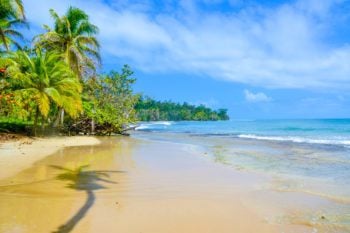 While Panama is one of the safest countries in Central America, you should keep a few things in mind to avoid issues during your trip. The variety of landscapes that make the country a great destination for any traveler is not without risk. The country's rainforests, beaches, volcanoes, and cosmopolitan cities all hold their own dangers. Read on to learn about travel safety and travel insurance for Panama.
Do I Need Travel Insurance for Panama?
Yes, visitors should have comprehensive Panama travel insurance that offers both trip and medical coverage. While it is not required to enter Panama, there are many reasons it's beneficial to have it. If you experience an emergency abroad, the last thing you want to worry about is the bill.
Travel Health Insurance
Panama City has several high-quality private hospitals and clinics, though hospitals in Panama have become more limited outside the capital. The quality of care you will receive at public hospitals varies greatly based on location. In the case of serious illness or injury, you may need a medical evacuation. Many providers will transfer you to the closest facility able to provide adequate care based on your injury. Evacuations can be extremely expensive, and you'll want comprehensive travel medical insurance for Panama to ensure you are covered for evacuations, hospital stays, or even repatriation to your home country if you require further treatment.
Trip Cancellation Insurance
Panama's rainy season goes from April to December; this overlaps with the hurricane season that occurs from Mid-May to the end of November. Small storms can quickly morph into serious hurricanes. Flooding from rains and damage from hurricanes can stop travel and prevent access to essential services. Furthermore, Western Panama is an active seismic zone. Earthquakes and tsunamis can occur without warning. If you are traveling to Panama, you will want trip cancellation insurance to protect you from last-minute changes, cancellations, or evacuations due to these natural disasters.
Also Read: What to Do if You Experience a Natural Disaster Abroad
Best Travel Insurance for Visitors to Panama
Below are some great options for Panama travel insurance. Make sure you tell your insurer how long your trip will be, what types of activities you plan to do, and any preexisting conditions you may have. Different travelers have different insurance needs, but you will want to make sure your plan covers last-minute changes, cancellations, and evacuations.
Best Travel Medical Insurance for Visitors to Panama
Best Travel Medical Insurance for U.S. Citizens in Panama
Best Trip Cancellation Insurance for Panama
Medical Preparation for Travel to Panama
What Vaccinations Do I Need for Travel to Panama?
From Certain Countries: Yellow Fever
If you are arriving from a country with a yellow fever transmission risk (such as Colombia or Ecuador), a vaccine certificate is required under international health regulations. When you receive the vaccine, you will also be given a vaccination certificate, known as the International Certificate of Vaccination or Prophylaxis (ICVP). You must carry this certificate with you as proof that you were vaccinated. As of 2016, WHO declared the certificate to be valid indefinitely. That means even if you have an older certificate with an expiration date written on it, it is now considered valid.
While not mandatory, if you plan to travel east of the Panama Canal, the vaccine is strongly recommended as there is a risk of yellow fever transmission in that part of the country. If you plan to stay west of the canal, in the canal area itself, or in Panama City, international guidelines do not recommend the vaccine.
Recommended Vaccinations for Travel to Panama
Other than the potential yellow fever vaccine, Panama does not require any additional vaccinations to enter the country. However, the CDC and WHO recommend travelers be up to date on all routine vaccines, such as measles-mumps-rubella (MMR), influenza and diphtheria-tetanus-pertussis (DTP) vaccines. For Panama, most embassies additionally recommend hepatitis A and typhoid due to the potential of contaminated food and water consumption. Depending on where you plan to travel in Panama, you may also want to consider taking an anti-malaria prescription medication. Speak to your doctor to help choose the best malaria medicine for your travel plans. Lastly, while rabid dogs are common in Panama, the rabies vaccine is only recommended for those who are considered more high-risk, such as animal handlers, adventure travelers, and/or those going to rural areas.
Make sure to visit your doctor at least a month before you depart to get any vaccinations or medicines you may need.
Read Also: 9 Immunizations You Should Have Before Traveling Abroad
How to Bring Medications to Panama
You can legally bring prescription or over-the-counter medications into Panama. However, you should follow these tips to reduce any potential issues: keep the medicine in its original packaging, make sure the name on the label matches your travel documents and carry a copy of your doctor's prescription with you. If you would like more information about the legality or availability of your specific medication in Panama, it is best to contact the embassy. You can find the contact information for your embassy in the Emergency Contact Information section below.
Read Also: Traveling With Prescription Medication Internationally
How to Access Medical Care in Panama for Visitors
Visitors can visit private or public facilities for care. Most expats in Panama choose to use private healthcare, although they may be eligible for the public system. The Ministry of Health (Ministerio de Salud, MINSA) and the Social Security System (Caja de Seguro Social, CSS) fund the public hospitals in Panama. If foreigners are working and paying taxes in Panama, they are entitled to medical coverage through CSS. Other visitors must pay out of pocket to be treated at CSS and MINSA facilities.
High-quality medical facilities are located in hubs around the country in areas such as Panama City, David, and Chitré. While smaller towns and villages tend to have MINSA-operated clinics that offer basic services, capacity is often severely limited in rural settings. Luckily, due to these medical hubs, you shouldn't have to travel too far if you need more advanced treatments.
Local Hospitals in Panama
The best hospitals in the country are found in Panama City, where there is a network of private hospitals available in exchange for direct payments. These hospitals are where most foreigners seek treatment due to the faster and better care available. Two of these hospitals, Pacifica Salud Hospital Punta Pacífica and Clinica Hospital San Fernando, are accredited by the Joint Commission International (JCI), a United States-based nonprofit organization, which is universally recognized as the gold-star standard of safety and quality of care.
Your Panama travel insurance provider will have recommendations for where to seek treatment based on your needs and location. Additionally, they are often able to help provide telehealth visits and connect you with a translator. Many doctors study abroad after completing their studies in Panama, so it isn't difficult to find an English-speaking doctor, especially in larger cities. Some hospitals allow you to make appointments through WhatsApp for non-emergencies and many hospitals have numbers to dial in case of emergency on their websites.
Read Also: Panama's Healthcare System
Travel Warnings and Alerts for Panama
The 2022 Global Peace Index rated Panama the second most peaceful country in Central America and the Caribbean, behind Costa Rica. Globally, the country is ranked in 61st place. In comparison, the United Kingdom holds 34th place, while the United States lags behind both at 129. Regardless of a country's rankings, you should always stay up to date with travel alerts for your destination. These warnings change frequently, and the following sources offer information about current alerts and warnings:
Additionally, U.S. travelers can sign up for the US Smart Traveler Enrollment Program. Enroll for your trip and get alerts during your time in Panama.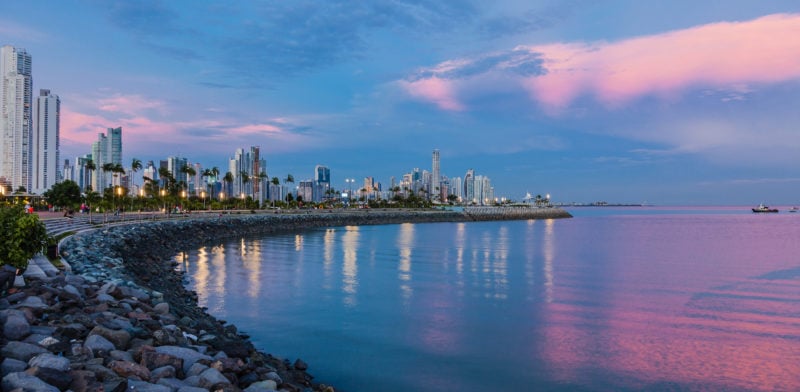 Emergency Contact Information for Panama
Emergency Assistance Numbers in Panama
If you experience a medical emergency in Panama, you can dial 911 for free on any phone. You can also call 104 to reach the police or 103 for an ambulance or fire brigade. However, it is probable the operators will only be able to communicate in Spanish.
If you don't speak Spanish, dial 178 for a hotline specifically for tourists where English-speaking operators are available. While they can help you receive assistance from Panamanian authorities, the number is more frequently used to get information on tourism, hotels, and visas. In Panama City, you can reach the Tourism Police at 511-9260.
Panama also has a Citizen Service Center that can be reached at 311 in the case of complaints or suggestions in regard to city services.
Embassy Phone Numbers in Panama
Below you can find contact information for your local embassy or consular services:
Avenida Demetrio Basilio Lakas, Building No.783
Clayton, Panama
Phone: (507) 317-5000
Fax: (507) 317-5568
Email: Panama-ACS@state.gov
Torres de Las Américas, Tower A, 11th Floor
Punta Pacifica, Panama City, Panama
Phone: (507) 294-2500
Fax: (507) 294-2514
Email: panam@international.gc.ca
Humboldt Tower, 4th Floor
Calle 53, Marbella
Panama City, Panama
Phone: (507) 297 6550
France Square, Conjunto Monumental de Las Bóvedas
Panama City, Panama
Phone: (507) 211-6200
Oficina No. 8 A y B, Edificio El Colegio II, Calle José de Obaldía & Calle 8va, San Felipe
Panama City, Panama.
Phone: (507) 6325 3852
Email: aushonconpanama@gmail.com
Sucre, Briceño & Co., Urb. Obarrio, Avenida Samuel Lewis y Calle 58
Panama City, Panama
Phone: (507) 306 1223
Fax: (507) 306 1020
Email: fsucre@sucrelaw.com
7 Tips for Safe Travel in Panama
1. Take Extreme Caution in the Darién and Mosquito Gulf Regions
These two regions have high levels of criminal activity compared to the rest of the country, including drug and human trafficking. Many countries, such as the United States and Canada, recommend avoiding these areas completely. If you plan to visit these areas, it is best to do so on a group tour and only to locations that are currently under the surveillance of the police.
2. Watch Your Valuables
Petty crime is common. Remain vigilant for pickpockets in public areas such as bus stations, airports and shopping centers. When possible, use ATMs located inside banks and place your valuables in hotel safes. Take caution walking alone after dark and avoid empty streets.
3. Protect Yourself From Mosquitoes
Mosquito bites are the most common health issue foreigners run into. Dengue fever is a frequent problem in Panama. If you are traveling to the jungle or tropical lowlands, bring bug spray with a high percentage of DEET. Wear lightweight, long-sleeved clothing when hiking in heavily wooded areas to avoid bites.
 4. Take Care in the Water
Many areas of Panama have strong currents and riptides. Most beaches do not have lifeguards, and they seldom have signs warning people of dangerous water conditions. Drownings occur every year; to stay safer, never swim alone.
5. Prepare for Natural Disasters
Panama is home to hurricanes, earthquakes, tsunamis and volcanic activity. To receive alerts if severe weather is headed your way, you can register with the Global Disaster Alert and Coordination System. Ensure your passport and travel documents are in a safe location. Identify local shelters and learn evacuation plans for different weather events. Follow local media sources and always heed the advice of local authorities.
6. Avoid Demonstrations
Political demonstrations occasionally occur in Panama, and they may sometimes turn violent. Avoid any areas where demonstrations occur and follow local media to stay up-to-date on the events.
7. Drive Defensively
Driving standards in Panama are not as regulated as you might be accustomed to in your home country. Panama has a good road system, but the lighting on roads is poor, and many people drive dangerously. Keep your windows up, doors locked, and be prepared for possible roadblocks.
Traveling Smartly in Panama
There is something for everyone in Panama, yet many of the activities or destinations the country is famous for come with risk. While Panama is generally safe, you never know when disaster may strike. Purchase travel insurance for Panama before you leave on your trip. You'll be prepared for unexpected delays, health emergencies or natural disasters. Your trip will be infinitely better if you know you are covered in the case of an emergency.
Related Articles: