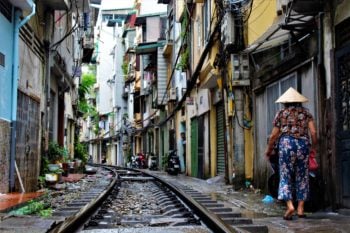 Travel Insurance and Safety Tips for Visitors to Vietnam
Tourism in Vietnam is booming. In 2018, Vietnam welcomed 15.5 million international arrivals, up from a paltry 2.1 million in the year 2000. Visitors range from backpackers and digital nomads to culture, food, and nature lovers, to those interested in military history, including returning veterans. They come for culinary experiences and cooking classes, for nature, photography, and kayak trips, and military history tourism. However, while tourism is an increasingly important part of Vietnam's economy, visitors who wander off the beaten path will encounter a country that still feels undiscovered by the hoards of tourists who visit Thailand and Cambodia. For all its attractions, most of Vietnam still feels quiet and neighborly. If you're planning to travel to Vietnam, here are some important health, safety, and travel tips you need for this remarkable country.
Related: Health Insurance in Vietnam for Expats and Foreigners
Travel and Trip Insurance for Visitors to Vietnam
While the cost of paying a la carte for public healthcare services in Vietnam is low, very often the standards are low as well. Private health insurance is highly recommended for extended stays in Vietnam. Private care means treatment in cleaner, more comfortable, and more private facilities. It also means access to state-of-the-art diagnostic equipment and multilingual staff.
Travelers should ensure their health insurance covers them for treatment outside Vietnam. Often, visitors will need to travel to Thailand, Singapore, or Kuala Lumpur for specialist treatments and medical emergencies. While this kind of cross-border care isn't as popular as it was in the past, it is still common for certain kinds of care.
Travel Insurance for Visitors to Vietnam
Travelers Insurance for U.S. Citizens Who Travel to Vietnam
Trip Cancellation Insurance for U.S. Citizens Traveling to New Zealand
Are Vaccines Required for Travel to Vietnam?
Like with all travel destinations, the Centers for Disease Control recommends visitors to Vietnam are up to date on all routine vaccinations. These vaccines include the measles-mumps-rubella (MMR) vaccine, the diphtheria-tetanus-pertussis vaccine, varicella (chickenpox) vaccine, the polio vaccine, and a yearly flu shot.
In addition to routine immunizations, the CDC also recommends anyone planning to travel to Vietnam is inoculated for the following:
Depending on where you are traveling in Vietnam, you may require the following additional vaccines:
Hepatitis B
Japanese Encephalitis
Dengue Fever
Rabies
As well, there have been cases of malaria reported in rural areas around the Mekong and Red River Deltas. If your travels will bring you to these areas, it's wise to speak with a travel medicine clinic before you go.
Understanding How to Access Medical Treatment in Vietnam
The good news about medical care in Vietnam is that it is greatly improving. Furthermore, the government is talking about developing a universal healthcare plan. However, the downside is that the quality of care is still extremely poor in most rural areas. In fact, in some of the most rural and remote areas, medical services are all but nonexistent. However, in urban areas, the outlook is more positive. That said, public hospitals are still often underfunded and equipped.
Fortunately, the standards of private hospitals are excellent, particularly in Hanoi and Ho Chi Minh City. Many doctors are Expats from the United States, Korea, Japan, and France. Many Vietnamese doctors in private hospitals have studied overseas. As such, patients can expect multilingual staff, a real bonus for visitors in need of care.
Vietnamese Pharmacy and Hospital Information and Tips
Pharmacies are well stocked and easy to find in Vietnam. However, expired products are sometimes a problem. It's a good idea to carefully check the packaging before you pay for your purchase. Occasionally, there are problems with counterfeit brand-name drugs. Visiting a pharmacy within a private clinic or hospital will reduce the possibility of receiving knock-off drugs.
There are two internationally accredited hospitals in Vietnam, one in Hanoi and one in Ho Chi Minh City. As well, new hospitals have been built in smaller cities, including Nha Trang, Vung Tau, and Phu Quoc. One particular brand name to keep an eye out for is Vinmec Health Care, which is currently operating four full-service hospitals and two outpatient clinics.
For non-urgent care, the Family Medical Practice runs well-regarded clinics in Da Nang, Hanoi, and Ho Chi Minh City. As well, SOS International operates clinics in Vung Tau, Hanoi, and Ho Chi Minh City that offer good quality care and English-speaking staff.
Staying Safe and Healthy When Visiting Vietnam
The tap water in Vietnam is non-potable. As such, visitors should only drink bottled or sterilized water. Ice cubes and food washed with tap water should similarly be avoided. This includes raw fruits and vegetables, like salads and smoothies. The old traveler's adage "Boil it, peel it, cook it, or forget it" applies to eating and drinking in Vietnam.
That said, some of the safest and most delicious food comes from street vendors. Look for busy vendors with fast-moving lines. That means food isn't sitting around in the heat. As well, locals know their neighborhood vendors well. They wouldn't line up to patronize any food stall with a bad reputation.
Emergency Numbers in Vietnam
Dial 115 for emergency medical care and ambulances in Vietnam
Dial *9999 for an emergency medical response service in English and Vietnamese
Dial 113 to access the police in an emergency
Dial 114 for fire emergencies in Vietnam
General Safety and Travel Tips for Trips to Vietnam
Plan in advance for your visa. Triple-check all of your information and have all your paperwork ready for the immigration officers. Travelers get turned away every day because they didn't properly prepare for their visa requirements.
Don't underestimate travel distances. For visitors from Canada, the United States, and Australia, Vietnam is but a tiny speck on a map. But when you're on the ground you soon learn that traveling from one point to another takes much more time than you estimated. For instance, the train from Hanoi to Ho Chi Minh City takes close to 35 hours by train – and even longer by bus.
When it comes to covering distances short or long, motorbikes are one of the most popular modes of transportation. However, they are also one of the most dangerous. Wearing a helmet, renting from an established, reputable business, and starting out with a full tank of gas are all important safety steps. If you're not a confident motorbike driver, consider hiring a motorbike guide through a company like Easy Riders Vietnam.
Violent crime is extremely rare in Vietnam. However, snatch-and-grab crimes are far more common. Leaving your phone on the edge of your cafe table or dangling from your hand as you walk down the street is a high-risk move. Before you know it, your phone will be gone! Keep a careful eye on your phone and all electronics.
Vietnamese Environmental Concerns
While Vietnam has unbelievably beautiful scenery, beaches aren't their strong point. The seaside tourism industry isn't nearly as developed as it is in nearby Thailand. And in nice beach towns, you might find that water and shoreline pollution and litter drastically reduces the appeal. Thankfully, community efforts like Let's Clean Up The Ocean are raising awareness and mobilizing support to improve beach ecosystems.
Related: