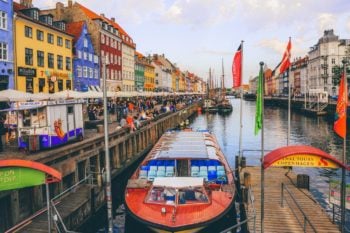 Although Denmark is a small country, its cities are cleaner, healthier, and more lively than any in the world. Denmark has been a cycling nation since the early 1900s, and it has promoted positive values such as freedom and health, a decrease of traffic accidents and pollution, societal development, successful political initiatives, and conscious marketing. The country has developed as a role model for many of the world's big cities when it comes to sustainable town development. Remarkably, Denmark has become the first carbon-neutral capital in the world. It is also one of the world's most significant exports of wind turbines and wind power technology because of its incredible wind conditions.
The most popular cities to visit in Denmark are Copenhagen, Århus, and Odense. Each is full of tourist attractions, including the Tivoli Gardens and the Little Mermaid statue in Copenhagen, the underground Viking museum in Århus, and the beautiful countryside of Odense. The seaport of Nyhavn is also a popular tourist attraction because of the colorful homes that border the canal.
The people of Denmark are the friendliest humans you will ever encounter. Their concept of "hygge" [hue-guh] is the feeling of creating a warm atmosphere and enjoying the good things in life with good people. So, if you are looking to visit a country with naturally friendly people and a warm and clean atmosphere, Denmark is the place for you!
Denmark Healthcare System and Types of Insurance
Denmark has a tax-funded state-run universal healthcare system for all of its citizens. Some citizens opt for a private healthcare sector, but most citizens receive the "free" healthcare funded through taxes. All doctor's visits, hospitalizations, tests and treatments, follow-up care, and some medication are fully covered.
The hospitals in Denmark are modern, fully-equipped, and English speaking doctors are readily available. The hospitals only accept cash payments for services, but you will be reimbursed later through your overseas insurance coverage.
Travelers do not fall under the same healthcare system as Danish citizens. Therefore it is recommended you purchase travel medical insurance before entering the country.
Health Insurance for Expats in Denmark
If you are an Expat moving to Denmark, you should take out a private expatriate insurance plan until you become eligible to apply for permanent residency. After three months, Expats can register with the National Register in their municipality to receive a CPR number and health insurance card.
Recommended Expat Insurance Plans:
Travel Insurance for Visitors to Denmark
Visitors to Denmark are strongly advised to purchase travel medical insurance which provides temporary health coverage for accidents and illness. Most Dutch healthcare providers require payment upfront so, keep all of your medical records and receipts of payment to file your claim later.
In addition to covering your medical bills, a comprehensive travel medical insurance plan will include emergency medical evacuation, 24/7 access to an emergency assistance hotline, travel delay, and baggage benefits.
Recommended Travel Medical Plans:
Common Safety Tips for Visitors to Denmark
Denmark is a relatively safe country to travel in, and crime rates were determined as low or very low across the board in a recent 2018 report. Like in all countries, you should be aware of pickpocketing and purse snatching, especially in the Copenhagen Central Station and local airports. In many of the cities in Denmark, bikes have the right of way. So, if you are traveling by car, make sure to stop for all bikers and pedestrians. Failure to do so may result in a ticket or small fine.
The U.S. Department of StateーBureau of Consular Affairs has a list of helpful safety tips for when you are traveling to Denmark:
Be aware of your surroundings in public areas
Follow instructions of local authority
Monitor local media for demonstrations happening around where you are staying
Have a contingency plan for emergency situations
Enroll in the Smart Traveler Enrollment Program to receive alerts and make it easier to locate you in an emergency
Vaccine Considerations When Visiting Denmark
Currently, Denmark has no vaccine requirements. However, the World Health Organization (WHO) recommends that all travelers be covered for standard vaccinations regardless of destination. A common few include both the Hepatitis A and B vaccines and the rabies shot.
Emergency Numbers in Denmark
Local Police 112
U.S. Embassy +(45) 3341 7100
U.S. Embassy after-hours +(45) 3341 7400
Urgent Medical Hotline 1813
If you are arrested, you are subject to local law, therefore ask officials to contact the U.S. Embassy immediately.
Prepare for Travel to Denmark
Accidents can happen while you are away, but do not let them ruin your vacation. Make sure you purchase the best international health insurance companies to ensure that you are completely covered for any accidents that may occur. Be worry-free and enjoy an abundance of "hygge" with the people of Denmark!