Advice, Safety Tips, and Travel Insurance Options in Thailand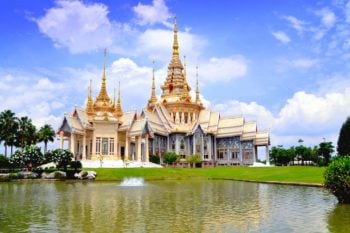 White sand beaches, jungles, Buddhist temples, incredible food, and ancient ruins – everything Thailand is known for. Thailand also called the Land of Smiles, is a fun-loving, exotic, and amazing country to visit. The country is growing as a popular tourist destination, and with a fantastic combination of natural, historical, and cultural attractions along with water sport and adventure options, it's easy to see why.
The capital city is Bangkok, and in northern Thailand, Chiang Mai is an educational and cultural hub. With a population of almost 70 million, this constitutional monarchy is known for its beauty as much as its political instability. Because of his unrest, it is wise to exercise extra caution when traveling to Thailand.
For U.S. citizens spending fewer than 30 days in Thailand, a visa is not required, but your passport must be valid for at least six months from the day you arrive in Thailand. Local immigration officers may request to see your return ticket. If your travel is for business, check with the Royal Thai Embassy for visa requirements.
Martial law is instituted in Thailand and foreigners are required to carry identification at all times. At a minimum, have a copy of your passport identification page if Thai police check your ID, as they sometimes do in popular tourist areas.
General Advice for Travel to Thailand
The Thai currency is the baht (THB).
Credit cards and U.S. traveler checks are widely accepted.
Cars drive on the left-hand side.
The legal drinking age is 20 years old.
Individuals with disabilities might not find the same accessibility as in the United States.
There is lots of adventure tourism – safety inspections and standards may not be compatible with those in the U.S.
Raining season is May – October.
The cool season of November to February, when most travelers visit, still regularly sees temperatures reach 86F/30C.
When traveling to a developing country that also has political unrest, dependable travel and medical insurance become even more critical.
International Travel Insurance for Visitors to Thailand
As you plan your trip, take advantage of the opportunity to purchase both travel insurance and medical insurance so that you can be prepared for any unforeseen and unwanted events.
Thai Travel Medical Insurance
Typically, travel medical insurance provides temporary health coverage for you and those in your traveling party. These plans provide coverage for accidents or illness, saving you from large medical bills if you require a visit to a doctor or hospital.
Purchase of comprehensive travel medical insurance, including air evacuation, is also strongly recommended. Paying for these expenses out of pocket can be overwhelming. For example, medical evacuation can cost upwards of $50,000.
Travel Medical Insurance plans may be combined with trip cancelation insurance.
Best Travel Insurance for Visitors to Thailand
The Atlas Plan is a great all-around option for travelers to Thailand offering a wide range of benefits at a reasonable price. All nationalities are eligible to apply.
Another consideration for insurance planning is the activities you will be doing on your trip. With so many adventure and water sports available, it is unlikely that any injury that occurs in the course of these activities would be covered under traditional medical insurance. If your plans include some of these water or adventure sports, it is worthwhile to invest in Adventure Sports Coverage. The patriot Plan offers a Sports Rider which you can add to your plan for additional coverage relating to adventure activities.
Best Travelers Insurance for US Citizens in Thailand
For US citizens traveling to Thailand, we recommend the GeoBlue Voyager plan as it offers a high level of service along with an excellent network of hospitals and doctors at a reasonable price.
Related: Compare travel insurance plans to cover the cost of your trip if you have to cancel.
Global Health Insurance for Expats in Thailand
International plans (Comprehensive Annual Plans) are a better option for those of you moving to Thailand for a year or longer. These plans provide comprehensive benefits including medical cover, inpatient and outpatient care, wellness, dental and vision services. Another benefit of a global medical plan is that it will cover you both in Thailand as well as in all other countries in the world - so you are covered abroad and even back in your home country.
Recommended Thai Travel Insurance Plans:
Health Services in Thailand
In Thailand, adequate medical treatment is available in urban areas such as Bangkok, Chiang Mai, and Pattaya. In rural areas, basic medical care may be found, but English-speaking health care providers may be harder to find.
For more mature travelers, Thai culture is extremely respectful of those who are older. In fact, the older you are, the higher your social status. A senior visitor will likely get extra respect and assistance. In the event you require medical assistance and have good medical insurance, you should experience priority treatment.
Be sure to note that if you require medication, you should bring enough with you for your trip. Counterfeit medication is in wholesale distribution, and many medications or drugs you might purchase are more potent or have a different composition than the ones available in the U.S.
Medical Tourism in Thailand
There is a rapidly growing medical tourism industry in Thailand. Cosmetic surgery, elective surgery, dentistry, and heart surgery are the most common procedures. If you plan to have surgery there, thoroughly research both the medical facility and physician. It is also important to consult with your physician at home and refer to the U.S. Centers for Disease Control (CDC) information available on medical tourism.
Vaccines Required when Visiting Thailand
It is important for all travelers to keep up to date on routine vaccinations. This includes the vaccines for polio, chickenpox, measles-mumps-rubella (MMR), and diphtheria-tetanus-pertussis. Be sure to have your annual flu shot too.
Some travelers may need to consider additional vaccinations, depending on the length of your trip, your specific destinations, and the activities you will be doing. Likewise, there are some diseases that you need to be aware of when traveling in Thailand. Before you travel, review the CDC website for Travelers' information and consult with your doctor to see if any of the following vaccinations or health precautions apply to your trip:
Dengue, Chikungunya, and Japanese encephalitis: There are viral infections transmitted by mosquitos. They are regularly found throughout the country, including urban areas.
Tuberculosis: Tuberculosis is present in Thailand and is an increasingly serious concern.
Malaria: Malaria is endemic in certain regions in Thailand. Research specific details at least one month before your trip.
Zika Virus: Another mosquito-borne illness, the Zika virus can also be spread from a pregnant woman to her unborn child as well as through sexual contact and blood transfusion. Visit the CDC website for the most up-to-date information about the Zika virus.
Thai Emergency Services
In the event you need to access emergency services in Thailand, call the following:
Police and ambulance – call 191
Fire – call 199
The best option for travelers is to contact the Tourist Police. They deal with all policing issues including consumer fraud. Tourist Police – call 1155
Each of these numbers is accessible 24 hours a day, seven days a week.
Common Safety Tips for Travelers to Thailand
Exercise caution while traveling, especially in areas where there are lots of expatriates like tourist areas, beaches, bars, restaurants, and clubs.
The deep south region of Thailand is known as an unsafe area to travel. Over the past ten years, there have been daily incidents of criminal and politically motivated violence. All non-urgent travel to these areas should be avoided.
It is a great idea for U.S. travelers to enroll in the Smart Traveler Enrollment Program (STEP) to keep automatically updated from the Embassy.
Advice:
General Safety Tips:
Use diligence in securing your personal belongings. Keep your hotel room locked and carry your most important papers with you, including your passport, money, and credit cards.
Don't allow vendors to take your credit card out of your sight and only use credit cards at reputable businesses. Be sure to check the amount charged for accuracy.
Consider using a credit card that is not linked to your bank account, so there is no immediate access to your funds.
Be wary of pickpockets in crowded areas such as markets, tourist attractions, and bus or train stations.
Taking simple safety precautions and purchasing appropriate travel, medical and even adventure sports insurance coverage can help you have peace of mind and make your trip to the Land of Smiles memorable.
Best International Insurance Plans: