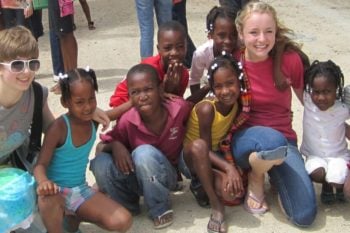 Travel Insurance for Volunteer Groups and Non-Profit Organizations
Could there be a more rewarding experience than a volunteer project, mission trip, or service program abroad? As is often the case, there are risks that come with such rewarding activities. While your group is off serving the international community (while personally benefitting from an unforgettable experience in another part of the world), it is important you protect both the volunteer team and program leaders before they leave.  There are specific non-profit group health insurance programs for volunteer groups and non-profit agencies to cover all your needs.
We can provide quotes for:
Non-Profit Organizations
Volunteer Agencies
Churches and Religious Entities
Missionary Groups
Please Contact Us for assistance.
Below you will find why it is wise to have insurance while volunteering abroad and what to look for when purchasing volunteer insurance.
Why Do You Need Insurance While Volunteering Abroad?
Traveling abroad, especially for volunteer work, carries some risk.  Volunteer environments can be unpredictable and may have dangerous surroundings such as warfare or natural disasters.  These surroundings may put you at a greater risk for injury, sickness, or disease. Local hospitals may not be suited to handle emergencies. It is possible that your regular insurance may not cover the geographical areas you will be volunteering in. For these reasons, and others outlined here: Why I need Travel Insurance, be sure to find an affordable group insurance plan for your program before your group leaves the country.
Read More: Group Travel Insurance FAQ's
What Type of Insurance Covers your Non-Profit Group?
Volunteering and charitable work abroad can take many different forms. Depending on whether you'll be helping out after a natural disaster, doing construction, or providing medical services, you could be at a higher risk for injury or illness.  For this reason, it is important to have volunteer travel insurance that covers unexpected injuries, sickness, and even evacuation from countries that you visit.  Additionally, you may want a coverage plan that includes 24-hour emergency assistance, sports activities, and loss of personal possessions. Contact our experienced insurance agents for a specific quote.
Some Coverage Options:
or something customized for your specific group!
Purchasing Non-Profit Group Insurance: What You Need to Know
While some overseas travel insurance plans can cover most of what you need while volunteering abroad, some companies do not provide everything.  You should review and compare different plans from different companies to ensure your needs are met. First, review with your group the different types of coverage they need.  Evaluate the various companies you are comfortable working with.   Next, it will be important to compare side-by-side different insurance policies to make sure you are covered in all areas. The team here at InternationalInsurance.com can get you several quotes from a variety of companies to ensure you have everything you need to make the best decision.
Coverage and Benefits in Non-Profit Group Travel Insurance
A typical group travel insurance plan will cover medical emergencies for your participants along with other standard travel insurance benefits, including medical evacuation, emergency assistance, trip interruption, etc.  You can add and remove participants as needed. We can design coverage and benefits for larger groups to meet your specific needs and budget.
To get started, complete the Group Travel Insurance Request form, and one of our licensed agents will respond with an initial quote to get the conversation started. We can then modify coverage and pricing as needed.
Request a Quote for Non-Profit Group Insurance
Need a quote now – Request a Quote for group travel insurance.
Why work with us? Here is what one partner says:
"International Citizens Insurance has been invaluable for School the World, saving us several thousand dollars on one policy alone! They understand the marketplace for international insurance and make every effort to understand your business and your particular risks so they can place you with the best carrier and the best product at the best price. They also are very responsive and have the relationships necessary to provide help quickly. We are a very happy client." -Kate Curran, School the World (See more reviews)
Please Contact Us for assistance or email info@internationalinsurance.com for more information.
Additional Resources for non-profit groups: