Health Insurance in Italy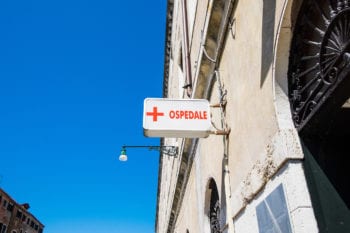 Italy's public health insurance system is the Servicio Sanitario Nazionale or "SSN". Italy spends over 9% of its GDP on healthcare, well above average compared to other developed countries. And it sees the results. That spending is credited with giving Italy one of the highest standards of healthcare in the world. In fact, the World Health Organization states that Italy has the second best healthcare system overall (the French system is number one). Italians rank 11th highest life expectancy and have very low levels of infant mortality. But foreigners living in Italy will need to have their proverbial ducks in a row before they tackle the bureaucracy which is the Servicio Sanitario Nazionale. Below we will discuss the Italian Health Insurance and compare it to buying an international health insurance plan.
Overview of the Italian Healthcare System
Since 1978, healthcare in Italy has been provided through a mixed public-private structure. On the public side, the SSN, Servicio Sanitario Nazionale, provides free or very low-cost healthcare to all Italian citizens and non-citizens with residency status. SSN covers the cost of hospitalization and treatment, visits to family doctors and specialists, discounted medication, laboratory services, and ambulance services. However, most Italian citizens and residents alike also have supplementary private health insurance.
The SSN is funded through a combination of income tax and government funding. Employees contribute about 10% of their income to the SSN for their first €20,600 of annual income. Earnings over €20,600 are set at 4.6% of income. This applies to everyone working in Italy. Even if you choose to use private health insurance in Italy exclusively, you still pay into the public system.
Pros and Cons of Using the Italian SSN System
In general, Italy's health insurance program operates at a high standard and provides good value. Hospitals and clinics are clean, safe, and well-staffed. From medications to doctor's visits to diagnostic testing – the SSN provides it all.
On the downside, the system is plagued by long waiting times for non-urgent specialist appointments. There is a sharp divide in the standards between Italy's north and south. Many facilities lack privacy and additional comfort. Some expats are thrilled with their experience with health care in Italy, others have some reservations, and some find the system endlessly aggravating. A lot of their success or frustrations seem to lie in language barriers and navigating bureaucracy. Having a local friend to support you is key until you get the hang of things.
How Expats Can Qualify for Insurance in Italy
Expats from EU member countries can instantly access SSN services through the use of a European Health Insurance Card or EHIC. There is no cost to the EHIC program. It allows cardholders to have the same treatment as Italian citizens. After three months, EU citizens must register with their local health authority, the Azienda Sanità Locale or "ASL", and be assigned to a general practitioner.
Expats from non-EU countries can also access the SSN system provided that they are legal residents of Italy. However, those who have not finalized their residency status must carry a private health insurance policy during the waiting period. This isn't just a strong recommendation. Non-EU expats must present proof of insurance when applying for their "permesso di soggiorno", permission to stay.
What You Need To Know About SSN Applications
For non-EU expats, the process is a bit more complicated than it is for EU residents. Expats must have both their residency status finalized and have an Italian identity card in order to apply for an Italian insurance card or "tessera sanitaria". To receive the card, an expat has to go to their nearest health authority office, the ASL, and apply for the card with all their supporting documentation. This includes their residency permit, tax number, identification card, and proof of employment. Those who want to include their families in their coverage must also bring along a family status certificate or "certificato di stato di famiglia".
Applicants also have to choose a family doctor from the available list provided by the ASL. Then they are finally issued with their card. Just to keep the theme of paperwork going, the card must be renewed on an annual basis.
Many expats describe the process as arduous, especially when it comes to proving residency. Some even report that, in small towns, it's necessary for a police officer to visit you at home to confirm that you live there. For expats who are looking at the many steps to apply for insurance in Italy, it pays to do your research early on. Speak with other expats about their experience. Ask them what tips they have for someone doing it for the first time.
While it's not always possible to predict the timing of your SSN enrollment, try to apply at the beginning of the year. This is because no matter when you apply, you have to pay for a full year's worth of coverage. The cost is not pro-rated, nor does it carry over to the next year. Alas, monthly payments are not possible. First-time applicants need to pay for a year's worth of SSN premiums at once.
Things You Need To Know When Considering Insurance
In all regions, health care in public hospitals means waiting. Sometimes those waiting times are very long. When you're finally admitted, privacy is limited and staff might not speak English. For these reasons, the majority of expats opt to hold private health insurance. Italy's private hospitals are among the finest in the world. They feature "state of the art" technology, multilingual staff, and comfortable, private hospitals and facilities.
Plans for Expatriates in Italy
Foreigners living in Italy may want to consider an international insurance plan for several reasons. A private global medical plan will provide you with access to health care in any country in the world, including back in your home country if desired. You will also have access to a wider network of private hospitals with reduced waiting time for services. Below are some suggestions for a few of the best international companies in the world.
Best Overall Insurance for any Foreigner Living in Italy
Cigna Global provides foreigners a flexible pan design allowing you to tailor benefits and costs to meet your specific needs. William Russell Insurance offers a strong global network of doctors and hospitals and a range of plans tailored to expatriates.
Italian Health Insurance for US Citizens in Italy
US citizens living in Italy have an additional medical insurance option. GeoBlue Xplorer offers US expats in Italy a high-quality plan with a top tier international network of doctors and access to Blue Cross/ Blue Shield's network in the USA.
How Routine Doctor Visits Work
Almost all Italian general practitioners work on a first-come, first-serve basis in lieu of appointments. This means that patients need to have patience! You could easily wait an hour or more to be seen.
Some physicians work together in a group practice called a poliambulatorio. These are becoming increasingly popular, as the physicians can share the costs of their office space and patients can see general practitioners and specialists in the same convenient location. At a poliambulatorio, there may be a receptionist and the option of booking appointments – but not always!
Speaking of specialists, your medico di base or family doctor is your first stop for specialist consultations. You need to touch base in order to get a specialist referral called an impegnativa. This is why it's so important to get established with a local health provider or doctor before you actually need one. When you have the need for a specialist appointment, you'll want to process to go as quickly as possible.
How To Find A Family Physician
In Italy, you are required to register with a general practitioner or medici di base. Your local ASL will have a list of medici di base who are taking on patients. Keep in mind that most doctors limit how many patients they can take on and some will have a waiting list. The choice of who to sign up with is ultimately yours. You can decide based on their location, or perhaps a personal recommendation from another expat. If you feel like the relationship isn't working out, you can change to a new general practitioner. However, you will have to go back to the ASL office to formalize the request.
The ASL's list doesn't distinguish which doctors speak English and which do not. However, your local embassy may have a list of English speaking physicians to help you narrow down your choices.
Related: