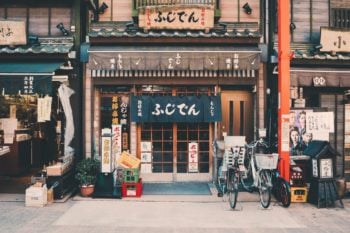 Japanese Health Insurance Options for Expats and International Citizens
From teaching English as a second language to working in the high-tech sector, Japan's expat scene is diverse and dynamic. You're just as likely to find an entire family relocating in their 40s to start new careers as you are to see university students taking a year or two to work, save, and travel. Happily, no matter what their career path, there are excellent options for health insurance in Japan for foreigners.
Overview of Japan Health Insurance
Japan has had universal coverage since 1961 – and foreigners can be a part of the system. Under the current healthcare system in Japan, 70% of the cost associated with medical appointments, hospital visits, tests, and prescriptions are billed to the government. Patients are responsible for the remaining 30%. In some circumstances, largely dependent on income, the patient's share can be even less, either 20% or even 10%.
The 70% which the government is responsible for paying is covered through income generated through two systems, known as SHI and NHI. SHI, or social health insurance, is the program that all full-time employees of medium and large-sized companies are automatically enrolled in. Approximately 5% of their salary is held back as a health-based deduction. This amount is matched by the employer.
Those who are self-employed or work for small businesses contribute to the national health insurance program or NHI. Their actual contribution varies by income and the process is a bit more arduous compared to the SHI. Residents are required to complete their paperwork at one of 47 regional administrative districts.
Global Health Insurance in Japan for Foreigners
We have selected some of our most popular private health insurance plans and are providing them to you to guide you in your search for medical insurance in Japan. The following providers are of the highest quality for product design and customer service. We stand behind these medical insurance companies and are available to all of our clients to support you during the entirety of your term with the medical insurance plan you choose.
Best Japanese Health Insurance for Foreigners in Japan
The Cigna Global plan is available to all Expats and international citizens living in Japan. It is comprehensive, offer a range of coverage and pricing options, and have excellent service.  Click on the link below to learn more about the many options available with Cigna Global. Request a quote today to get pricing and cost information.
Best Health Insurance for Americans in Japan
US citizens or Expats living in Japan may want a specific plan that is tailored to their specific needs. The GeoBlue Xplorer plan provides high-quality benefits, premier service, and a variety of options allowing you to tailor coverage to your specific needs. The plan provides up to 9 months of coverage in the USA each year (compared to other plans that will limit coverage in the US to 3-6 months per year). Finally, if you do need care back in the USA, you have access to the Blue Cross / Blue Shield network of hospitals and doctors. Outside of the USA, the Xplorer plan provides a premium network of doctors and hospitals so you can be assured of access to quality care anywhere in the world.
Cost of Health Insurance in Japan for Foreigners
The cost of health insurance in Japan will vary depending on many factors, primarily your age, the level of cover you desire, and the plan you choose. The cost for a 45-year-old single man with a Cigna Global plan range from $200 to $500 per month, depending on the benefits you choose and your country of nationality.
How Expats In Japan Can Qualify for Local Japanese Health Insurance Cover
Foreign residents who intend to reside in Japan for 3 months or longer can join NHI. This applies even to those who are working for the medium and large-size companies associated with the SHI program. SHI requires one year to come into effect. Thus, in the beginning, it's NHI for nearly everyone. However, until your application is completed and approved, you are on your own for health insurance costs and should carry your own insurance.
Overall, SHI is more economical than NHI. The cost of SHI is split between employee and employer. Furthermore, SHI includes coverage for family members, NHI does not. Therefore, if one family member is working and covered by NHI, the remaining family members will need to apply on their own. As well, unemployed people are required to register with NHI.
Expats moving to Japan to teach English as a second language should note that some less-than-scrupulous companies only allow employees to log 29.5 working hours a week. That's because you must work 30 hours a week to be considered full-time and eligible for SHI. This is their sneaky way of making sure they do not have to pay the employer's share of SHI. If teaching ESL is in your future, speak with other teachers to inquire how their company handles NHI and SHI. Make sure that you read the fine print on your contract to determine how the company defines "full time", and if it is in line with the SHI definition.
What You Need to Know About the Process
Within two weeks of moving to Japan, you are required to enroll in a health insurance plan. However "required" is a tricky word. While words like "required" and "mandatory" are often used in official documents, you cannot be deported or have your visa renewals denied because you have not enrolled. There are no penalties if you don't enroll. But you should! Overall, it's a very smart plan to do so. The cost is fair and the coverage is excellent. However, if you have an alternative arrangement already in place which covers your health insurance costs, you'll want to look into just how "required" enrollment actually is with your employer.
Applying for NHI is a case of visiting your local ward or city office with your supporting documentation – passport, visas, confirmation of employment, and proof of income from the previous year. When you receive your health insurance card, don't let it go! Without it, you'll have to pay for 100% of your medical costs up front instead of the usual 30%. You will eventually be reimbursed but it's a hassle you'd rather avoid.
While it's not part of the regular NHI and SHI paperwork, there is one important form that all Expats should know about. It's called a Yakkan Shoumei Certificate. This will allow you to legally import a year's supply of prescription medication if no equivalent drug is available in Japan. It's commonly used by Expats to access their preferred contraceptive medication.
Pros and Cons of Using the Japan Health Insurance System
Expats will rely on the public system for nearly all their primary care needs. That's because, by law, all hospitals in Japan must be not-for-profit. All clinics must be owned and operated by physicians. The limited private system is predominantly focused on elective and cosmetic procedures.
Overall, the Japanese healthcare system offers an excellent standard of public healthcare. There is a strong emphasis on preventative care, including vaccination programs, prenatal care, and critical illness prevention. However, if the system has one weak point it is mental health. Receiving mental health care and treatment is still stigmatized. Furthermore, many treatments and procedures long considered out of date in other countries (such as the use of isolation and restraints) remain relatively commonplace in Japan.
One thing which many Expats won't be expecting is that, in Japan, patient communication might be very different than it is at home. Doctors have significant authority. Questioning your doctor's orders and instructions – or even asking for further explanations or clarifications – is rarely done. Rules are rigid. The concept of a patient's "right to know" isn't commonplace. This can make using the local health care system even more stressful than it needs to be. It helps in part to speak with other Expats to know what to expect or to have a trusted friend or colleague with you for moral support.
In Japan, nearly everyone carries supplemental private health care insurance. This coverage augments the costs that patients are normally responsible for (the 30% of the cost associated with medical visits and so on). These savings alone can add up quickly! It can also offer some private insurance options as well as things that aren't normally included in the public system, such as orthodontics.
What To Know When Considering Health Insurance in Japan
Whether you're visiting Japan as a traveler or a long-term expat, language barriers are a significant problem for everyone accessing the Japanese health system. Not all physicians and nurses speak English. Even Expats who can speak conversational Japanese may find medical terminology a challenge. Choosing a supplemental insurance plan which includes an excellent support program is key. The staff can help you connect with English-speaking medical personnel. They can also arrange for hospital stays at familiar facilities. You can also inquire about packages that include provisions for support staff during a medical emergency, like home-care assistance or even interpreters.
While many countries have a lack of physicians in rural areas, the opposite is true in Japan. Urban areas are struggling to retain their physicians. Doctors favor rural areas for a less stressful life. While this doesn't mean there are no more doctors in major cities, it does mean that wait times might be longer. Hospital wait times are a problem in large cities and hospitals have even been known to turn away patients in critical care when their beds are at capacity. This is another situation in which an insurance plan with a strong focus on customer support can come into play.
How To Find A Family Physician While in Japan
In Japan, family physicians and general practitioners are far less common than they are in other countries. The majority of physicians go on to practice a specialty and patients can make appointments directly with specialists.
"Japan Healthcare Info" is an organization that offers free healthcare-related services to Expats. They can recommend a specialist, book appointments, provide hospital interpretation services, and offer general advice. They're a good first connection if you want to find a family physician.
How Routine Doctor Visits Work in Japan
It might feel very strange to go to the hospital when you're just moderately ill. After all, you know you don't have a proper emergency! However, unless you have a family doctor or you're certain about the kind of specialist you need to see, going to the hospital is a reasonable first step. Hospitals in Japan are used far more often for non-emergencies than in other countries. The staff can arrange for you to have your routine follow-up appointments at an appropriate clinic that specializes in your concerns. Before you leave home, make sure you have your Japan health insurance card with you!
Tip: Contact your insurance company for advice on finding a local doctor in Japan.
Vaccines Required for Entry into Japan
As advised by the CDC, "Make sure you are up-to-date on routine vaccines before every trip. These vaccines include measles-mumps-rubella (MMR) vaccine, diphtheria-tetanus-pertussis vaccine, varicella (chickenpox) vaccine, polio vaccine, and your yearly flu shot." Hepatitis A and B are also recommended vaccines if you do not already have them. You may need the vaccine for Japanese Encephalitis for longer trips (more than a month), for travel in certain prefectures (especially rural areas), and depending on the time of year. Finally, Rabies is present in the country so consider a Rabies shot if you will be traveling to remote areas, spending time outdoors, or in areas with large bat populations. As always, we recommend you talk with your doctor or a local travel clinic before traveling to Japan. Be sure to have your annual flu shot too!
Japanese Emergency and Health Services
In the event you need to access emergency services, call the following:
110 for police
119 for fire and ambulance
Be aware that there may not be any that English-speaking dispatchers available. (Source: Japan Tourism)
Travel Insurance and Safety Tips for Visitors to Japan

One of the most amazing and beautiful countries in the world, Japan is an exciting and far-flung destination for most global travelers. From the stunning Mount Fuji to the bustling city of Tokyo or the Zen-like feel in Kyoto, the country is high-tech and modern, with respect and honor for its past. Japan is a large, modern country and is also very safe for visitors. While medical care is very good in Japan, it may be challenging to access international doctors while abroad. Additionally, clinics or hospitals that cater to US-style expectations are costly and there are not many. Purchasing travel insurance for Japan will ensure you have access to international doctors, 24/7 travel assistance services, and other benefits so you can focus on enjoying your trip.
When you travel to Japan, expect to experience fantastic food, see stunning temples and shrines and enjoy a culture steeped in a long, rich history. Though an expensive country to visit, a trip to "the land of the rising sun" can be a trip of a lifetime. It is a very stable country. It is a successful democracy and has a large economy. Throughout the country, tourist facilities are widely available, except in some coastal areas of the Northeast. Below we offer advice on how to stay safe while visiting and some of the better travel insurance plans for visitors to Japan.
Is It Safe to Travel to Japan
People often ask: Is it safe to travel to Japan? Overall, the crime rate is below that of the national average in the US and other developed countries, and violent crime is rare. Crimes reported by travelers typically involve personal disputes, theft, or vandalism. Staying safe while traveling there includes consistently practicing good personal security and using common sense. That includes being respectful of local customs and etiquette and being aware of your surroundings.
Tips to stay safe include:
Be aware of potential pickpockets in crowded areas such as on trains, at airports, or shopping. Never keep your passport in your pocket.
Stay away from counterfeit or pirated goods, no matter how accessible they are. They are illegal in the US and purchase of them may also be breaking local laws.
High-risk crime areas include some of the entertainment and nightlife districts in Tokyo such as Roppongi, Kabuki-Cho, Shibuya, and Ikebukuro. Exercise caution in these areas.
Tokyo has been ranked the world's safest city for the third year running, followed by Singapore and Osaka, according to the latest report by the Economist Intelligence Unit.
Passports and Visa Requirements for Travel to Japan
To travel to Japan, a valid passport and a return ticket are required for "visa-free" tourist stays of up to 90 days. All foreign nationals entering the country are required to be photographed at the port of entry and to provide fingerprint scans. This is in addition to any other visa or passport requirements.
All US citizens entering through customs need to ensure that their passports and visas are valid and up to date before departure. Many Asian countries require your passport to be valid for at least six months after you enter the country. International airlines will deny your boarding if you lack sufficient travel documents or your passport is not valid for six months.
Do US Citizens Need a Visa to Visit Japan
The short answer is no. Visa requirements for us citizens are very relaxed due to the nature of US-Japan relations. For travel up to 90 days, visitors from the following countries are not required to have a visa:
Andorra, Argentina, Australia, Austria, Bahamas, Barbados, Belgium, Bulgaria, Canada, Chile, Costa Rica, Croatia, Cyprus, Czech Republic, Denmark, Dominican Republic, El Salvador, Estonia, Finland, Former Yugoslav Republic of Macedonia, France, Germany, Greece, Guatemala, Honduras, Hong Kong, Hungary, Iceland, Ireland, Israel, Italy, Latvia, Lesotho, Liechtenstein, Lithuania, Luxembourg, Macao, Malaysia, Malta, Mauritius, Mexico, Monaco, Netherlands, New Zealand, Norway, Poland, Portugal, Republic of Korea, Romania, San Marino, Serbia, Singapore, Slovakia, Slovenia, Spain, Surinam, Sweden, Switzerland, Taiwan, Tunisia, Turkey, United Kingdom, the United States, and Uruguay
More Information: Japan Visitor and Visa Information
Japanese Travel Insurance Plans for Visitors
As you plan your trip, take advantage of the opportunity to purchase travel insurance so that you can be prepared for any unforeseen and unwanted events. Below we will recommend a few different types of plans and some specifics products that are recommended for travelers to Japan.
Insurance for Trips to Japan
If you have booked a trip and are concerned with having to cancel, you should buy Japan Trip Insurance coverage. Trip cancellation insurance plans cover the cost of your trip if you have to cancel. There is typically a list of eligible reasons for cancellation. You can also buy a Cancel for Any Reason trip insurance plan that will reimburse you if you simply decide not to travel.
Seven Corners offers a couple of well-respected trip cancelation plans for travelers. The first, Seven Corners Trip Protection, is for US citizens traveling abroad. The second is available to any other nationality traveling abroad.
Trip Insurance for US Citizens Traveling to Japan
Japanese Travel Medical Insurance
Typically, travel medical insurance provides coverage for you and those in your traveling party. These plans provide coverage for accidents or illness, saving you from large medical bills if you require a visit to the doctor or hospital. Caregivers will require payment in full at the time of treatment. Remember to bring your insurance card with you and keep detailed documentation for your insurance claim. Purchase of comprehensive travel medical insurance, including air evacuation, is strongly recommended. Costs paid out of pocket can be high. For example, an evacuation can cost upwards of $50,000. The Atlas Travel Insurance plan is a great option for any traveler. For US citizens traveling abroad, the GeoBlue Voyager plan provides a feature-rich alternative option.
Atlas Travel Insurance for all Visitors to Japan
Best Travel Insurance for Visitors to Japan from the USA
The GeoBlue Voyager Plan offers the highest quality coverage and service for US citizens traveling abroad. Their international network of doctors is highly rated. Customer service is available 24 hours per day and 7 days per week for advice on which hospitals are the best or to help with translating documents.
Bringing Prescriptions into Japan
You can bring prescribed medicines under certain conditions. There are additional restrictions on narcotics and psychotropic drugs and importing them from overseas is subject to control by other laws and rules. When bringing your personal medications, you may be required to apply for "Yakkan Shoumei", certification of your legitimate need for this medicine, before leaving home. and declare it to customs officials upon entry. For smaller doses of the medicines as listed below, you would be required to apply for "Yakkan Shoumei". You would simply provide your prescription and medications to customs at arrival for review.
◆ Prescription Medications: Up to 1 month supply
◆ Medications for External Use (excluding prescription drugs): Up to 24 per one item
◆ Injectable Medications and Syringe: Up to 1 month supply
* Only "Pre-filled Syringe" or "Self-injection Kit"
◆ Other Drugs, Quasi-drugs: Up to 2 months supply
Cosmetics and are allowed with few limitations. Narcotics and psychotropic drugs are much more highly regulated and you should check with your local embassy before traveling.
Food and Water Safety
Food standards are high, similar to those in other developed countries. Japan prides itself on safety and a healthy lifestyle. Restaurants are clean, safe, and well managed. Most travelers do not need to take special dietary precautions beyond what they normally do at home. You will find a variety of delicious and healthy food options in the country.
It has the lowest obesity in the world which is only 3% comparing to the French at 11% and America at 32%.
Citizens consume 25% lower calories than Americans
It is important to keep hydrated during your travels, especially in the summer. If you are not used to the humidity—and even if you are—it can be very easy to suffer from dehydration. Make sure to keep some water with you at all times. You will find there are a large number of convenience stores that sell bottles of water in various sizes. Most restaurants offer drinkable tap water at no charge. Just ask the staff. In fact, clean tap water is a source of pride for many of Japan's mountainous regions as cool, clean water is a product of the surrounding peaks. Make sure to try some if you find yourself in these areas. (Source: Japanese Food Options)
Weather and Seasons – When to Visit Japan
The seasons can vary dramatically, with the summers being very hot and humid. In the winters, it can be very cold in the north and you will find skiing in the mountains. For example, the summers in Tokyo can get up over 90 ℉ (30 ℃) while Sapporo can get as cold as 15 ℉ (-10 ℃). So depending on where you want to go and the time of year you will be traveling, do some research on the weather in that region for that season.
Other Advice for Visitors
While the cost of living is one of the highest in the world, the use of credit and debit cards are not as popular, especially outside of major cities.
ATMs are not typically open 24 hours, and few accept US-issued cards. The locations that most likely have ATMs you could access include major airports, post offices, foreign bank branches, and 7-11 stores.
Also, 7-11 stores and other convenience stores can be a haven as they typically carry a full range of items you might need, selling everything from underwear to concert tickets. They are also a good place to purchase hot food items.
Undoubtedly, a trip to Japan can be exciting! As you plan, remember to purchase the travel insurance that will give you the peace of mind you need to truly enjoy all of the activities and adventures you have planned while abroad.
Health Insurance in Japan – A Recap
If you are moving to Japan or just visiting, the proper health insurance plan will provide peace of mind, access to the best medical care, and allow you to focus on making the most of your adventure. We hope you have found this information helpful. If so, please share with your contacts and friends. In the meantime, use this link to Request a Quote today and our expert agents will provide you with costs, options, and information on the best health insurance in Japan for your specific needs.
Featured Health Insurance Plan
Related: