Health Insurance Advice for Internationals Living in the Philippines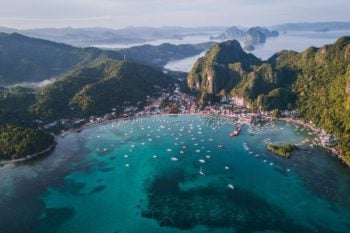 Healthcare in the Philippines is all over the map. In cities, hospital standards are often superb and feature state of the art facilities. However, in rural areas, foreigners living in the Philippines report that the situation ranges from basic to bleak. In the country, the ratio of doctors to patients is dismal. There is just one physician per 33,000 people. However, in many other countries, Filipino doctors are why the doctor-to-patient ratio is excellent. Vast numbers of doctors, nurses, technicians, and therapists leave the Philippines to work abroad. In fact, some people joke that doctors are one of the country's leading exports! Unfortunately, other countries' gain is the Philippines' loss.
Healthcare is provided through both private and public hospitals in the Philippines. Although healthcare is generally expensive for the average Filipino, expats may find it more affordable than in their home country.
Overview of the Filipino National Health Insurance System
All Filipino citizens are entitled to free healthcare under the Philippine Health Insurance Corporation, known as "PhilHealth." This health insurance program is government organized. It is funded in part by government subsidies at the local and national level. It's also financed through company payroll deductions. In addition to emergency and urgent care, Philhealth subsidizes inpatient health care and non-emergency surgeries. However, it does not cover all medical treatments and costs.
In early 2019, new legislation shaped the scope and future of PhilHealth. Filipino President Rodrigo Duterte signed the Universal Healthcare Bill, known as the "UHB," into law. The bill was designed to incorporate all citizens into the PhilHealth system, not just those in the workplace. Previously, informal workers, the unemployed, and others were not well covered by the health insurance system.
PhilHealth now has two categories. Some people can pay premiums and those who are unable to do so. This largely applies to the unemployed and the elderly. In the case of those who cannot pay, the government will sponsor their insurance coverage. People in both categories receive the same basic level of services, while those paying higher premiums are eligible for more benefits.
Considerations When Choosing International Medical Insurance
Geographic differences in standards of care are of paramount concern for expats living in the Philippines. While Manila and other large cities' standards are generally very high, the same can't be said of rural areas. In many cases, health care in rural areas is rudimentary at best. Hopefully, in the coming years, this situation will change. The recently passed UHB contains incentives for newly graduated medical students. It will mandate that new medics work in remote areas or within the public sector as well.
However, it will take years to see any positive changes from these measures. In the meantime, expats need to make sure their insurance policy will cover medical evacuations if they're based in rural areas. Evacuation to Malaysia, Singapore, or Thailand is common for foreigners living in the Philippines who need emergency specialist care.
Pros and Cons of Using the Local Health Insurance System in the Philippines
Expats will be happy to learn that doctors working at public hospitals in the Philippines usually speak excellent English. However, it never hurts to have a local friend with you to help you navigate the system. Another plus? Hospital visits, tests, and medication are generally a lot less expensive in the Philippines than in North American and Europe.
However, the public healthcare system lacks hospitals and clinics. There are more private hospitals in the country than there are public ones. While this is excellent for those with insurance and anyone else who can afford to pay out of pocket, it does mean that the average citizen often suffers as a result.
How Expats Can Qualify for Filipino Health Insurance
Enrollment in PhilHealth is mandatory for all expats who are employed in the Philippines. Premiums are automatically deducted from payrolls, and employees and employers share the cost.
Expats who don't work for a major employer can also voluntarily enroll with PhilHealth if they have legal residency status. As well, a limited number of foreign nationals can enroll in PhilHealth. The most common category of people which this applies to is those who marry Filipino citizens.
What You Need To Know About Processes
Many expats in the Philippines chose to join PhilHealth under the Informal Economy Member category. The cost ranges from ₱2,400 – ₱3,600 a year. If you're formally employed with a local employer, they will take care of all the paperwork for you.
Many Filipino citizens carry private health insurance coverage – and nearly all expats do. In addition to PhilHealth, carrying private health insurance gives you full access to all hospitals and clinics. It also means a more private, secure, and comfortable hospital stay in more serious circumstances. However, you should note that private hospitals may require you to pay upfront with cash. The idea is that you later get reimbursed through your insurance carrier. Ask your insurance customer support staff if they have a special arrangement with any particular private facilities so you can avoid this aggravating situation.
Global Health Insurance Plans for Foreigners and Expats in the Philippines
There are several options for expatriate health insurance in the Philippines. Expatriates can have worldwide insurance coverage, including or excluding the USA while living abroad. These plans provide insurance coverage of up to $5,000,000 or more and include hospitalization and outpatient care, prescription medication, mental health, and pre-existing condition coverage. Benefits are available to you wherever you choose to receive care, including in the Philippines, in a neighboring country, or back in your home country.
Best Expat Insurance Companies and Plans in the Philippines for Foreigners
Cigna Global Health Insurance was one of the first plans available to expatriate or global citizens living in Asia, and they remain a leading international provider in the Philippines. Free Cigna Quote / Apply
Another option for coverage in Brazil is William Russell – With 30 years of experience in healthcare, William Russell's plans are designed to travel with the member wherever they go. They currently cover members in more than 160 countries and pride themselves for than excellent, personalized service.  Free William Russell Quote
Best Health Insurance Companies for Americans in the Philippines
For US citizens looking for global health insurance with an unlimited policy maximum, excellent service, and premium benefits, another plan option is the GeoBlue Xplorer. The GeoBlue Xplorer health plan is a great plan for US citizens who live in the Philippines for either business, leisure, and/or study. If you leave home for six months or more, your health and financial security are at serious risk because of significant gaps in most available insurance coverage and services. This risk is only heightened by limited knowledge of health and safety hazards worldwide, including medical treatment from unfamiliar providers. For other Expats in the Philippines, we would suggest reading International Health Insurance Questions and Answers.
How Routine Filipino Doctor Visits Work
If flexibility is a priority for you in healthcare, you'll love how routine doctor visits work in the Philippines. You don't need to make an appointment to see a doctor. You show up during their scheduled clinic hours and wait for your turn. Normally you're seen in a very reasonable amount of time, in an hour or less. However, wait times are generally longer at public clinics and hospitals compared to private facilities. Note that in many offices where appointments are an option, they're designed for routine follow-up health care and non-urgent matters, and you may have to wait several weeks to get a spot.
How To Find A Family Physician
In the Philippines, the public health system is carried out through public primary healthcare centers linked to peripheral barangay (local town) health centers. You can register for a doctor locally. The Department of Health's website is a helpful place to start for information. And, as always, you can talk to your insurance provider, local friends, or other expats for recommendations as well.
Extra Things To Know Before You Go
Healthcare in the Philippines is in a state of flux. It remains to be seen how the new Universal Healthcare Bill will change the system over the long term. The country is slowly moving towards retaining more of their healthcare practitioners.  But in general, the system remains focused on the prescriptive rather than the preventative. If wellness and a preventative medicine approach are important to you, be sure to speak with your insurance representative to ensure this is built into your policy.
Related: