The Best Health Insurance for Expats in Israel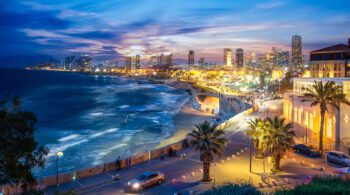 Whether you're relocating for personal reasons or work, all immigrants to Israel must be covered by a health insurance policy that includes coverage for treatment of COVID-19, as of March 2022. It's necessary, therefore, to obtain international insurance before you leave your home country. Once there, however, there are several other possibilities.
Like so many things about Israel, the process of getting health insurance coverage is unique. The tiny Middle Eastern nation offers universal healthcare to all its residents, but also has one of the highest private healthcare expenditures in the world. Also unlike many healthcare systems in the world, there is little difference in quality of care between public and private coverage. The difference has more to do with wait times, services covered and amenities at private hospitals. Read on to learn more about how foreigners and expats can get health insurance in Israel.
Health Insurance in Israel for Immigrants
Public Health Insurance in Israel
Israel has a universal healthcare system, which offers and requires public insurance for all of its residents. State healthcare covers basic and emergency medical needs at a high level of quality, including mental and reproductive health services, prescriptions, chronic illness care and physical therapy. If you're an foreigner working for an Israeli company, you'll be enrolled in state healthcare automatically. If you are self-employed or retired, you'll need to apply for coverage directly, whether public or private. Israel's public system doesn't cover tourists or non-permanent residents, however, so if you're not making a permanent move, you'll also need to seek private insurance options.
Also Read: Travel Insurance and Safety Tips for Israel
Private Medical Insurance Options in Israel
Israelis have one of the highest rates of private health insurance enrollment in the world. While the public system offers access to high-quality facilities, it doesn't cover everything and suffers from long wait times and staff shortages. Many residents obtain "supplementary insurance" provided by the four non-profit funds that run the state healthcare system. You can also buy from private local insurance companies outside of that system, but they typically do not cover pre-existing conditions. They also can refuse coverage to anyone based on their state of health, and require a 90-day waiting period to start.
For all of these reasons, it's a good idea to buy international health insurance for foreigners in Israel. Especially if you are relocating temporarily, are self-employed, are retired or aren't sure about your employment in Israel, you won't be able to enroll in the state program right away — or possibly at all. Even if you gain permanent residency — whether through Israel's Law of Return program or in some other way — you'll have a wait before you can enroll in the state health plan.
International health insurance policies will cover you wherever in the world you live or travel to, and can be as bare-bones or as comprehensive as you need. If you are not relocating permanently, or think you'll be able to get on the state plan in less than a year, you should consider travel medical insurance. These more temporary plans are also customizable, and can offer great protection for a shorter period.
The Cost of Health Insurance in Israel for Foreigners
Israel's public healthcare system is funded by taxpayers, who pay 3.1% of their income. Supplemental insurance involves paying further premiums to the public funds, while private insurers collect premiums based on factors including your age and state of health.
Private health insurance in Israel accounts for a third of households' healthcare expenditures. On average, a middle-income family might pay over $3,000 USD for a year of private coverage. However, many plans are far more affordable, depending on how much coverage you get.
International health insurance policies can range in price from $500 a year for bare minimum coverage, to a full suite of options and worldwide coverage at $8,000 a year. However, international insurance for expats in Israel usually costs a similar amount to private insurance, with better coverage worldwide.
Can an American Get Health Insurance in Israel?
Yes. If you are relocating to Israel permanently, especially for a job, you can get on the public health insurance scheme after a time, and purchase supplemental or additional private insurance coverage as well. However, unless you are going straight to employment at an Israeli company, you will have to wait until your permanent residence is established.
Best Health Insurance in Israel for Immigrants
What type of health insurance is right for you depends on your circumstances — how and why you're becoming an expatriate.
If you move to Israel to work at an Israeli employer, you'll be automatically enrolled in state insurance, and your employer will be required to enroll you in private insurance as well.
If you retire to Israel, you may be covered by the public option under Law of Return, but you will have a waiting period. Retirees who relocate to Israel not under Law of Return are strongly advised to obtain international insurance before leaving their home country.
If you are self-employed or a digital nomad, international insurance is also probably the right call. If you obtain permanent residency or citizenship down the line, you will be covered by the state plans.
In most cases, it's a good idea to obtain international medical insurance in your home country before moving to Israel, to ensure you have the coverage you need once you're on the ground in a new place.
Plans for Students at Israeli Colleges and Universities
Israel has many colleges as well as nine universities, mostly located in Tel Aviv and Jerusalem. A partnership between the insurers Harel and Yedidim offers insurance programs especially for foreign students. Students also can purchase international student insurance before going abroad.
Travel Insurance for Short-Term Visitors to Israel
If you're only visiting Israel for a short time, then travel insurance may be right for you. For trips from a few weeks to a few months, you might consider visitor's insurance. These plans cover you for your entire trip, and can be either basic or comprehensive. Other types of travel insurance can cover anything from non-urgent medical care to lost luggage to trip cancellation. Get in touch with one of our representatives to see what plan is right for you.
Group Medical Insurance in Israel for International Employees
Global group health, life, and travel plans are the best way to ensure your group is well-protected while abroad. If you are organizing a trip abroad for a corporate group or looking to cover employees who live overseas, we can help.
Medical Infrastructure in Israel
Israel's health services are ranked 30th out of 167 ranked countries by World Population Review in 2020. But according to Statista, Israel's healthcare system ranks sixth in the world using an index which measures healthcare access, outcomes, systems, risk and mortality rates. By both measures, Israel does quite well on the world stage in terms of the quality, accessibility and affordability of its healthcare.
Israel's health infrastructure is advanced, highly accessible and efficient. But it has been under stress in recent years, with budgeting problems and logistical issues like staff shortages and long wait times. It is generally known as a very good system though, and does a brisk trade in medical tourism. For more about how Israel's healthcare system works, read our page about it, linked below.
Also Read: The Israeli Healthcare System
How to Find a Family Physician or GP in Israel
Israel's Ministry of Health website maintains a database of doctors and providers. If you become a resident covered by the state health system, you will receive a shorter list of providers covered by your particular fund.
If you have private insurance or international insurance, you can ask your insurer to help you find providers near you. When you reach wherever you're staying — or even better, before you go — find out where your local clinics and hospitals are. Then, find out if your insurance will cover care at those places. If you don't speak any Hebrew, the health funds or your insurers can refer you to doctors who speak English.
For more information on how to arrange different types of healthcare in Israel, see our page on Israel's Healthcare System.
How to Get Hospital Care in Israel
In an emergency, Israel's state insurance system requires that hospitals treat anyone who comes through their doors. However, you will need to pay for services if you do not have insurance coverage.
When traveling, you should always make sure to know where the nearest hospitals to you are. Once you know that, you can check with your insurance provider to see what hospitals are covered in case of an emergency or scheduled care. When you obtain travelers insurance or international health insurance through one of our partners, our representatives can help you locate the hospitals you can go to under your plan.
Our Recommended Global Medical Plans
Related