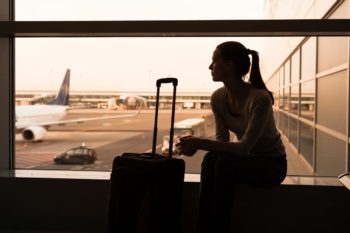 Peace of Mind CFAR Travel Insurance Plans
If you have purchased an expensive trip far in advance of your travel date, a Cancel For Any Reason (CFAR) Trip Insurance plan might be a good option. CFAR plans provide reimbursement (up to the covered amount) for non-refundable trip payments and pre-paid trip expenses if you decide to cancel your trip for any reason. Typically this might be a supplement to a standard Trip Cancellation Insurance plan that you would typically purchase. This type of coverage, also known as Peace of Mind Insurance, is an excellent option for travel insurance buyers who worry they may have to cancel their trip for the reason that is not covered by trip cancellation coverage and wants to recover at least a portion of their expenses.
Understanding Cancel For Any Reason Wording
Different CFAR plans have different wording relating to when they will pay and what they will cover. Read the details in the brochure. You will also get a policy certificate emailed to you after you purchase coverage which will have even more details. You can cancel your policy and buy another plan if you are not satisfied with the terms.
As examples, here is the wording from two popular plans.
For the Seven Corners plan,
If you cancel your trip for any reason not otherwise covered by this plan, Seven Corners will pay 75% of your prepaid, forfeited, non-refundable trip payments if:
1) We receive your plan payment within 20 days of your initial trip deposit
2) You insure all prepaid trip costs, subject to cancellation penalties
3) You cancel your trip 2 days or more before your departure date
How to Buy a Cancel For Any Reason Plan
You need to purchase a Trip Cancellation plan that includes Cancel For Any Reason as an optional add-on benefit.
Get a Quote for a Cancel for Any Reason Plan
Add Cancel For Any Reason as an option
Proceed through the rest of the application
Additional Considerations when Buying Cancel for Any Reason Trip Insurance
'Cancel For Any Reason' insurance is typically either added to a standard trip can policy (for an additional fee) or you can buy a plan that includes coverage automatically. Make sure you understand what you're getting.
To be covered, you typically have to purchase coverage within 15-20 days of your initial deposit. You can't wait until you want to cancel and then buy the policy!
Often the plan will stipulate that you must cancel no later than a certain number of hours or days before your departure date.
You must include coverage for all pre-paid travel expenses that are subject to penalties or are non-refundable. You can't pick and choose which expenses you want to be covered.
You are only covered for amounts not refunded and as outlined in the policy. Read the fine print.
Flight Insurance with Cancel for Any Reason Coverage
Yes, your trip cancellation insurance plan can include flight insurance if you have to cancel for any reason. The cost of your flight would be part of the total trip insured. If you already purchased trip insurance from your airlines, you would not include those costs in any additional policy that you purchase. However, please note, most trip cancellation plans offered by airlines do not include CFAR benefits.
Will CFAR Insurance Cover the Costs of a Cruise?
Again, yes. You can combine the cost of your cruise and your flight as well as any excursions planned in your coverage.
Understanding Cancellation Penalties in CFAR Travel Insurance
The percentage of coverage you get from these plans will vary depending on the plan and, in some cases, are subject to cancellation penalties. A cancellation penalty is an amount the travel supplier will not refund you if you have to cancel. The cancellation penalty determines the percentage that travels insurance will reimburse less the amount refunded by your travel supplier.
Also read: