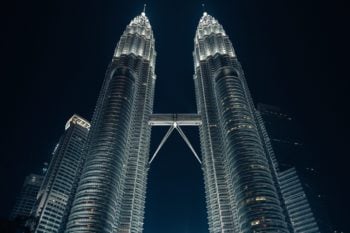 Malaysia Visitors Insurance and Safety Advice
Malaysia is ranked 9th in the world for receiving the most tourists, according to the United Nations World Tourism Organization. And it's the smallest country on that top 10 list. But for its small size, it is mighty. It boasts spectacular beaches, islands, national parks, and cities that keep visitors coming back for more. It's also increasingly popular with Expats, who appreciate an affordable cost of living and easy travel access to neighboring countries. If you're contemplating a visit or a move, here's a primer on Malaysian health, insurance, and safety advice.
Malaysia Travel Insurance Plans
Best Short Term (up to one year) Travel Insurance for Visitors to Malaysia
For most travelers, the Atlas Travel Insurance plan is an excellent option providing travel medical insurance for trips abroad, including to Malaysia.
Travel Insurance for US Citizens Visiting Malaysia
GeoBlue offers the Voyager Travel Insurance plan for travelers to Malaysia. The Voyager plan is a great option for US citizens looking for emergency medical coverage along with other travel insurance benefits. If you are interested in trip cancellation insurance, consider Seven Corners Travel Insurance. In addition to emergency medical benefits for travelers, the plan will cover your trip costs including flights and hotels.
Best Malaysian International Medical Insurance Plan
Read: Health Insurance in Malaysia for Foreigners and Expats
General Travel Safety and Advice When Visiting Malaysia
The majority of travelers who visit Malaysia come home with glowing reports of the country's beautiful countryside, amazing cities, and delicious food. However, every destination has health and safety concerns, and, in Malaysia, some of those are more pronounced than others.
In particular, most governments have issued a strong travel warning about traveling to the coastal areas of eastern Sabah for fear of kidnapping, piracy, and terrorism. The New Zealand government, for instance, advises: "There is an ongoing risk of kidnapping in coastal areas of eastern Sabah. Terrorist and criminal groups…have in the past kidnapped people from these areas and further kidnappings are likely."
In major cities, petty crimes like purse snatching aren't that unusual. Like with any other trip, keep a close eye on personal possessions and minimize your risk with secure, cross-body style bags. Speak with hotel staff or trusted friends about identifying unsafe streets, if applicable.
Traveling with illegal drugs is foolhardy and risky in any region of the world, and especially so in Malaysia. The current government has an extremely aggressive stance on drug use and distribution. The penalties for such crimes are severe and include the death penalty.
Understanding Malaysia's Health Care System
Malaysia has a two-tier health care system. This means that government-funded, universal health care co-exists with privately funded healthcare options. While the public system is widespread, services may be basic in rural areas. However, healthcare improvements and investments are a government priority. Pilot projects, including delivering prescription medicine by mail, have received favorable reviews. Many rural hospitals and clinics also use a Tele-Care system to connect patients and specialists. Hopefully, as a result, more isolated regions will see improvements. In the meantime, if your travels involve extensive time in rural and isolated areas, inquire about travel insurance policies that include medical evacuation or air ambulance transfers to major cities in the case of an emergency.
A List of the Best Hospitals in Malaysia
In Malaysia's cities, the private health care system has a very good reputation for access to specialists and leading diagnostic technology. Travelers should inquire about health care insurance that covers private hospital visits, as, in general, they are more comfortable and waits times are shorter.
Emergency Services in Malaysia
In Malaysia, for emergency services:
Dial 999 to request an ambulance or police services
Dial 994 to connect with a fire department
112 is an alternative emergency service for mobile phone users
The Malaysian government is the main provider of ambulances in the country but there's not one centralized system for organizing them. For instance, a traveler in need may find themselves in an ambulance run by the Red Cross or a university. As a result, ambulance response times are slower than in many other countries (though the care provided within is good).  It can often be a tough call but travelers in need will have to determine if it's possible to use alternative transportation, such as a taxi, to reach a hospital more quickly.
Vaccines Required and Health Advice for Malaysian Travel
As with every trip, your routine vaccinations should be up to date. That includes tetanus, diphtheria, pertussis, polio, measles, mumps, rubella, chickenpox, and your yearly influenza vaccine.
The CDC recommends hepatitis A and typhoid vaccines for most travelers. For some travelers, depending on their exact destination and travel plans, hepatitis B, rabies, and Japanese encephalitis may be recommended, as well as malaria prevention.
Travelers coming from countries where yellow fever is a risk are required to show proof of yellow fever vaccination. There is no risk of yellow fever in Malaysia. This is a preventative strategy to make sure travelers who have previously visited high-risk countries don't bring the disease with them.
Tap water in Malaysia is generally not potable and travelers should stick to bottled or boiled water.
Many countries have a travel advisory for Malaysia because of the Zika virus. Pregnant women, in particular, should speak with their healthcare provider before they travel. While influenza is a concern in many Asian countries, the government of Malaysia has developed a comprehensive National Influenza Pandemic Preparedness Plan (NIPPP)
Medical Tourism in Malaysia
Not all tourists to Malaysia are motivated by surf, sun, and shopping. Medical tourism is a significant part of the Malaysian tourism economy. According to the Malaysia Healthcare Travel Council (MHTC), Malaysia reportedly received 641,000 foreign patients in 2011. While the majority of medical tourism patients are from Indonesia, the percentage from the United States, Canada, and Western Europe is growing. If you're contemplating visiting Malaysia for the purposes of medical care, take the time to diligently research all of your options. Speak with your home health care team about your plan and reach out to other Expats and patients to learn from their experiences before you finalize your decision. 
Related: