Ireland: Visitors Travel Insurance and Safety Tips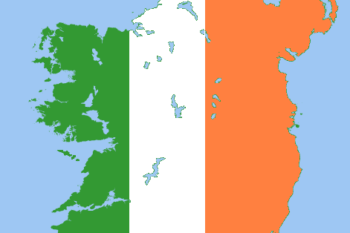 It's said that on St. Patrick's Day, everyone claims some Irish ancestry and it's not altogether untrue. An estimated 70-80 million people around the world self-identify as having Irish heritage. Add in legendary hospitality, breathtaking natural landscapes, and complex history, and it's no wonder Ireland is one of the world's most beloved destinations, equally popular with students, visitors, and independent thrill-seekers. Visiting Ireland is not without its risk so make sure you have Irish Travel Insurance before you arrive.
It's nearly as easy to travel in Ireland as it is to fall in love with it. Ireland has excellent health care and citizens of the European Economic Area and Switzerland are entitled to the same public health services as Irish citizens. Australian citizens enjoy a reciprocal health care agreement with Ireland, which means they are entitled to receive emergency public hospital treatment subject to the standard charges for non-medical cardholders in Ireland. And registered international students on an approved course of study that lasts one year or longer are also covered. But if you're not from one of these countries or groups, you'll need a quality travel insurance plan to cover your travels.
Preparing to Travel to Ireland
Your most significant consideration might be the weather. Most travelers advise you to travel light. However, a visit to Ireland might require one more sweater than usual.
Visa is generally not required. However, there are certain countries where you must get a visa before visiting. For details, go to Irish Visa Advice.
There are no vaccine requirements for visiting, but it is recommended that all travelers be up to date on their routine immunizations, including tetanus, MMR, and influenza (should you be traveling during flu season, which in Ireland is from October to April). Rabies is present in bats in Ireland, so travelers who are focused on adventure activities such as cave exploration should be vaccinated.
Irish Travel Insurance for Visitors to Ireland
Do not forget to purchase a comprehensive travel medical insurance plan for your trip! We suggest:
Medication and Pharmacies
All prescription medication should travel in its original container from the pharmacy, with the prescription label intact. Pharmacies, indicated by a green cross, are generally open Monday to Saturday, with some larger urban centers offering limited evening and Sunday services.
If you are prone to hay fever or seasonal allergies and will be traveling extensively in the Irish countryside, an over-the-counter anti-histamine will offer comfort and relief. These and other common, over-the-counter, nonprescription medications can be found in pharmacies, grocery, and convenience stores. Even gas stations and newsagents will have a small selection of fundamental items like painkillers and cough medication should you find yourself in need.
US Dept. of State: Hospitals in Ireland may not accept American insurance coverage.  Patients are expected to pay all costs up-front at the time of treatment and apply for reimbursement from their own travel insurance later.
General Wellbeing When Visiting Ireland
Don't get so caught up in Ireland's charm that you don't watch where you're going. Cobblestone streets can be an adjustment for North American visitors in particular – and that's before you've had any Guinness!
Another area to watch your step is along Ireland's beautiful coastline. The fences, barriers, and warning signs aren't mere suggestions – sticking to the approved path is critical for visitor safety.
Lyme disease is present in Ireland. To avoid being bit by an infected tick, wear long-sleeve shirts and pants while enjoying those coastal walks or in any forested location or covered with long grasses and thick vegetation. Insect repellant containing 20% DEET is recommended for hikers and campers, who may also consider treating their clothing and gear with permethrin spray.
While Irish people like to joke about their country's rainy, damp weather, Ireland enjoys plenty of bright sunny days as well, and hazy days can suddenly turn hot. Sunscreen is your friend.
Medical Services in Ireland
Medical services are excellent and rated along with some of the best countries in the world. International citizens and students living in Ireland for an extended qualify for free or affordable subsidized medical care. Ireland's multi-tier system means that qualified internationals can choose to use either the government or the private system (which may require full payment in advance). A private global health insurance plan will cover you in Ireland as well as throughout the rest of the world. Choose a plan based on your lifestyle and specific needs.
Visiting an Irish Doctor
Walk-in clinics are not common in Ireland, but a local or hotel concierge will be able to help you identify a general practitioner's (GP's) office for non-emergency doctor visits. They should also be able to help you call to set up an appointment. The average visit costs as much as 100 Euros, and it is usually necessary to pay in cash.
How do GPs Work in Ireland
General Practitioners (GPs) are family doctors. A GP is often the first doctor people see about a health problem. GPs are usually part of the private healthcare system, and so you will usually need to pay charges when you see a GP. You can see a GP without being charged for the visit if you have a medical card or a GP Visit Card.
Doctors in Ireland keep strict business hours. After-hours care is accessed through hospitals for serious concerns or, more commonly, through a visit to the DOC – the doctor on call. You can expect to pay a bit more for a DOC visit, approximately 100 Euros, and once again, your hotel can help you set up the appointment, or a pharmacist can make a recommendation.
Whether the doctor tends to your concerns by day or by night, seeing them is necessary if you require a specialist's services. A GP always needs to submit the request for a specialist consultation. However, no GP referral is required for a visit to the A&E, a hospital's Accidents and Emergency Department. Hopefully, this is one part of Ireland that you won't become acquainted with! But, if you do, know that standard visits start at 100 Euros.
Public Healthcare in Ireland
The majority of hospitals are owned and funded by the Health Service Executive (HSE) or are voluntary public hospitals, which are subsidized but privately operated. Public hospitals, although more affordable, are often crowded and require a long wait for non-emergency services.
'Ordinarily, residents' in Ireland (i.e., students, expats, etc.: anyone intending to live in the country for 12 months or longer) can go to publicly funded health facilities. However, you should note that government-subsidized does not mean there are no costs. Many services require a co-payment for patients who are not fully eligible citizens. Check with the healthcare facility and your insurance provider before receiving non-emergency care.
Private Irish Medical Care and Services
Independent, non-government subsidized hospitals work independently of the government and may bill patients, or their medical insurance provider, for the entire cost of treatment. Private health services (i.e., private beds) can be requested at some public hospitals, but a surcharge or premium may be charged to the patient.
Health Insurance Plans
For people moving to Ireland: If one doesn't qualify for local benefits, other options are available for low-cost coverage. Check with local hospitals or insurance brokers to research your options.
Even with access to low-cost options, most locals and internationals purchase private international health insurance to gain access to a broader range of healthcare facilities with less waiting. You should check whether an overseas medical insurance provider is accepted by private hospitals in Ireland before signing up.
Next Step, Read: Irish Health Insurance Plans for Foreigners
Irish Travel Insurance for Visitors to Ireland
International Health Insurance in Ireland
For expatriates living in Ireland who need worldwide coverage and prefer the advantages of an expat medical plan, consider the following options:
Top Irish Hospitals
Most hospitals are operated directly by the Health Service Executive (HSE). There are also hospitals run by publicly funded organizations but operate with some degree of autonomy (i.e., teaching hospitals such as University Hospital Galway) Private hospitals also operate in the country. We have listed below ten leading hospitals in Ireland:
See More:
Food Restrictions
Ireland is a delicious destination! Restaurants and hotels are aware of and responsive to dietary concerns. Even in small village pubs, there is usually a basic vegetarian option and a dish that can be prepared without gluten. With advanced notice, chefs can work with you to accommodate a diet with significant restrictions.
The country's famous dairy products are pasteurized, and there is a growing trend towards 'farm to table' food with an emphasis on healthy, organic, local fare. But should you be tempted by Irish oysters or other shellfish, take note that there are health risks that come with eating uncooked and uncooked meat products no matter where you are in the world.
Irish Emergency Assistance Contact #'s
When a crisis occurs, you can take comfort in Ireland's warm, hospitable nature – as well as some very handy emergency resources.
Ireland has two emergency numbers: 999 and 112. 112 works in all of Europe and from any phone.
Ex-pats and long-term travelers may wish to invest in a membership with the Automobile Association, which costs approximately 220 Euros and offers breakdown support.
Irish Tourist Assistance Service offers free, confidential support and assistance to tourists who are victims of crime, from minor troubles to more serious situations. They can help with everything from organizing medical assistance to helping to re-issue stolen travel tickets to assist with language and communication difficulties.
Whether your connection to Ireland is through your blood or through your heart, a small dose of knowledge and preparation will go a long way towards a healthy, worry-free trip whose memories will last a lifetime.