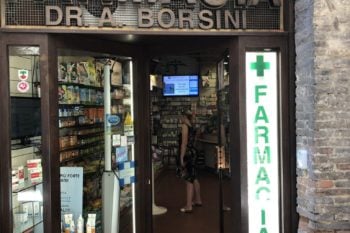 Visiting Italy: Safety and Travel Insurance Advice
Whether your travels to Italy are for just a visit or your plans are more permanent, your upcoming trip is bound to create envy from all who hear of it. Between the food, the wine, the landscape, the art, and architecture, what's not to love? In Italy, there is certainly a whole lot to love, but just like anywhere else you may visit, it's important to make the right arrangements to ensure that you stay safe and healthy during your time there. We will also offer advice on Italian travel insurance options. Let's take a closer look at how you can do that.
We offer two types of plans for tourists and travelers to Italy. The first, travel medical insurance, covers medical emergencies along with other important benefits. The second, trip cancellation insurance, covers all of the same with the additional benefit of covering the cost of your trip if you are not able to travel for a covered reason.
Italian Travel Medical Insurance Plans
When visiting Italy as a tourist, a travel insurance plan will provide peace of mind as you can rest assured that your medical expenses will be covered if you get sick or injured in an accident. You will also have access to 24/7 medical emergency assistance with help finding a doctor or hospital to treat you. Some recommended plans for visitors to Italy can be found below.
Trip Cancellation Coverage for Visitors to Italy
The Seven corners trip insurance is for US citizens traveling to Italy. This plan will cover your trip costs, including flight and hotel expenses.
Trip Cancellation for US Citizens Traveling to Italy
Important Safety Tips for Visitors to Italy
The larger Italian cities are notorious for small thefts, pickpockets, and muggings. If this is not something which you are accustomed to in your home country then it's important to familiarize yourself with some common sense precautions which even might seem like going overboard, but can make all the difference between having a wonderful trip or having a very unpleasant experience.
Here Are a Few Tips to Avoid Being Robbed:
Mind Your Electronics: You might be used to living in a large city, and you also might be used to staring into your smartphone wherever you go, on public transport, or walking down the street. However, in Italy, it's best to secure your smartphone and other electronics and spend your time in public appreciating where you are, not staring into a screen. First of all, you will be more aware of what's around you and better prepared to deal with a threat. By keeping your phone and camera carried out of sight securely on your person you'll reduce the temptation for someone to see you as a crime of opportunity and enact a snatch and grab with your expensive electronics.
Secure Valuables in Your Hotel Room or Residence: It's a good idea to begin a policy of not leaving home (or hotel) with anything that you cannot lose. Limit the amounts of cash you carry. If you need to bring your passport with you, leave a photocopy at home. Have a backup credit card you leave behind. Avoid expensive or flashy jewelry and watches.
Wear a Money Belt: Even if you leave the bulk of your valuables behind, you still need to carry some cash with you, and there may be times when you'll find it necessary to carry a significant amount of cash as well as your passport. That's why it's a great idea to invest in a money belt that will allow you to securely hold your valuables underneath your clothes and away from opportunistic thieves.
Be Mindful: Travelers are actually more likely to lose things than to have them stolen. Either way, as you feel comfortable and at home, it's very easy to sling your bag over the back of the chair at the outdoor cafe that you've stopped at for a macchiato. However, doing so invites both forgetting the bag there, as well as someone snatching it. Avoid both and hold your bag in your lap.
Safety First: If you do get robbed, chances are you'll have no idea until after the thief and your stuff are long gone. But if you do catch the thief in the act, don't enter into a confrontation that is likely to lead to violence. If it's night and there aren't many people around it's generally a better idea to let your things go, whatever it is, it's replaceable, your physical wellbeing is not.
Italian Embassy Phone Numbers
United States: +39 06 46741
Australia: +39 06 852721
New Zealand: +39 06 853 7501
United Kingdom: +39 06 4220 0001
All embassies are located in Rome, but larger cities such as Naples, Milan, and Florence are likely to host a consulate which can be a valuable resource if you are located closer to one of these cities.
Emergency Assistance Numbers in Italy
The universal European number 112 works in Italy, and there are also individual numbers specific to Italy for emergency services:
Police or General Emergency: 113
Fire: 115
First Aid: 118
Italian Healthcare System and Types of Insurance
Italy offers all its citizens and residents nationalized healthcare, called Servizio Sanitario Nazionale. It is important to note that though the SSN is a nationalized system, it is overseen on the provincial level. As a result, the quality of healthcare is not consistent throughout Italy but will vary depending on where you are. If you are having persistent of more serious health problems which you would like to have treated in Italy then it is worth considering whether the region you are seeking treatment has the best facilities and specialists to treat what is ailing you.
While the SSN is available to non-citizen permanent residents (automatically for EU citizens with the European Health Insurance Card and with registration for non-EU citizens), many Expats still choose to invest in private international health insurance and healthcare. Many of Italy's most renowned medical practitioners are major proponents of the private healthcare system, and as a result, it is known for being world-class. For everyday medical needs, the private healthcare system provides an additional major advantage: avoidance of the long lines and wait times for appointments that plague the SSN.
Tourists and visitors can access SSN and emergency services by paying out of pocket or subsidized by privately purchased travelers' insurance.
Vaccines, Medications and Diet Considerations for Italy
Due to a measles outbreak, Italy has become extremely strict about requiring childhood vaccinations, due to a degree that has proven controversial. As always when traveling, it is important for all travelers to be up-to-date on all basic vaccinations like MMR and polio. Additionally, if you will be on an extended stay in Italy and plan to enroll children under the age of 16 in Italian schools, you should check to make sure that your children are up to date on all the newly required 12 vaccines.
Rome recently saw its first death due to malaria in decades. While it is far from being widespread enough to require precautions such as vaccinations or medication, it's best to be aware that this is now a possibility, if still thankfully remote.
Water is potable throughout Italy, both from a tap, as well as from designated fountains so long as there is no "Acqua non-potabile." That being said, travelers often have more sensitive stomachs, plus there is the matter of taste. If you know that your stomach is more susceptible, or you don't like the taste of tap water, bottled water is easily available at reasonable prices, and bottled water, both sparkling and still is generally the preferred choice in Italian homes. However, precautions such as using bottled water for brushing teeth, boiling water prior to washing fruits and vegetables, or avoiding ice are all unnecessary.
Like many European countries, pharmacies and pharmacists are considered specialized healthcare providers for situations not severe enough to require a doctor. When traveling it's always a good idea to carry extra medications that may be needed as well as copies of prescriptions. However, if you do find yourself in need of something, you'll find a highly qualified person to help you in any pharmacy, and if you are able to transcend the language barrier, you'll also find a person who will likely be able to advise you on the best treatment for any minor ailments.
Italy holds a special place in the heart of any person who has ever tasted the cuisine on offer. Though the country is not large, relatively speaking, the cuisine is far from monolithic pizza, pasta and gelato, rather each region and even each town offers its own gastronomic delights. Part of visiting this country is making the most of it, however, while the Italian diet fits in with the Mediterranean healthy lifestyle, for visitors who are on an extended stay, it can be very easy to overindulge and gain weight. Try and base your diet around the strictures of the Italians, and not like tourists, keep pasta portions small, and view them as only a part of a balanced meal that also includes lean proteins and fresh fruits and vegetables.
Italy has the same visa requirements as all other EU countries and is a Schengen country. You can find more about Schengen visa insurance.
Italy is a favorite for visitors and Expats alike. By making preparations to ensure your stay there is healthy and safe, you'll guarantee that you'll be having the time of your life for however long you'll be blessed to live la bella vita.
Related: