Safety and Travel Insurance Advice for Travel to Cuba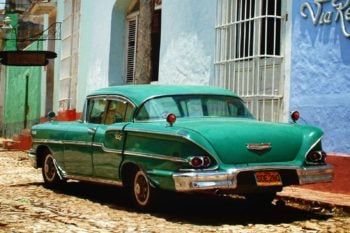 The largest island in the Caribbean, Cuba is an exciting and beautiful place to visit! Rich with history and culture as well as comprised of fabulous beaches and stunning scenery, there is a lot to explore and enjoy.
Added to that, Cuba has the lowest crime rates in the Western Hemisphere, making it a safe country to visit. Since the 1980's about two million travelers, primarily Canadians and Europeans, have been visiting each year. Tourism is the main source of revenue for the country.
In 2015, the U.S. government announced amendments to Cuba sanction regulations, meaning Americans are now able to travel to Cuba on a limited basis. So what do you need to know about traveling to Cuba?
Travel Medical Insurance
Travel Medical Insurance is a must for traveling to Cuba. As of May 1, 2010, the Government of Cuba announced that all travelers (both foreign and citizens living abroad) who are coming to the island are required to have medical insurance.
The medical insurance requirement can be met in two ways. First, you may already have an existing medical insurance plan that would cover a trip to Cuba. The second is to purchase a plan that would be specific to your trip. Ideally, a travel insurance plan would be purchased in your country of departure.
For those who don't purchase in advance, there is an option to purchase the insurance upon arrival. Choosing to purchase your medical insurance plan in advance of your trip allows you to make sure the coverage is tailored to your trip and needs.
You may want to ensure that your insurance plans cover medical evacuation by air, medical emergencies and even repatriation of remains. Medical evacuations from Cuba back to the U.S. can cost in excess of $50,000.

Comprehensive coverage for trip cancellation, trip interruption, emergency medical and post-departure travel coverage.
Pre-Existing medical condition waiver included on plans purchased prior to or with final trip payment.
Cancel for Any Reason available.
Plan Details
|
Apply Online
Tourist Cards
If you are planning to spend less than two months in Cuba you will not require a visa. Instead, you will need a tarjeta de turista – a tourist card. The card is valid for 30 days and it is possible to extend to an additional 30 days once you are there.
Typically, your tourist card is purchased at your departure airport. The cards can also be purchased in advance from many travel agencies. Expect to pay about $15 to $20 USD for your tourist card.
Once you have your card, take good care of it. You will need it to leave Cuba. Lost cards can be replaced but the process to do so, though straightforward, can be quite time-consuming.
Cuban Travel Visas
Trips longer than two months require a visa. These can be obtained from a local Embassy or through one of the many companies that specialize in travel to Cuba.
Can US Citizens Travel to Cuba
General tourism is still banned for Americans, but the U.S. government has now made it easier for Americans to visit for other purposes. The Government has issued 12 available reasons for travel to Cuba.
Eligible Reasons to Travel to Cuba:
Family visits
Official business of the U.S. government, foreign governments, and certain intergovernmental organizations
Journalistic activity
Professional research and professional meetings
Educational activities
Religious activities
Public performances, clinics, workshops, athletic and other competitions, and exhibitions
Support for the Local Nationals
Humanitarian projects
Activities of private foundations or research or educational institutes
Exportation, importation, or transmission of information or information materials
Certain authorized export transactions
Visit treasury.gov/cuba for more information.
Healthcare in Cuba
The Cuban government operates a national healthcare system – there are no private hospitals or clinics.
Many resort hotels have doctors either on staff or on call. Major resort areas have international clinics. These are found in Havana, Veradero, Santa Lucia, and other popular destinations.
Regarding healthcare, the U.S. Department of states says:
Medical care in Cuba typically does not meet U.S. standards. While medical professionals are generally competent, many health facilities face shortages of medical supplies and bed space. Many medications are unavailable, so travelers should bring with them any prescribed medicine in its original container and in amounts commensurate with personal use. Travelers may also wish to consider bringing small additional amounts of prescribed medicines and over-the-counter remedies in the event that a return to the United States is delayed for unforeseen reasons. A copy of the prescription and a letter from the prescribing physician explaining the need for prescription drugs may facilitate their entry into the country.
Travelers to the Havana area should be aware that the U.S. and other foreign visitors seeking medical care are generally referred to as the "tourist" Cira Garcia Hospital located in the Miramar neighborhood of Havana. Medical consultations and treatment at Cira Garcia require payment in cash in Cuban convertible pesos (CUC) or by credit card issued by a non-U.S. bank (see the section on Medical Insurance below).
Source: travel.state.gov
Expatriate Health Insurance Plans in Cuba
Expatriates and international citizens living in Cuba are eligible for private medical coverage. There are several international health insurance plans available to cover you in Cuba and throughout the world. These plans provide comprehensive medical benefits, on an annual basis, including inpatient, outpatient, wellness, vision, dental, evacuation, etc.
International Health Plans: Global Medical Insurance | Free Quote / Apply
Adventure Sports Coverage
In addition to enjoying the beautiful, sunny beaches on your vacation, there are many other activities to enjoy. You may find all kinds of adventures through your resort to partake in. And you want to make sure that your insurance will cover those activities if you try them.
Here are some examples of activities that may be covered under an adventure sports insurance plan and not through your regular medical insurance:
Ziplining
Snorkeling
Horseback riding
Scuba diving
Jet skiing
As you plan your trip, do a bit of research into the activities you would like to do or try and find out if you need extra insurance to cover them.
Emergency Assistance
In Cuba, dial 106 to access your emergency services – Fire, Police, or Medical.
Can You Use Credit Cards in Cuba?
Be sure to bring cash with you. Currently, U.S. credit and debit cards are not accepted. There are many places to exchange U.S. dollars, typically with a nominal exchange fee.
Internet and Connectivity When Traveling to Cuba
Before you head to Cuba, be aware that you are likely to be unplugged for most of your time there. While some cell phone providers may offer limited coverage, not all do – check with your provider ahead of time to find out.
Additionally, Internet access isn't as readily available. There are some Wi-Fi hot spots in Havana and your hotel may have one or two computers available for use. The Cuban Internet is also very slow, so save uploading photos until you are home.
Cuba is a great place to visit, but given all of the activities and unfamiliar healthcare, be sure to get the right medical insurance plan to suit your needs. As ever, it is important to consider all of your insurance needs including trip cancellation insurance and cancel for any reason insurance.
International Insurance for Travel to Cuba