Safety, Health, and Travel Insurance Advice for Visitors to, and Expats in, Europe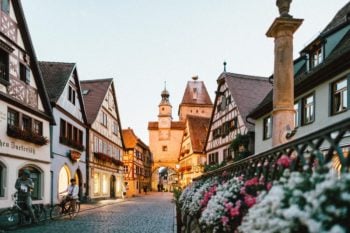 Travel to Europe has never been easier or more affordable. The Schengen Area allows for free movement between member states for 90 days in a 180 day period. Ultra-low-cost airlines like RyanAir and EasyJet, while light on comforts, are heavy on bargains, offering deeply discounted flights. And multilingual urban areas make European cities particularly welcoming and easy to navigate.
Overall, Europe is a safe, healthy, accessible travel destination. Every year, tens of millions of travelers visit without issue. And it's likely that you will too! For the most comfortable and reassuring experience, here are some tips and suggestions to make your next trip worry-free.
Related: What is the Schengen Visa
Understanding the European Health Care System
Every European country administers its own national health care program. Nearly all of Europe has universal health care. As well, many countries have a combination of universal health care and supplemental care with private health insurance. The European Union has no responsibility for how each country practices health care, but EU countries do offer their citizens a European Health Insurance Card that allows for emergency medical treatment on a reciprocal basis with other member states.
The European Health Consumer Index ranks European healthcare by countries based on a score that takes into account patient rights and information, accessibility and waiting time, the range of services, treatment outcomes, preventative programs, and pharmaceutical factors. In 2017, the top-performing countries were The Netherlands, Switzerland, Denmark, Norway, and Luxembourg. Rounding out the bottom were Hungary, Lithuania, Greece, Bulgaria, and Romania. France, Italy, Spain, and Austria offer some of the best healthcare according to the WHO Ranking the Top Healthcare Systems by Country.
Health Care and Travel Insurance for Visitors to, and Expats, in Europe
For non-EU visitors who need health care, there is a wide variety of options. For minor concerns, like a cold or indigestion or moderate back pain, consider doing what Europeans do. Speak with a pharmacist for advice. Pharmacies across Europe adhere to a very high standard of care and most are familiar with assisting tourists.
For more serious concerns, speak with your hotel staff about seeing a doctor or read this article on Finding an International Doctor. Depending on the circumstances and location, they might recommend visiting a walk-in clinic, making an appointment at a doctor's office, or even arranging a house call. The costs for this are rarely exorbitant. In fact, they might even be free. But you should check in advance as you'll likely be expected to pay any associated fees on the spot.
Just like at home, serious and life-threatening emergencies should be treated at a hospital. While many travelers are astonished by how reasonable the fees are at European hospitals, know what your cost will depend on many factors. They include what country you're in, what kind of hospital it is, what kind of problem you have, what kind of specialists you need to see and what kind of tests they have to run. The costs can range from being absolutely free to thousands of dollars. Imagine if you break a hip while skiing and have to be airlifted off a mountain or if you have a heart attack and need to be rushed into emergency surgery. Even less dramatic circumstances, like a sprained wrist, could potentially bring unpleasant bills. Therefore, make sure you have comprehensive insurance coverage.
We strongly recommend Travel Medical Insurance for Visitors to Europe. All plans offered meet Schengen Visa insurance requirements.
In most European countries, 112 is the phone number to reach an ambulance or other emergency services like the fire department.
Best Travel Insurance for Visitors to, and Foreigners in, Europe
Before jetting off to Europe, we want to make sure you understand global health insurance, safety guidelines, and travel medical insurance for short-term as well as long-term stays. Purchasing a health insurance plan to cover your stay in Europe will relieve any unnecessary health hassles that might impede on your experience. Europe is typically a safe destination for travelers, students, expats, and seniors retiring abroad, but below we've outlined what you should be aware of before you plan which tourist trap to visit first.
Europe Travel Medical Insurance Plans
Insurance Plans for Expatriates in Europe
For Expatriates in Europe, review and purchase coverage from one of the Best International Health Insurance Companies before you make the big move. Plans can provide comprehensive medical benefits worldwide, including in your home country.
Best Health Insurance for Expats in Europe
Best Health Insurance for US Expats in Europe
Common Safety Tips for Visitors To Europe
In general, European travel is very safe. Violent crime and gun violence are rare. The standard of living is extremely high.  It's a very welcoming destination for travelers. The most significant threat to visitors' well-being is non-violent crimes of financial opportunity, just as you would find in any popular tourist destination. Here are some common scenarios for tourists and expats to keep in mind.
Beware the Crafty Pickpocket
In metropolitan areas, you should safeguard your belongings as pickpockets are common. They're pros at what they do and you should make an effort not to be their easiest target. An open tote bag worn over your shoulder can be easily violated. The same goes for wallets stuck in back pockets and cell phones in open jacket pockets.
A cross-body bag with multiple zippers, worn towards the front of your body, offers much more protection. Another method of pickpocket defense is gear from travel specialists like Tilley Endurables, whose products contain secret hidden pockets. However, for the best protection of all, don't put all your cash in the same place. Split your spending money between your wallet, your money belt, and a secret compartment in your main bag. And when someone approaches you with a petition or a map – realize that there's a good chance that they're really working a pickpocketing angle.
Understanding the Street Hustle
Equally skilled as pickpockets are street hustlers who invite you to try your luck at a game of "three-card monte". Don't let their casual clothing and laid-back demeanor fool you. These are some of the most profitable entrepreneurs of Rome, Paris, and Prague. A "plant" – really an actor friend of the hustlers – appears to win big money by correctly guessing which cup contains a coin or which card is the Queen of Hearts. Then you get to try. Surprise, surprise! There was never a coin and there was never a queen.
Be careful about accepting any "consolation prize". That might be an invitation to join them for a complimentary drink to show there are no hard feelings. With a little help from their friend the club owner, you'll soon find yourself on the hook for a bottle of champagne.
Forming New Connections
If a situation would seem strange or out of place at home, then it's strange or out of place in Europe. The best way to make friends in Europe is the same way you make them at home – not gambling on side streets or hanging out with strangers who just took your money – but through common acquaintances, at organized events, or through casual conversation in conventional locations like cafes and hostels.
Suave men who appear from nowhere and won't take no for answer when it comes to a drink aren't charming just because they're in Paris. They're just as creepy as if they were in Denver or Toronto. Only the architecture has changed. And when a new group of "best friends" appear on the street and tell you that they love Americans and insist on bringing you to a secret club that tourists don't know about in order to toast to your friendship – you know that something is up.
Look Twice!
However, most travelers find their greatest travel annoyances and safety threats lie in more mundane situations. A combination of unfamiliar road rules and flashy scooters makes driving hazardous. Practice your skills in a quiet setting before you tackle cities and triple-check before you cross the street! And, speaking of which, if said street is made of cobblestones, keep your wits about you. You don't want to outsmart the pickpockets of the Louvre just to have your trip ruined by a sprained ankle.
Also Read:
Vaccines and Diet Considerations for Europe
There is no universal standard on mandatory vaccines to enter Europe. You should be up to date on all routine vaccines before every trip. These vaccines include the Measles-Mumps-Rubella (MMR) vaccine, diphtheria-tetanus-pertussis vaccine, varicella (chickenpox) vaccine, and the polio vaccine. In some parts of Europe, vaccines for Hepatitis A and B are recommended. Rabies vaccination may also be recommended if you are participating in cave exploration. The Center for Disease Control has a comprehensive database of all recommendations for each European country.
In general, all of Western Europe has safe tap water and most of Eastern Europe does as well. But in Romania, Greece, Hungary, and Bulgaria in particular, check with your hotel staff. In most urban areas the tap water is potable but that may not be the case in their more rural regions.
In many parts of Europe, milk and other dairy products might be "raw", meaning that they are not pasteurized. Therefore, this might not be the right choice for all travelers. If you are pregnant or if you have ongoing health concerns, speak with your doctor to make sure your trip is as healthy as possible.