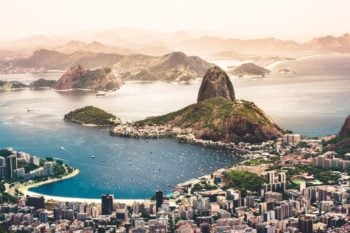 Visitors to Brazil: Safety and Travel Insurance Advice
White, sandy beaches, tropical rainforests, bustling metropolises, and diverse ecosystems filled with the most magnificent collection of plant and animal species found anywhere on earth all reside in the beautiful country of Brazil.
Rio de Janeiro is the top city to visit in Brazil because of its gorgeous views and adventurous experiences. Travelers can hike through Parque Nacional da Tijuca, which is covered with exuberant greens, running creeks and waterfalls, and mountainous terrain on the outskirts of Rio. A cable car ride will bring you 396 km above Rio de Janeiro where you will be able to see Corcovado Mountain, Christ the Redeemer, and Copacabana Beach.
While in Brazil, travel to Salvador and immerse yourself in the Afro-Brazilian culture. The brilliantly hued center of the city is a living museum of 17th and 18th-century architecture and gold-laden churches. Descents of African slaves have preserved their heritage and continue celebrating their culture with beautiful music and dance, delicious foods, including acarajé, which is bean and shrimp fritters, martial arts traditions, and of course, religion. The neighborhood, Barra, has pedestrian-only promenades, where locals have set up market stands, along with the gorgeous coastlines of the Bay of All Saints on one side and the Atlantic on the other.
Music is the lifeblood of Brazil. Many styles can be heard throughout the country, such as rock, old-school bossa nova, hip-hop, and funk. But the rapid-fire African style of music and dance called the Samba is the most popular style of music heard in Brazil. Lapa, in Rio de Janeiro, is famous for its nightlife with open-air Samba jams and is home to dozens of live music and dance halls. Rio is also home to the renowned street festival, Carnaval. Colorful parade floats, live music, and dance performances, and more than 2 million people line the streets each day to celebrate the largest carnival in the world.
Travel Insurance for Visitors to Brazil
A good travel medical insurance plan is highly recommended for all travelers visiting Brazil. You'll have access to private hospitals and the cost of your care will be covered by your insurer. We recommend the following travel plans for trips to Brazil.
The Atlas Travel Insurance plan is an excellent travel medical insurance plan for visitors to Brazil. The coverage is very good compared to similar plans, the cost is affordable, and the customer service is excellent. For Canadians and Australians, the Seven Corners Travel Insurance plan will be your best option as the Atlas plan is not available to residents of those countries.
Related: Visitors Insurance
Health Insurance for Expats in Brazil
Expats living in Brazil who are accustomed to a higher quality of service and care should consider purchasing individual private medical insurance. Private Expat Health Insurance allows you to seek treatment from Brazil's best private hospitals and doctors. Our recommended plans for Expats in Brazil are:
Quality of Healthcare In Brazil and Types of Insurance
There is a government-funded health care system in Brazil, where the Ministry of Health is in charge of public health, government hospitals, and medical services. Any legal citizens residing in the country are entitled to free healthcare at any public clinic and hospital. Although, foreign residents are also allowed to receive free, public healthcare. Citizens must show a form of id and a SUS card to receive treatment. A SUS card is the Unified Health System card that allows healthcare facilities to access medical records from public, private, and supplemental healthcare systems.
The government-funded hospitals and clinics have good medical service, but they are usually crowded and have long waiting times. About 70% of the population uses the public healthcare system. Meanwhile, the rest opt to pay for private medical insurance. Foreigners may also use private hospitals to receive medical treatment, but payment is required. Therefore, travelers should purchase medical insurance to help pay for any medical treatment necessary while abroad before their date of travel.
Brazil is one of the leading medical tourism destinations in South America because of its top-notch cosmetic surgery procedures. The procedures are much cheaper than those in the US, UK, and other European countries. So, people seeking cosmetic and reconstructive surgery prefer to receive treatment in one of the country's many accredited hospitals. American plastic surgeons have been trained in cosmetic surgery by local doctors, who have been certified by the American Board of Plastic Surgery and are a part of the American Society of Plastic and Reconstructive Surgeons.
Related: Health Insurance for Brazilian Expatriates Living Abroad
Top Hospitals in Brazil
Brazil Hospital Sirio E. Libanes
Rua Dona Adma Jafet, 91 Bela Vista, São Paulo, 01308-050
+1212 434 2000
Hospital Sao Jose
Rua Maestro Cardim, 769 – Bela Vista, São Paulo, 01323-900
+66 053 999 758
Hospital Samaritano
Botafogo, Rio de Janeiro
+44 (0) 20 7486 4411
Hospital Copa d'Or
Magalhães de Figueiredo Street, 875 Copacabana, RJ
+55 11 3505 1000
Hospital Albert Einstein
Avenida Albert Einstein, 627/701, Morumbi, SP 05651-901
+55 21 2537 9722
Brazil Travel and Safety Tips
A travel advisory has been placed by the U.S. Department of State-Bureau of Consular Affairs in January of 2018. They have advised travelers to not travel to any areas within 150 km of Brazil's land borders with Venezuela, Colombia, Perú, Bolivia, Guyana, Suriname, French Guiana, and Paraguay due to violence and crime.
It is also with an extreme advisory to avoid specific areas within the cities of Brazil, especially at night. If you must travel to these areas, be sure to practice extreme caution. In particular, do not go to Brazil's Central Bus Station because of large crowds, Sao Paulo's "red-light districts," located on Rua Augusta north of Avenida Paulista and the Estação da Luz Metro Area, and Sao Paulo's Ibirapuera Park. Also, do not travel to Favelas, the neighborhood slums of Brazil. Violent crimes such as murder, armed robbery, carjacking, gang activity, organized crime, and express kidnappings have all occurred in these parts of Brazil.
Travel and Transportation in Brazil
Traffic safety and road conditions in Brazil are poor. Therefore you should be wary of significant risks. The people of Brazil have poor driving skills, the roads are bad, and high-density traffic makes road travel more hazardous than in the United States. Brazil offers public buses and taxis to bring locals and tourists around. Some buses are nicer than others, but bus hijacking can occur at random. Registered taxis in Brazil have red-colored license plates and openly display company information and phone numbers. Travelers should feel safe in registered taxis, but renting private cars would be the safest option.
Brazilian Emergency Health and Safety Numbers
To report a crime, call one of the following numbers:
Police—190
Ambulance—192
Fire Department—193
For emergency services, passport help, and federal benefits available to U.S. citizens:
US Embassy—011-55-61-3312-7000

Emergency After-Hours—011-55-61-3312-7400

US Consulate in Porto Alegre—011-55-51-3345-6000

Emergency After-Hours—55-51-98293-0446

US Consulate General in Recife—011-55-81-3416-3050

Emergency After-Hours—011-55-81-3416-3060

US Consulate General in Rio de Janeiro—011-55-21-3823-2000

Emergency After-Hours—011-55-21-3823-2029

US Consulate General in Sao Paulo—011-55-11-3250-5000

Emergency After-Hours—011-55-11-3250-5373
Vaccines Required for Travel to Brazil
Currently, Brazil does not have any vaccines necessary to obtain before travel. Although, you should stay up to date with routine vaccines such as the Hepatitis A and B vaccines and the Rabies shot. However, Brazil has reported cases of mosquito-borne diseases such as Malaria, Zika, and Yellow Fever. Travelers should prepare themselves for travel by receiving vaccines to help prevent these diseases. The Yellow Fever vaccine is limited to visitors from the United States. Therefore you should schedule an appointment to receive the vaccine far in advance before your travel date.
Passport and Visa Requirements
Brazil requires US citizens to carry a valid US passport and obtain a Brazilian visa before entering the country. You must obtain your Brazilian visa in advance from the Brazilian Embassy or Consulate nearest to your place of residence in the United States.
Final Word on Traveling to Brazil
Brazil is a beautiful destination to travel to because of its extraordinary views and exhilarating experiences but is also dangerous. Purchasing international health insurance will help to put your worries to rest because, in the event of an accident occurring, you know that you are covered. Travel to Brazil worry-free and enjoy the adventures that are waiting to happen.
Best Travel Insurance for Visitors to Brazil
Also Read:
More Travel Medical Insurance Advice for Visitors to:
Australian Travel insurance | Visitors to Canada | Travel to China | Costa Rica Travel Insurance | Travel to France | Visitors to Germany | Hong Kong Travel Insurance | Travel to India | Irish Travel Insurance | Italian Travel Insurance | Mexico Travel Insurance | Travel to Singapore | Visitors to Spain | Travel Insurance in Turkey | Thailand Travel insurance | Travel to the United Kingdom (UK) | USA Visitors insurance