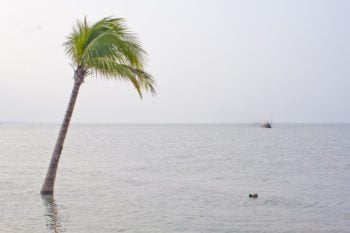 Many of us live our lives without going through a natural disaster. While it's uncommon, you may experience a natural disaster when you travel abroad, and if you do it can create problems for your trip. Travel insurance can help you get home safely with your costs covered if you plan and travel wisely.
What is a natural disaster? Insurers often define a natural disaster as a damaging event caused by weather or geological forces. Natural disasters include tsunamis, earthquakes, volcanic eruptions, and forest fires. Some insurers consider large storms, hurricanes, and typhoons, to be natural disasters: others call them bad or inclement weather.
Some natural disasters are famous for both their severity and their impact on travelers. In 2010, an Icelandic volcano eruption delayed hundreds of thousands of flights. In 2004, a deadly tsunami swept Southeast Asia, and the dead included many travelers. For these unexpected situations, travelers can help themselves with comprehensive travel insurance.
Are Natural Disasters Covered by Travel Insurance?
Yes, natural disasters are covered by good travel insurance policies. Here are examples of how travel insurance can help you in a natural disaster.
You evacuate in a natural disaster: travel insurance covers your evacuation costs.
A natural disaster leads to delays in your travel: trip insurance covers reasonable expenses for several days while you are delayed.
You are injured in a natural disaster: travel health insurance covers your health care and repatriation.
A natural disaster leads to cancellation of a trip you have planned and paid for: trip cancellation insurance covers a value or a percentage of your trip costs, often up to 100%.
All types of travel insurance have limits for natural disasters, including the right to refuse coverage if you do something high-risk or don't listen to travel warnings. Check a travel insurance policy to learn more about its natural disaster definitions and coverage. Sometimes you can add an adventure sports rider to extend your coverage for riskier activities.
Before You Travel, Get a Safety Contact and Pack Wisely
When you get caught in a natural disaster, the simple things you do "just in case" of travel emergencies also help you when you get caught in a natural disaster. Here's how to prepare to travel safely.
Ask a friend or family member to be your safety contact back home. Usually, you send them messages when you arrive safely and when you depart or change places. If you are caught up in a natural disaster, they can be a crucial contact, letting others know if you need help.
Printouts are a good way to view and share your travel details. Printouts are secure because they don't rely on your devices being charged or having Internet access. Bring printouts of your important travel information: tickets, reservations, and a travel schedule with phone numbers, emails, and addresses. It's very helpful to leave copies of these for your safety contact.
Finally, even if you are going to an all-inclusive tropical resort, bring one practical outfit of clothing and comfortable walking shoes. This can be your travel outfit. This outfit will be what you want to wear in a natural disaster. It's also useful to bring a travel medical kit.
From the United States? Sign Up for the Smart Traveler Enrollment Program (STEP)
The Smart Traveler Enrollment Program (STEP) is an easy way for U.S. citizens and nationals traveling abroad to enroll their trip with the nearest U.S. Embassy or Consulate. This helps the Embassy, and your friends and family in the U.S., contact you if a natural disaster happens. When you sign up for STEP, you can use the Smart Traveler app to get updates right away
STEP can let you know about evacuation efforts or provide news and safety information in a natural disaster.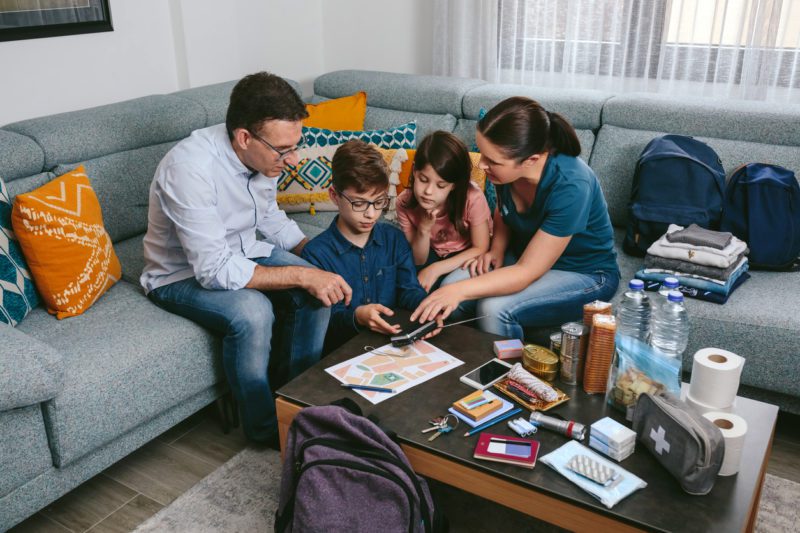 Warned About a Natural Disaster? Get Prepared
When traveling, you may learn that your area is at risk of a natural disaster. Locals prepare for these natural disasters, and you can, too. Here are easy ways to prepare and travel safely around these warnings.
Stay Informed and Connected
Find a local source for news and weather. Often people check the news less, differently, or not at all while traveling.
Sign up for apps connected with your airline or transport.
Update social media with your status once a day and check in with your safety contact back home.
Keep your phones, other devices, and travel batteries charged.
Pack and Prepare
Prepare a "go bag." This is one bag with your most important items: passports, insurance records, tickets, medications, devices, snacks, and drinks. The idea is that this bag is easy to grab and take if you need to leave in a hurry. Every person on the trip can have their own go-bag.
Other ways to pack and prepare are:
If you have a vehicle, keep it charged or fueled.
If you have extra travel batteries for devices, keep them charged.
Get print maps of your area as a backup.
Get cash – when power goes out, many areas lose the ability to use bank cards.
Buy portable snacks and drinks, enough so that if you need to skip two to four meals, you'll be okay.
When to Cut a Trip Short
Reliable warnings around natural disasters are good reasons to cut a trip short or to change where you are traveling. When in doubt, just get out. Keep records of warnings to share with your travel insurer if necessary.
In a Natural Disaster, Stay Calm and Connected
What if you are unlucky while traveling, and you are there when a natural disaster strikes? These tips will help you in any natural disaster while you travel.
First, stay calm and informed. Watch or listen to the news. And contact your embassy or consulate: their website and phone line may have advice. With STEP, you may get announcements on your phone or via email.
Contacting airlines is notoriously difficult during natural disasters. Your airline may send you messages about your flights via text messaging or the airline's app. If you are traveling with a companion, family, or friends, designate one of you to try and contact your airline and give them everyone's booking numbers.
Stay together with your travel companions. If you are separated, it can be hard to reunite or to get help around a missing companion.
A natural disaster may be dramatic, but it is not a time to sightsee. As a visitor during a natural disaster, you are a liability. If your lodging has hosts, ask them for advice. If they are evacuating, ask to follow them. Don't try to get close to the disaster, either to take photos or to "try and help." Most travelers can best help by keeping themselves and their companions safe and out of the way.
Sometimes, natural disasters take a while to pass, or you may be stuck somewhere because of them. Travel insurance can help you with coverage of costs. When you are waiting, do your best to stick to a routine, including regular meals. It may be tempting to overindulge in a few extra beers or cocktails: resist that temptation. If things get worse quickly, you need to act fast and sensibly.
How to Stay Safe Around Natural Disasters
Some natural disasters are unusual. Others are location-specific, like earthquakes in the Pacific Ring of Fire. You may not have experience with some natural disasters, but not others. These guidelines can help you stay safe when the extreme happens.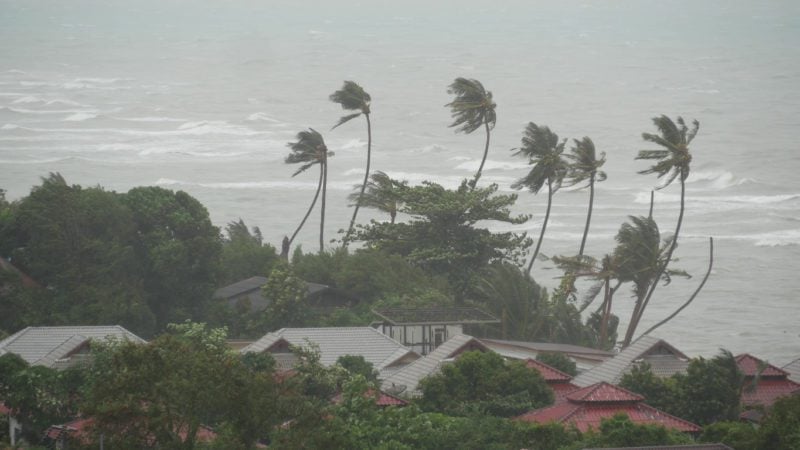 What To Do When a Storm Happens While Traveling
Find a protected indoor location to wait out the storm during a storm. If you are in an isolated location, or on a small island, get to a more central place or the nearby mainland. If you are told to leave a storm area, go earlier rather than later. Driving unfamiliar roads during a storm is highly stressful, and boat rides in choppy waters are both uncomfortable and dangerous.
Some storms may include tornadoes. Like the American Midwest, areas with tornadoes may have specific tornado shelters for you to use.
Does Travel Insurance Cover Storms?
Travel insurance can help cover travel problems caused by storms: delays, damage, extended stays, and injuries. To find out what is covered by your policy, search it for the terms storm, hurricane, typhoon, bad weather, or inclement weather.
It's important to listen to storm warnings and follow official recommendations. If you act irresponsibly and ignore storm warnings, you may invalidate your insurance coverage.
What To Do When a Flood or Tsunami Happens While Traveling
You need to get to higher ground or to a high point inside a building during a flood or tsunami. Keep away from large bodies of water and flood locations. If you are in a beachside hotel and there is a tsunami warning, it's time to evacuate – whatever time of day or night it is.
Does Travel Insurance Cover Floods or Tsunamis?
Because they are related to earthquakes, Tsunamis are usually covered as a natural disaster. Floods may or may not be covered, depending on the policy and whether they are caused by weather or by a geologic event.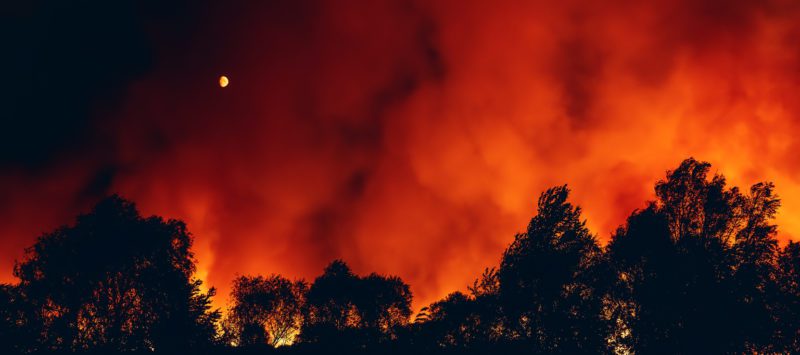 What To Do When a Wildfire Happens While Traveling
During a wildfire, also known as a "forest fire" or "bushfire" in some countries, evacuate as instructed. Leave a building; leave an area; leave immediately and quickly.
You may see local people staying, not evacuating. They may be trying to save property or buildings or be part of a local emergency response. The best thing you can do to help them is to leave.
Does Travel Insurance Cover Forest Fires?
Insurance may cover forest fires as a natural disaster, especially if caused by lightning or another natural disaster. If in doubt, keep records of a local state of emergency or other travel crises caused by the forest fire.
Especially in Australia, you likely will not be covered if you travel to an area with a known forest fire (bushfire) in progress. If you do this, you may invalidate your insurance coverage. But if there is a forest fire ongoing in your destination and mandatory evacuations are taking place, you usually have grounds to cancel your trip under trip cancellation coverage.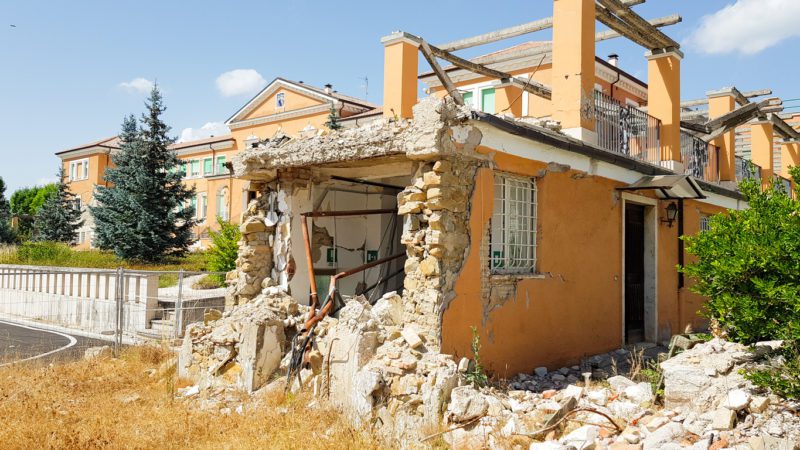 What To Do When an Earthquake Happens While Traveling
During an earthquake, either get outside or take shelter under a sturdy table. Wait for the shaking to stop before you move. If you are in a high-rise building, the building's health and safety team may come and get you.
Most earthquakes are moderate. Moderate earthquakes still lead to power outages, fuel supply disruptions, and tsunami flooding. There may also be aftershocks or more earthquakes. Train lines may be shut down to check the tracks, and roads or bridges may be damaged or closed.
Does Travel Insurance Cover Earthquakes?
Travel insurance almost always covers earthquakes as a natural disaster. If the location you were traveling to has just had a severe earthquake, this is a reason to cancel a trip and receive trip cancellation reimbursement.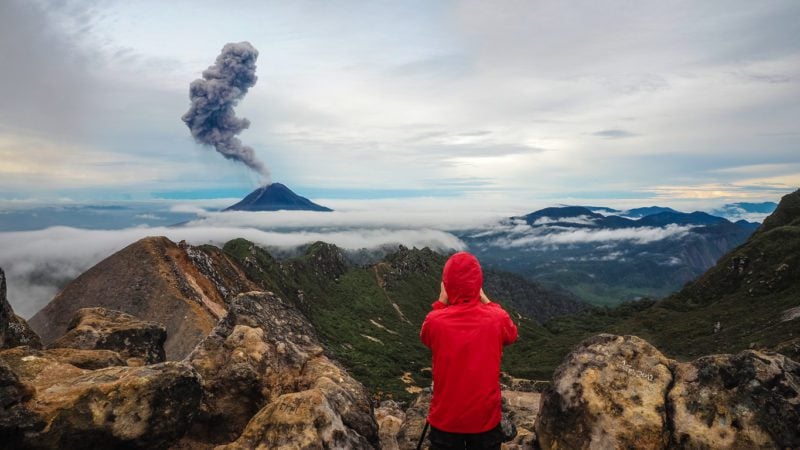 What To Do When a Volcano Erupts While Traveling
During a volcanic eruption, find a protected indoor location. If you are near or visiting the active volcano and it begins to rumble, get away immediately! Volcanic eruptions happen in an instant, and in unexpected locations.
Volcanic eruptions may come with earthquakes. Along with all the disruptions for earthquakes, flights and travel are canceled due to ash and fumes, sometimes for weeks.
Some tourists seek to visit active volcanoes. When this goes wrong, those tourists (or their survivors) are often unpleasantly surprised to learn they are not covered by travel or life insurance. That is because visiting an active volcano is a risky choice.
Does Travel Insurance Cover Volcanic Eruptions?
Most travel insurance covers volcanic eruptions (and hydrothermal events) as a natural disaster. As with forest fires and quakes, you'll invalidate your coverage if you visit an area with active volcanic eruptions.
If you are warned about a possible natural disaster, and it doesn't come to pass, then relax and enjoy your travels. Hopefully, all that happens is you end your trip with a bag of extra snacks!
Also Read