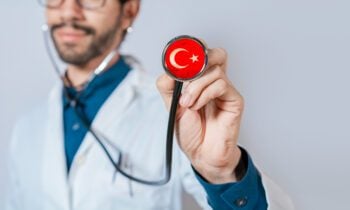 An Overview of Turkey's Healthcare System
Straddling Europe and Asia and known for its hospitality, Turkey is a popular destination for expats. In addition to the must-see attractions, the country also offers excellent healthcare to all residents. In 2018, The Lancet ranked healthcare in Turkey at 60th out of 195 countries. The public scheme offers comprehensive coverage and is available to all citizens or people who have resided in the country for at least one year.
Keep in mind, though, that medical insurance is a requirement for anyone under 65 applying for a visa and foreigners must wait one year to enroll in the public system. Furthermore, European Health Insurance Cards are not valid in Turkey. To ensure extensive coverage during this waiting period, most expats rely on international health insurance plans. This guarantees coverage both in and out of Turkey and gives access to high-quality private hospitals with shorter waiting times. Another benefit of private hospitals is that there's a better chance that your healthcare providers will speak English.
The History of Turkey's Healthcare System
Turkey started to improve its healthcare system at the turn of the century. Before this, the healthcare system in Turkey had high levels of patient dissatisfaction. Less than two-thirds of the population had health insurance and the system to receive care was inefficient. To combat this, the government launched the Health Transformation Program (HTP) with the support of the World Bank in 2003. The goal was to overhaul the system and provide universal healthcare, ensuring all citizens would have equal access to quality care.
In 2010, the Ministry of Health developed the public-private partnership program (PPP) to expand its resources. With the backing of the World Bank, more private firms began to enter the health insurance market in Turkey. The result of this was more financial support for public hospitals, an increase in private hospitals, and more focus on specialized services.
Healthcare in Turkey is now often cited as a success story. The HTP managed to achieve all health-related Millennium Development Goals ahead of the 2015 deadline. There are now hospitals and clinics offering high-quality care available throughout the country, although there is still some disparity between services and amenities in more rural areas.
Healthcare in Turkey Pros & Cons
Pros of Turkey's Healthcare System
Turkey has offered universal healthcare through its Social Security Institution (SGK) since 2003. The system offers comprehensive and equal access to care for all citizens, regardless of income level. Patients are able to make appointments online through the Ministry of Health's website or mobile app. While the majority of emergency and primary care services are fully covered, some are only subsidized. Luckily, out-of-pocket fees for services tend to be minimal.
Due to the affordable costs of healthcare in Turkey, medical tourism is booming in the country. Cosmetic surgery, fertility treatments and laser refractive surgery are some of the most common treatments visitors seek. The rise in medical tourism has infused more money into their healthcare system and further helped to improve the country's medical services.
Turkey is also working to integrate alternative care treatments with modern practices. In 2014, the Ministry of Health created the Complementary and Alternative Medicine Practices Department. Acupuncture, homeopathy and cupping therapy are some of the treatments being studied and offered at certain medical centers. However, these alternative treatments are not covered by insurance.
Cons of Turkey's Healthcare System
Although healthcare in Turkey has made great strides in the past decades, care can still be limited in rural areas. You may find poorly maintained or out-of-date equipment in rural hospitals, especially public ones. While doctors are well-trained throughout the country, there are fewer medical workers willing to work in rural areas, so you'll find that doctor-to-patient ratios are far lower outside of urban areas. This means overcrowding is a consistent issue in rural areas and long wait times for specialized services are common. Foreigners living in rural areas may be hard-pressed to find an English-speaking doctor.
Challenges of Turkey's Healthcare System
There are big limitations with mental health treatment in Turkey. The country's Mental Health Law has been pending in legislation since 2019. Funding is lacking and there are not enough trained mental health professionals to serve the country. Due to the limited workforce, the vast majority of mental health services are only found within the cities of Istanbul, Ankara and İzmir. Some regions have no mental health specialists on staff at all.
Does Turkey Have Universal Healthcare?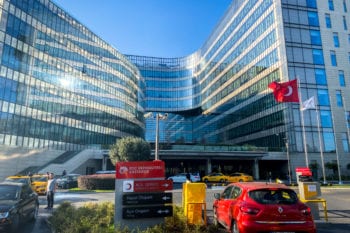 Yes, Turkey has provided universal healthcare through the SGK for the past decade. The system is funded by the state, employers, and workers. For all economically active people, the contribution rate is 12.5% of earnings. This is split between the employees, who pay 5%, and employers, who pay the remaining 7.5%. For unemployed people, the contribution rates vary. Pensioners have a default right to universal healthcare after one year of residency, with their fees being covered by either the SGK or the State depending on whether they contributed to the healthcare scheme before. While people do pay different contribution rates, everyone receives equal coverage regardless of income level.
What's Covered Under Turkey's Universal Healthcare
Primary, preventative, and emergency care are all fully covered.
Tests and different diagnostic methods.
Dental and optical examinations and treatments. However, not all SGK hospitals offer these services — patients often rely on the private system and cover the costs themselves. Additionally, anything done for aesthetic purposes as opposed to medical needs will require out-of-pocket payments.
Pregnancy and maternity services are covered. This includes assisted reproductive technology such as IVF, though the treatment is normally limited to three attempts.
Rehabilitation services.
Healthcare services due to a work accident or occupational disease.
Prescription drugs are only partially covered by Turkey's universal healthcare and require co-payments. Generally, patients pay about 20% of the costs of medications out-of-pocket, with retirees paying a reduced 10% of the medication costs.
Travel expenses in the case of treatment needed outside your city of residence, including expenses for a companion in some cases.
In certain cases, treatment received abroad may also be covered.
Complementary Insurance in Turkey
While the healthcare system in Turkey has made great improvements and offers comprehensive coverage for residents, most people still opt to purchase supplemental health insurance plans. These plans can be bought from licensed brokers, banks, or directly from insurance companies.
Holding additional private insurance allows patients to access the private hospital system. Private hospitals often have shorter waiting times, state-of-the-art medical equipment, and better amenities. For those who do not speak Turkish, it's much easier to find English-speaking doctors within the private system.
While the SGK often makes contracts with private hospitals to receive discounted care for residents, the patients will still be expected to pay some out-of-pocket expenses. Complementary insurance plans are used to cover these bills and minimize unexpected expenses.
How to Access & Receive Healthcare in Turkey
Turkey's universal healthcare system is a compulsory system that covers nearly all citizens of the country. Public services are provided by the Ministry of Health. Every town in Turkey has a healthcare clinic and pharmacies are found on nearly every street.
To receive care, you can go to your local center and wait in line or call the Central Physician Appointment System (MHRs) at 182 to schedule an appointment. MHRS also has an app available in Turkish that you can make appointments on. Additionally, some hospitals and clinics allow patients to make appointments on their websites. Due to the difference of amenities between rural and urban centers, it's a good idea to seek treatment in larger cities.
The healthcare system in Turkey has three different types of hospitals: government-funded hospitals, university hospitals, and private hospitals. Generally, state hospitals suffer from overcrowding and limited funding. University hospitals offer the highest standard of care with more highly-specialized personnel. Private hospitals provide high-quality care and treatment and have the added benefit of more English-speaking doctors. If you are just traveling to Turkey you can also look into Travel Insurance in Turkey. This will give you some more options and access to the private hospitals.
Emergency care is free at all state hospitals, even for those who are not insured. Dial 112 to reach emergency health services. Both public and private hospitals have emergency departments open 24 hours a day, though private hospitals may charge a fee for treatment.
Who is Eligible for Healthcare in Turkey?
After one year of residency, foreigners are eligible to apply for public healthcare. First, you must register with the Turkish Healthcare System at your local SGK office. To do this you will need copies of your passport, your residency application form, proof of your address from the Goc Idaresi, and a health assessment from an approved doctor. You should ask your SGK office for a list of their approved doctors in advance. You will also need to show proof that you aren't already insured or entitled to benefits from your home country.
Learn More: Insurance in Turkey for Foreigners
Once you are registered in the public system, you must select your primary care physician. You must contribute to the SGK for at least 30 days before requesting care. After that, you are able to use Turkey's healthcare system the same as any citizen. However, when it comes time to renew your residency permit, you will again need to visit your nearest SGK office to update your coverage period.
Due to the long waiting period and visa requirements, many expats opt to purchase international health insurance plans. These plans can be used in private hospitals throughout the world and offer better access to English-speaking doctors.
Healthcare for Expats in Turkey
Expat Insurance for Turkey
Most people in Turkey tend to carry private insurance even if they are enrolled in the public system. This guarantees shorter wait times, better hospital amenities, and English-speaking doctors. To learn about the best health insurance plans in Turkey for both short and long-term visits, check out our Insurance in Turkey for Foreigners page.
The Best Health Insurance in Turkey for US Citizens
The Best Health Insurance in Turkey for European Citizens
The Best Health Insurance in Turkey for Non-US Expats
Related Articles: