Overview of the UK Healthcare System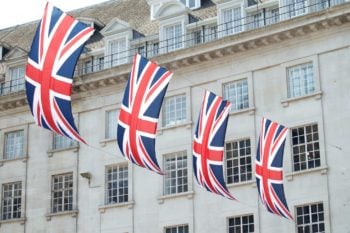 The United Kingdom has a universal healthcare system called the National Health Service or NHS. The NHS was founded in 1946 and enacted in 1948. Established under the principles of universality, free delivery, equity, and central funding, the NHS is responsible for all aspects of the UK healthcare system. Prior to this, in 1911, a National Insurance Act was introduced. This system provided medical coverage to employed individuals through payroll deductions. However, it only covered a limited number of health concerns, and those not formally employed had to rely on charitable institutions or teaching hospitals. The NHS was a huge improvement.
Today, the NHS is also one of the largest public health systems in the world, serving an average of 1 million people every 36 hours. It provides an excellent standard of care. For instance, in 2014 the Commonwealth Fund compared the systems of 10 developed countries. They gave the NHS top marks for safety and patient care among other markers.
British National Health Service
Visitors and new residents in the UK should note that the NHS is a beloved public institution. Just how beloved? In a 2013 survey, it was ranked number one on a list of things that make people proud to be British – even beating out the Queen! Part of this pride and strong emotional connection comes from the fact that the NHS was founded just after World War II. At that time, Britain was struggling in a number of ways, not least of which was economical. But the country still decided to prioritize collective healthcare. It is a decision that still evokes a lot of pride. While Britons may like to grumble about wait times, they still love the NHS. Visitors should think twice before offering criticism!
Costs of the UK Healthcare System
The NHS is funded through taxation. About 18% of each person's income tax goes towards funding the NHS. This adds up to about 4.5% of the average person's income. On a national level, 8.4% of the UK's gross domestic product is spent on healthcare.
Is Health Care Free In the UK?
All aspects of medical services are covered free of charge through the NHS. That includes ambulance rides, emergency room visits, preventative measures, surgical procedures, and ongoing treatment programs like chemotherapy. There are no copays, deductibles or excess. All medications associated with hospital visits are free of charge. Furthermore, the cost of prescription medication at pharmacies is very inexpensive, usually costing just a few pounds per prescription.
While the UK is not a popular destination for medical tourism, certain services are still cheaper there. For instance, IVF (in vitro fertilization) treatment is approximately 35% cheaper in the UK than it is in the United States.
Read: Cost of Living in London
The Differences Between Private and Public Care
Approximately 12% of UK residents hold private coverage. Many people who hold private coverage in the UK do so as part of an employee benefits package. The main benefits of private insurance include reduced waiting times and more comfortable and private facilities. The majority of private clinics and hospitals in the UK are located in London and other large cities. In general, private hospitals tend to specialize in a very specific kind of care. For instance, you would not necessarily go to a private hospital to access emergency services. However, you might follow up on a public emergency visit with a private visit to a cardiology clinic.
While most private facilities in the UK healthcare system are for-profit institutions there are several not-for-profit private institutions that are administered by private funds or trusts or through charitable institutions.
Care and services which are sometimes considered private in the UK, such as dental services, are included under public care programs in certain circumstances. For instance, dental care is included as part of pre and post maternal care.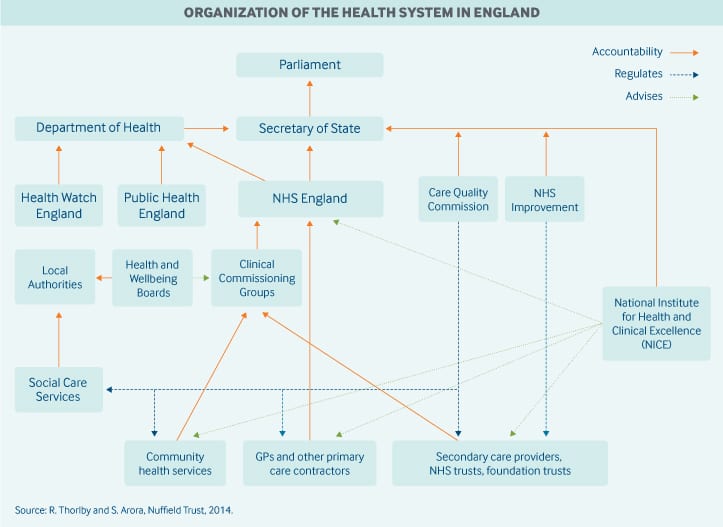 Source: https://international.commonwealthfund.org/countries/england/
Who is Eligible for Coverage in the UK?
Anyone who is legally residing in the United Kingdom is entitled to free NHS healthcare. You do not have to be a British citizen or employed to be part of the system. Also, the UK has a number of reciprocal healthcare agreements with other countries, including New Zealand and Australia. As well, EU citizens with a European Health Insurance Card can be treated in the UK at no cost.
As a visitor to the United Kingdom, you can be treated in a UK hospital with an emergency room, regardless of whether or not you have an NHS number. However, you will be required to pay for the cost of your treatment after the fact. Therefore, it is important for tourists and other short term visitors to carry travel medical insurance to cover the cost of medical emergencies.
Healthcare Options for Expats and Visitors in the UK
Expats in the UK must have an NHS number in order to make routine appointments with a General Practitioner (GP). To obtain an NHS number, international citizens must register with a GP or make an appointment with their local health authority. Following that, they will be invited in for an interview. Finally, there will be some additional paperwork to complete. Demonstrating your residency is key. You will have to prove where you live in the UK. If they are successful at all stages, they will receive their NHS number via the mail.
One of the supporting documents expats need for an NHS application is a National Insurance (NI) number. Thankfully, everyone who already has a biometric residence permit already has one – the NI number is printed on the back.
If you want access to a wider choice of medical services, shorter wait times and access to private care you can get coverage here: Health Insurance in the UK for Foreigners
Challenges and Changes of the Healthcare System in the UK
Within the United Kingdom, healthcare policies for England are the responsibility of the central government. However, Northern Ireland, Scotland, and Wales each have their own policies and health care priorities. As such, standards and practices vary between jurisdictions. For instance, there are strict laws to prohibit abortion in Northern Ireland. This stands in contrast to the rest of the UK, where it is a legal and accessible service.
In a general sense, the NHS as a whole is undergoing a period of reform. In the last 10 years, the long-standing government management structure was restructured, as was the financial model. Nearly 80% of the NHS budget is now under the control of doctors. Supporters say that ongoing reforms are necessary to give more choices to patients and to reduce costs and waiting times. Detractors say that there is less oversight, supervision, and quality control.
Related: