Hospitals in India for Foreigners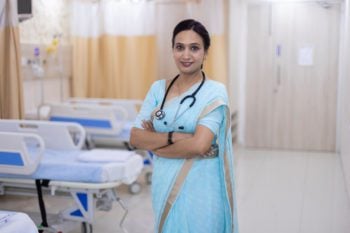 India is a huge and exciting country with many different cultures to explore, depending on where you go. In a place where lots of things work differently from what you're used to, it's especially important to know where to go if you have a medical emergency or need healthcare. Whether you are a tourist or an expat, this page will help you find the best hospitals in India. Learn the best hospitals overall, the best hospitals in the cities most people visit, and how to access them as a foreigner or expat.
Does India Have Good Hospitals?
Despite India's income inequality and poverty levels, the country does offer many world-class hospitals for those who can afford them. In fact, medical tourism in India is a multi-billion-dollar industry, and foreigners flock there for high-quality care.
India has a complex healthcare system, with a mixture of public and private care and a wide range of quality depending on where you are. Indian residents all have the right to free healthcare, but the public facilities that offer it are underfunded, understaffed, and often lack basic medical supplies. While the Indian government is working toward truly universal healthcare, most locals in India opt for private healthcare, sometimes even going into severe debt to get it.
Some of the most internationally renowned hospitals in India are government-run, public institutions. All India Institute of Medical Sciences (AIIMS), for example, is probably the most famous hospital in the country and made the top of Newsweek's list for India and #109 in the world. However, AIIMS is best known for being an elite medical school and research hospital. It's outpatient and emergency services are overcrowded, and its systems are overburdened. This makes it a poor choice for foreigners seeking urgent care.
What Are the 5 Best Hospitals in India?
Three hospitals in India made Newsweek's list of the top 250 hospitals in the world for 2022. Several other hospitals are known for their excellence within India and have been rated in detail in a report by Outlook Health magazine. The following are the five private hospitals mentioned most often in the Outlook report, which also appeared in the Newsweek rundown.
Medanta The Medicity
CH Baktawar Singh Road, Sector 38
Gurugram, Haryana 122001, India
+91 0124 414 1414
Medanta, a large multispecialty hospital in the capital region (Gurugram, formerly Gurgaon, is a city near Delhi), has been named in the top 150 hospitals in the world three years running. It's particularly equipped to see international patients and has a program that can assist you in the process if you have planned medical care needs.
Apollo Hospital Chennai
21, Greams Lane, Off Greams Road
Chennai 600006, India
+91 44 40401066
infochennai@apollohospitals.com
Apollo Hospitals have locations throughout India, many of which are listed in Outlook's top ten rankings. The hospital in Chennai, however, is consistently rated one of the best in the country.
The Christian Medical College – Vellore
Ida Scudder Road
Vellore, Tamil Nadu 632004, India
+91 9498760000
callcentre@cmcvellore.ac.in
Better known as CMC Vellore, this hospital is in the Tamil Nadu region, about halfway between Bengaluru and Chennai. Founded in 1900 by Christian missionaries, it has campuses throughout the region and is frequently mentioned on "best of" lists.
Max Super Speciality Hospital Saket
1 2, Press Enclave Marg, Saket Institutional Area
Saket, New Delhi
Delhi 110017, India
+91 1126515050
MaxHealth is the largest hospital system in Delhi and has a public-private partnership with the government. Max Saket, as this location is known, is best known for its specialty care in many areas.
Fortis Flt. Lt. Rajan Dhall Hospital
Aruna Asaf Ali Marg, Pocket 1, Sector B
Vasant Kunj, New Delhi
Delhi 110070, India
+91 7669584327
ips@fortishealthcare.com
Fortis is a chain of private hospitals with locations throughout India. This location in Delhi is highly rated, but other Fortis locations make frequent appearances on the top ten lists as well.
How Can Expats and Visitors Access Hospitals in India?
India's hospitals are mostly private, with a few public hospitals. While you can obtain care at public hospitals, private hospitals are the best option for expats because they offer shorter wait times and a much higher quality of care. Using public hospitals as a foreigner also takes resources from the poorest residents, so it's best to avoid it.
Private hospitals can be expensive. However, with the right travel insurance or international medical insurance that most people opt to carry, this shouldn't be a barrier. Many private hospitals also have special programs catering to international patients and medical tourists.
Best Travel Insurance Plan for Visitors to India
Best Long Term Health Insurance Plan for Foreigners Living in India
Best Global Medical Plan for US Citizens Living in India
Recommended Hospitals for Expats in India
India is a big place, and visitors and expats visit cities all over its expanse. Of the top five hospitals listed above, three are in Delhi or the capital area, and the other two are in Chennai and Vellore, which are less than two hours apart by car.
There are many good hospitals in other cities and regions that are popular to visit, like Mumbai, Bangalore, Hyderabad, and Kolkata. In general, it's easier to find quality care in cities than in rural areas. Here are the other top hospitals in the most popular destinations for visitors and expats.
Hospitals in Mumbai
Jaslok Hospital and Research Centre
15, Pedder Rd, IT Colony, Tardeo
Mumbai, Maharashtra 400026, India
+91 22 4017 3333
Bombay Hospital & Medical Research Centre
12, Vitthaldas Thackersey Marg, New Marine Lines
Mumbai, Maharashtra 400020, India
+91 22 22067676
helpdesk@bombayhospital.com
Lilavati Hospital And Research Centre
A-791, A-791, Bandra Reclamation Rd
General Arunkumar Vaidya Nagar, Bandra West
Mumbai, Maharashtra 400050, India
+91 022 69318000 / 69301000 / 022 50598000 / 022 50591000
info@lilavatihospital.com
Hospitals in Delhi
BLK-Max Super Speciality Hospital
Pusa Rd, Radha Soami Satsang, Rajendra Place
New Delhi, Delhi 110005, India
+91 11 3040 3040
info@blkhospital.com
HCMCT Manipal Hospital, Dwarka
Sector 6 Dwarka
Dwarka, Delhi 110075, India
+91 11 4967 4967
Fortis Hospital, Shalimar Bagh
AA-299, Shaheed Udham Singh Marg, AA Block
Poorbi Shalimar Bag
Shalimar Bagh, Delhi 110088, India
+91 11 4530 2222
Hospitals in Bangalore (Bengaluru)
Manipal Hospitals
98, HAL Old Airport Rd, Kodihalli
Bengaluru, Karnataka 560017, India
+91 1800 102 5555
info@manipalhospitals.com
Fortis Hospital, Cunningham Road
14, Cunningham Road
Bangalore, Karnataka 560052, India
+91 9686860310
care.cg@fortishealthcare.com
Sagar Hospitals
30th Cross Road, Tilak Nagar, Jayanagar
Bengaluru, Karnataka 560041, India
+91 080 69555555
infojnr@sagarhospitals.in
Hospitals in Hyderabad
Apollo Health City
Road No 72 Opp. Bharatiya Vidya Bhavan School
Jubilee Hills, Film Nagar
Hyderabad, Telangana 500033, India
+91 40 2360 7777
Rainbow Children's Hospital and BirthRight
Road No. 2, Near Hotel Park Hyatt
Banjara Hills
Hyderabad, Telangana 500034, India
+91 9355400360
Basavatarakam Indo-American Cancer Hospital & Research Institute
Road No 10, Banjara Hills
Hyderabad, Telangana 500034, India
+91 040 23551235,+91 040 23556655
info@induscancer.com
Hospitals in Agra
Pushpanjali Hospital & Research Centre
Pushpanjali Palace, Delhi Gate Rd
Agra, Uttar Pradesh 282002, India
+91 562 402 4000
Ujala Cygnus Rainbow Hospital
Sikandra, Agra, Uttar Pradesh 282007, India
+91 81910 22444
info@ujalacygnus.com
Hospitals in Chennai
Fortis Malar Hospital
No. 52, 1st Main Rd, Gandhi Nagar, Adyar
Chennai, Tamil Nadu 600020, India
+91 99625 99933
contactus.malar@fortishealthcare.com
Gleneagles Global Health City
439, Embassy Residency Rd, Cheran Nagar, Perumbakkam
Chennai, Tamil Nadu 600100, India
+91 44 4477 7000
Hospitals in Kolkata
Fortis Hospitals, Anandapur
730, Eastern Metropolitan Bypass
Anandapur, East Kolkata Twp
Kolkata, West Bengal 700107, India
+91 33 6628 4444
Rabindranath Tagore International Institute Of Cardiac Sciences
124, Eastern Metropolitan Bypass , Premises No: 1489, Mukundapur
Kolkata, West Bengal 700099, India
+91 080 6750 6860
email.rtiics@narayanahealth.org
Apollo Multispeciality Hospital
HCF2+QHQ, Kadapara, Phool Bagan, Kankurgachi
Kolkata, West Bengal 700054, India
+91 1860 500 1066
Hospitals in Pune
Ruby Hall Clinic, Sassoon Road
40, Sassoon Road
Pune – 411001, Maharashtra, India
+91 020 66455100 / 020 26163391
info@rubyhall.com
Deenanath Mangeshkar Hospital & Research Centre
Deenanath Mangeshkar Hospital Road, near Mhatre Bridge, Erandwane
Pune, Maharashtra 411004, India
+91 20 4015 1000
Hospitals in Jaipur
Manipal Hospital Jaipur
Sikar Rd, Sector 2, Sector 5, Vidyadhar Nagar
Jaipur, Rajasthan 302039, India
+91 91166 56540
Hospitals in Goa
Manipal Hospital Goa
Panaji, Dr E Borges Rd
Dona Paula, Goa 403004, India
+91 1800 102 5555
Related Articles