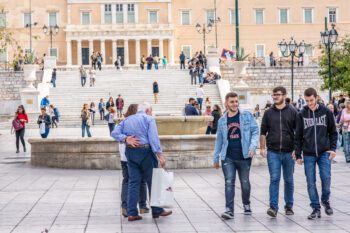 Greece is becoming a popular option for people who want to live or retire in Europe. This Mediterranean country is known and loved for its sunny climate, rich culture, and 6,000 islands. Its low cost of living makes it one of the most affordable EU countries. And there are more ways than ever for foreigners to live in Greece. Greece has recently created visa options for digital nomads and expatriates. Their Financially Independent Persons visa is attractive to retirees. But the health care system in Greece is complex. To live there long term, you want a good understanding of the Greek health care system and options for health insurance for expats in Greece.
The Best Health Insurance for Expats in Greece
The best health insurance for expats in Greece is a private international health plan. And the best private health insurance for Greece is one that meets the country's coverage standards.
Health Insurance in Greece for Expats is Required
Both visitors and immigrants need health insurance. Almost all Greek visas require proof of medical insurance. This is part of registering as a resident in Greece if you're there for more than three months. You need to buy your health insurance before you submit your visa application, so that you can provide proof. If you are in Greece at the time, you will be able to buy health
insurance there.
For Greece, you provide proof by completing a Health Insurance Declaration Form. Your Greek embassy will provide this. You will need to confirm that you have at least 30,000 Euros of medical coverage, and that your policy includes medical repatriation if necessary. If your health insurance doesn't meet these standards, you will not be allowed to live in Greece.
Health Insurance Options for Expats in Greece
Some foreigners in Greece are eligible for public health insurance. However, most expats prefer private health insurance. Learn about the differences and benefits of each type of coverage for Greece.
Public Health Insurance Plans in Greece
To access public healthcare in Greece you must be eligible for national or social insurance through a healthcare organization. For Greek citizens, this is often based on your profession or employer. Social insurance provides basic healthcare and supplemental healthcare through different insurance options and schemes, such as the Institute for Social Insurance (IKA). Social insurance may combine government and private insurance options.
Does Greece Have Universal Healthcare?
The Greek healthcare system is based on government care. So yes, universal healthcare in Greece is provided by the National Healthcare Service, the ESY (in Greek: Εθνικό Σύστημα Υγείας, ΕΣΥ). This includes care centered around 238 hospitals to serve a population of 11 million. The ESY is managed by the National Organization for the Provision of Health Services, the EOPYY, and managed by the Ministry of Health.
Public health insurance in Greece involves filling out forms and navigating a complicated bureaucracy. The process includes registering with EOPYY, the national health insurance organization, and obtaining a national insurance number, or AMKA.
Does Greece Provide Free Healthcare for its Citizens?
Well, emergency health care is free. Other health care can be free or low-cost when you are paying into a national insurance plan. If you are not part of a national insurance plan, you must pay out of pocket for many health services in Greece. There is some coverage for people with an AMKA who are unemployed or refugees, focusing on basic healthcare and subsidized medicines.
Private Health Insurance Plans in Greece
Experienced expatriates agree that, when living in Greece, a private health policy with international coverage is a must. It means that you can get quality private care, when you need it, from providers who speak your language. International health insurance also provides vital transportation and repatriation coverage. Public healthcare in Greece does not cover that at all. And with international insurance, you can choose coverage for the time you spend in nearby countries, too.
The Cost of Greek Health Insurance for Foreigners
Foreigners who are living and working in Greece may be paying into a national insurance plan. If you are employed in Greece, 14% to 24.33% of your wages go into government social security, boosted by national insurance contributions up to €650. This pays for your public national insurance and health services through it.
Because Greece has universal care, people often ask if healthcare is free in Greece for foreigners. It can be free or subsidized under some circumstances.
For foreigners living in Greece, some health care can be free. If you are a citizen of an EU country with a European Health Insurance Card, you can access the Greek health system for a limited time.
Some U.K. citizens living in Greece who are drawing a UK state pension can access certain public healthcare in Greece via an S1 form.
Basic emergency care is free for foreigners.
What if you get sick in Greece as a foreigner, and it's not an emergency? When you are treated for a standard illness or injury, you must provide either an AMKA or direct payment immediately. You may even be asked to pay in cash.
If you're moving to Greece, or applying for any kind of visa, you will be in touch with your local Greek embassy. They can tell you more about health care options for your visa and nationality in Greece.
Can an American Get Health Insurance for Greece?
Americans can and should get health insurance in Greece. Private health insurance is needed because most Americans have limited or no access to the public health care system. The cost of private medical insurance is comparable to U.S. insurance, sometimes less.
Some Americans may be able to get public health care as well as emergency care in Greece. Dual citizens, or long-term residents with visas, can get an AMKA, opening up basic coverage. If your coverage is basic, or you have not been working in Greece, expect to pay additional fees for care, doctor's visits and specialists.
Many Americans living in Greece don't have access to public health services there. Without an AMKA in Greece, you need to pay for all medical care when you receive it.
If you are from the U.S., your standard U.S. health insurance won't cover you while you are in Greece. You need to pay for international coverage.
Will U.S. Medicare cover you in Greece?
Standard Medicare will not cover you outside of the United States. If you are overseas as a short -term traveler, you may purchase Medigap insurance through Medicare for limited coverage. But you cannot move to Greece to live and rely on Medicare for your health care costs. You will need a global medical policy.
Best Health Insurance in Greece for Non-Residents
For foreigners in Greece, to access private health in private hospitals, you need private health insurance. A private care plan is also your best bet to avoid long waiting times and to gain access to specialist care.
Health Insurance If You Live In Greece Part Time
Some expats live in Greece part time every year. Under Greece's Financially Independent Person (FIP) visa, you may own property in Greece that you live in for part of the year. Or you may spend time with Greek family and friends around important holidays.
If you expect to live in Greece part time, you need health insurance to cover you both in Greece and in your home country. Talk to your insurance advisor about options to give you the health care coverage you need.
Plans for Students at Greek Colleges and Universities
Students with student visas can get basic public health coverage in Greece. However, students benefit from international student health insurance. The challenges of navigating health care are as real for students as they are for other expatriates. And students also need repatriation insurance and supplemental hospital care coverage, only available privately.
Travel Insurance for Short-Term Visitors to Greece
If you are visiting Greece for the short term, travel insurance may provide what you need. Most travel insurance covers full emergency medical treatment plus repatriation or evacuation needs. Travel insurance also offers options such as adventure coverage for boating, water-skiing, diving, or rock climbing.
Also Read: Insurance for Travel to Greece
Group Medical Insurance in Greece for International Employees
Global group medical insurance is available for international employees, volunteers, remote teams, and expatriates.
Global Medical Care in Greece
In Greece, private clinics and hospitals look very different from the time-worn public facilities. Yet they both provide good to excellent care. Often, the quality is exactly equal, because the same doctors may be employed by both public providers and private clinics. It's likely to be easier to get an appointment at the private clinic.
Severe measures back in 2011 impacted healthcare funding in Greece. Since then, Greek citizens have started to rely more on private health insurance. Up to 17% of Greek households invest in private health insurance. The World Health Organization notes that 35% of health care spending in Greece is families paying for their own private health care. This includes both private health insurance and payment of fees not covered by social insurance.
Did you know that Greece has the most pharmacists per person of any country in Europe? If you need medical help in a hurry, or have one or two health questions, ask at a pharmacy. Almost all medications are only available through pharmacies, even aspirin. Greek pharmacists are allowed to dispense products that are sometimes only available with prescriptions in other European countries. All over Greece, one of the many pharmacies will be open around the clock.
How to Find a Family Physician or GP in Greece
It can be simple to connect with a family physician or GP in Greece. Expats from the U.S. or the U.K. can visit their embassy websites for lists of medical professionals who speak English. If you are seeking medical care in the countryside, or on remote islands, it will be harder to find providers who speak English.
How much does it cost to see a doctor in Greece if you are a foreigner? Online doctors and clinics catering to tourists can give a quick consultation starting at $25 (€24) to help with minor problems. Formal appointments with a GP or specialist range from $65 (€60) to $163 (€150), sometimes more.
When paying privately for doctor's visits, or getting services from pharmacies, expect a wide range of costs. Some travelers report paying premiums for medications in tourist areas or on remote islands.
How to Get Hospital Care in Greece
Hospitals are accessible in Greece, and health services of all kinds are concentrated there, especially in rural areas. Your GP may refer you to a hospital, or you may take yourself there with an illness or emergency.
What if you need help to get to the hospital? In large cities, call 112 for an emergency, or 166 for an ambulance. Public ambulances may not be covered as part of free emergency care – or available at all. A private ambulance van within Athens starts at $60 (€55). (And you need to ask for the van specifically, or your paramedic may arrive on a motorcycle!) Medical transport may be expensive from the islands, where getting to the nearest hospital may require a boat ride or airplane ticket.
Even for visitors, emergency care in Greece is free for a life-threatening injury or illness. But many foreigners find the free care difficult to navigate, especially if they are in the country on their own, without family. Due to the shortage of nurses in Greece, public hospitals reduce their staff overnight and on the weekends for standard wards. Because of this, patients are expected to bring their own carer to the hospital. Be sure that your health insurance plan for Greece covers this extra cost.
In Greece, health insurance with international coverage will get you the care you need and provide peace of mind.
Related: