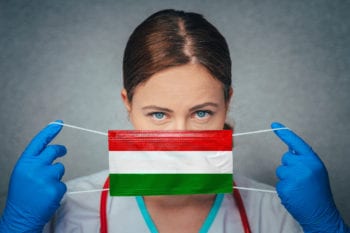 Hungary is an increasingly popular destination for expats. Given its affordable cost of living, the country is a wonderful option if you're relocating on a budget. It also has convenient public transportation, delicious food, and a thriving arts scene. But before moving there, it's important to understand the ins and outs of health insurance in Hungary.
Insurance for expats in Hungary is a necessity. If you plan to register as a resident, or if you'll be applying for a Hungarian visa, you need to show proof of healthcare coverage. This insurance should cover medical and repatriation expenses of at least USD $50,000. Fortunately, there are numerous choices for health insurance in Hungary for foreigners. You should be able to find great health insurance in Hungary that will cover your needs for a reasonable price.
The Best Health Insurance for Expats in Hungary
Though Hungary has a national health system, the best health insurance for expats in Hungary is usually an international health insurance plan. Hungary's underfunded public healthcare system has issues with staffing, out-of-date equipment, and long wait times. A private insurance plan allows expats to quickly receive care at high-quality private clinics that have English-speaking doctors, comfortable facilities, and short wait times.
Even if you have the option to enroll in Hungary's public healthcare system, you should supplement your coverage with a private health insurance policy. This is particularly important if you might be spending time in the countryside, as rural facilities often have equipment and staffing shortfalls. Private insurance may also cover medication and equipment that the public system does not pay for. In fact, Hungarians themselves are turning to private care in increasing numbers.
Hungary's Health Insurance Options for Expats
Hungary's National Health Insurance Fund (Nemzeti Egészségbiztosítási Alapkezelő or NEAK) oversees the country's healthcare system. The public health system is funded by social security contributions that come from 3% of an employee's income, an employer paying 15% of an employee's salary, and a national income tax. Expats in Hungary who make social security contributions can also join this system. Keep in mind you'll need to understand Hungarian, or have help from a friend or translator, to complete the required forms and paperwork.
Expats from the European Union, Iceland, Norway, Liechtenstein, or Switzerland are entitled to care through Hungary's national health system as long as they have a European Health Insurance Card (EHIC). The same goes for people from the United Kingdom with a UK Global Health Insurance Card (GHIC). Holders of these cards will receive any medically necessary healthcare during a temporary stay. However, non-urgent treatment will not be covered.
Most expats in Hungary will benefit from an international expat insurance plan. These plans will cover all medical treatments, not just urgent care. You'll also be able to get medical care at high-quality private facilities without the staffing and funding problems Hungary's public healthcare settings face.
While most healthcare services are provided free of charge within Hungary's public health system, some medications and medical equipment are not covered. However, you can select a private international insurance plan that offers services not covered by the state system. Since doctors aren't well paid in the public system, many skilled physicians opt to practice privately. Among Hungarians, many believe the private sector delivers better healthcare.
Can an American Get Health Insurance in Hungary?
The U.S. government does not have an agreement with Hungary to provide reciprocal healthcare for citizens. Americans, therefore, need to sign up for an international health insurance plan or travel insurance to have health coverage in Hungary. That's not a bad thing! Private insurance offers numerous options for excellent care. Many people in Hungary prefer private clinics because they don't have the same delays and equipment shortfalls as the public sector.
Plans for Students at Colleges and Universities in Hungary
The school you're studying at may have a health insurance plan you can sign up for. However, as an international student, you should also be able to enroll in an international student insurance plan. These plans will allow you to meet Hungary's health insurance visa requirements and may be more affordable than the school-provided option.
Travel Insurance for Short-Term Visitors to Hungary
Hungary has a public healthcare system, but visitors can't rely on that system for all their medical needs. Even during a short trip, you could have a car accident in Budapest, or you might trip and fall while visiting Buda Castle. If that happens, you'll receive urgent care, but non-emergency treatment will not be covered.
For peace of mind, short-term visitors to Hungary can purchase travel insurance or travel medical insurance. These plans will provide coverage for the duration of your trip. For people making longer journeys, international health insurance may be a better choice. These are longer-term health plans that are valid in multiple countries.
Also Read: Travel Insurance and Safety Advice
Group Medical Insurance in Hungary for International Employees
Global Medical Care in Hungary
Hungary is one of the most popular destinations for medical tourism in Europe. As such, its private facilities are thriving. Foreign visitors come for care that includes dental treatment, cosmetic surgery, orthopedic surgery, fertility treatments, and eye surgery.
Hungary's public healthcare system has faced challenges in recent years. Funding shortfalls are a perennial problem. There's also a notable urban-rural divide in Hungarian healthcare. The capital city of Budapest has 87% more doctors and 64% more hospital bed space than other parts of Hungary. Public clinics can often be understaffed, as many care providers have moved abroad or made the switch to private practice.
Also Read: Hungary's Healthcare System
How to Find a Family Physician or GP in Hungary
Users of the Hungarian public health system will receive a Hungarian health insurance card, known as a TAJ card (Társadalombiztosítási Azonosító Jel). Once you have a TAJ insurance card, you can register with a local primary care doctor (a general practitioner). It's important to register with a primary care doctor because you'll usually need to see that doctor to obtain a referral for specialized care.
If you're using private health insurance in Hungary, your insurance provider will have a list of hospitals and other facilities that you can use. You can visit a primary care provider or go directly to a specialist.
How to Get Hospital Care in Hungary
If you are having a medical emergency in Hungary, call 112 to connect with English-speaking operators who can help you access care. If you speak Hungarian, you can call 104 for ambulance services. For non-emergencies, check with your embassy to find hospitals, clinics, and care providers.
Also Read: Hospitals in Hungary
If you're seeking care in a public facility and you have a TAJ card, bring it to the hospital with you. Remember that although most healthcare is free in Hungary within its national health system, there are costs associated with some prescriptions and medical equipment. If you have private insurance, you can visit a private clinic that will provide you with excellent care.
Related Articles: