Using Twitter for Travel Advice & Tips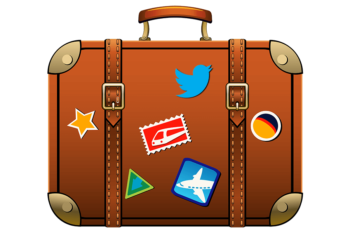 If you travel overseas a lot then having a Twitter account may be of interest to you. Twitter is not only a great travel resource but also a great place to engage with industry experts, including international insurance agents. If you're not on Twitter you could be missing out on valuable travel tips, information, and resources, as well as a network of fellow international travelers just like you.
Twitter is also useful for avid travelers for the following reasons:
Have Your Questions Answered by a Professional
Twitter is the perfect social network to engage with insurance agents and companies and ask them questions regarding the type of international insurance you should have for any given trip overseas. If they cannot answer directly, they will probably respond with a useful link or direct email address of someone who can help.
Broaden Your Travel Knowledge
Every day there are Twitter Chats that take place on Twitter regarding international travel. To participate you simply follow/click on a hashtag (e.g., #ttot) and you will see an entire thread of tweets regarding that specific topic. To find more about travel-related Twitter Chats follow travel bloggers and other travel industry experts and read their tweets.
Travel bloggers have vast knowledge about everything you need to know about international travel. Many share their information daily through live tweets and regular Twitter Chats. You can find some great travel bloggers simply by searching the hashtag #travelblogger.
Meet New People
Following, replying to and engaging with other Twitter accounts will not only provide you with travel information and countless travel resources, but will also increase your personal network and, if you're lucky, create lifelong friendships!
The more you engage with people, the larger your network will become. The larger your network is the more access you will have to people, resources and information globally!
Emergency Information at Your Fingertips
You can create lists within Twitter and these lists will come in handy when traveling should you need the contact information for the local U.S. Embassy, the U.S. Department of State or the information for your international insurance agency.
You can create a list specifically for "emergency accounts" and instead of Googling the email address you may have everything you need to know within the accounts on your Twitter list.
Countless Insurance Resources
A good social media account will also post articles and third party links that are of interest to their followers. In the case of the insurance industry, this would be topics related to travel insurance, medical insurance coverage, the benefits of having insurance, what to look for when purchasing travel insurance, etc.
With Twitter you can save these tweets, with the links to the articles, at the click of the "like" button (the heart icon available on every tweet). These articles are then saved to your favorites section and are available for reference whenever you need them.
At @IntInsurance, we tweet articles, links and tips that are useful to anyone looking for an international health insurance plan or planning an overseas trip. If you're on Twitter, we invite you to follow us.
Recommended to Follow
Top Twitter Feeds for Travel Safety Tips and Advice
One of the best ways to stay up-to-date with current safety and travel happenings in your local area is via Twitter. Even if you don't want to tweet yourself, you can create an account to solely follow relevant people, feeds, and hashtags to get instant news on weather, safety, and even suggestions for your travel destination. If you want to take it a step further, interacting and sharing a concern can help a fellow traveler with your to-the-minute knowledge. Below is the compilation of our top ten Twitter feeds to follow for travel safety.
And one additional suggestion: @Joe_Cronin_Jr an expert in international health insurance (as well as our CEO, Joe Cronin) Our team is building a better resource for world nomads to buy insurance (InternationalInsurance.com /  @IntInsurance) . Our mission is to educate consumers on the value of travel insurance and provide a resource for them to research, compare and purchase plans for their international trip.
Travel Influencers, Nomads, and Journalists on Twitter
We are always working to find great ways for you to enjoy a safe journey. One of the best ways to learn about the latest trends in travel is to take to Twitter. Some of the most fascinating travel journalists in the world are active on this fast-paced social media site, and you can get "up to the minute" information on your favorite destinations. Let's look at some of the Twitter travel feeds that we recommend.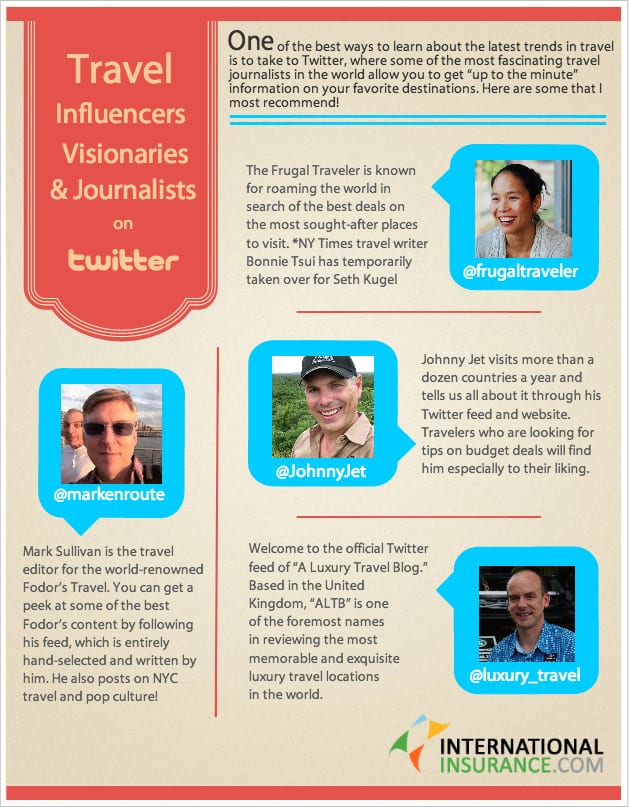 Our Staff Favorites
Of Course, Please Follow our Social Networks
More Social Media Resources for travelers and expats: InternationalInsurance.com/forums/