Should I Fly Domestic or International?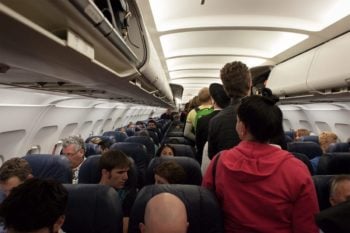 Nervous travelers often question the safety of international airlines versus domestic airlines. There is no such thing as a dangerous airline. Travelers may think they are safer flying with an airline they know, like and trust, but oftentimes the safety of an airline has nothing to do with the country the airline originates from. Luckily, international airline safety standards are high because otherwise, no airline would be able to fly if their airplanes were deemed unsafe to do so!
In America, the FAA uses the International Aviation Safety Assessment (IASA) program to judge standards of other countries, using criteria based on the International Civil Aviation Organization (ICAO) guidelines. Classifications are awarded to countries and not to individual airlines. Safety standards are then broken down into categories: Category 1 status goes to countries who meet the criteria and Category 2 goes to those who do not "provide safety oversight of air carrier operators in accordance with the minimum safety standards."
If the thought of flying overseas on an international airline frightens you, then you should know that commercial air travel, regardless of with which airline, is still considered the safest mode of transportation in the world. What's more, air travel continues to get safer with time and technology. You have a greater risk of accident while driving your car than you do getting on an airplane.
If you are a nervous flyer and are prone to motion sickness then you may want to ensure you are traveling on a larger airplane. Smaller plans are not only noisier, but they are their movement while in the air is considered "choppy." Regardless, small airplanes are just as safe as big airplanes. If you encounter turbulence while flying, note that the bumpy movement is normal and the announcement to fasten your seat belts is for your own safety – so you don't find yourself accidentally sitting in a stranger's lap!
What are the Safest Airlines Around the World?
So, while some airlines may be better in terms of comfort, amenities and customer service, all airlines follow strict practices to ensure their passengers are safe. There are many websites devoted to rating airlines based on communication, comfort, feet room, as well as the service they receive from check-in personnel as well as onboard attendants.
In January 2016, the CNN Business Traveler published an online article, called "What are the world's safest airlines for 2016?", listing the safest airlines for 2016 and Qantas, an Australian carrier, continues to be the top rated airline in the world. A reputation it has held for three years now. Other international airlines that made the list include KLM out of Amsterdam, Singapore Airlines, Air New Zealand, Taiwan's EVA Air, Virgin Australia, Emirates, Lufthansa, Cathay Pacific Airways, Finnair, and Swiss Airlines. Domestic carriers United Airlines and American Airlines also made the list. These airlines are chosen based on safety, operational standards and innovation.
Do Wealthier Countries Have Safer Airlines?
Financial wellbeing of an airline's originating country also does not predict the safety standards of an airline. Ethiopian Airlines has operated for over seven decades and is considered by many to be one of the safest airlines in the world.
Even though some airlines may be smaller in terms of their airplane sizes as well their fleet size, many countries have safety standards that meet or exceed that of the United States. Some consider it safer to fly a domestic plane from that foreign country that knows the land, weather, and terrain than to fly with a foreign airline that may not know the country as well.
In addition to ensuring all aircrafts are safe to fly, all airlines adhere to the rules of no-fly zones and liaise closely with government and security agencies to not fly over or into areas that put passengers at risk.
Safety aside, if you are a nervous flyer and do not feel comfortable flying domestic airlines, let alone international airlines, there are safety awareness courses available to help people become comfortable with air travel, especially international air travel.
Protecting your Flight and Other Expenses
You should also make sure you have peace of mind by investing in Trip Insurance that will protect you should your travel plans not go smoothly. Trip insurance not only covers you in the event of an emergency illness or accident that deems you unable to fly, but it also covers you should your travel companion becomes ill or has an accident. Even if the person was not going to travel with you, you could still be covered i.e., if you have to return to work and cannot travel due to a business partner becoming ill. It will also ensure that if you are called for jury duty that you are covered and can cancel your travel plans without hassle.
In addition, trip insurance cover you for travel delay (up to a maximum of $1,000), which covers you in case of a lost or stolen passport, natural disaster, and medical quarantine), baggage loss and loss of personal possessions (up to a maximum of $2000) and baggage delay (up to a maximum of $1000). Also, trip insurance may also cover some emergency medical expenses, including emergency medical evacuation.
If you are planning an international trip, you should always consider investing in more extensive insurance coverage. Trip insurance is good for travelers flying within their own country, but should you travel overseas, consider additional coverage for medical expenses, including coverage should you require hospitalization. Travel Medical insurance not only ensures you have financial coverage while overseas but also gives you access to the medical facility or doctor of your choice as well as Universal Rx pharmacy discount savings.
To get an idea of what insurance coverage best suits your travel needs, speak with a qualified insurance representative who will be happy to assist you in finding a plan that's right for your travel plan, and when speaking with them let them know if you have any concerns flying. Many insurance agents have resources and tips available to ease any concerns and answer any travel questions you may have. They will also be sure that you are fully covered based on your individual medical needs and based on where it is you are traveling. Remember, even if this is your first time flying – you are not alone! There are travel and insurance experts available to give you peace of mind. It all starts with a phone call.
Additional Advice: "Tips for Staying Safe while Traveling", "Air Travel Safety Tips", and "What are The Best Travel Insurance Companies"