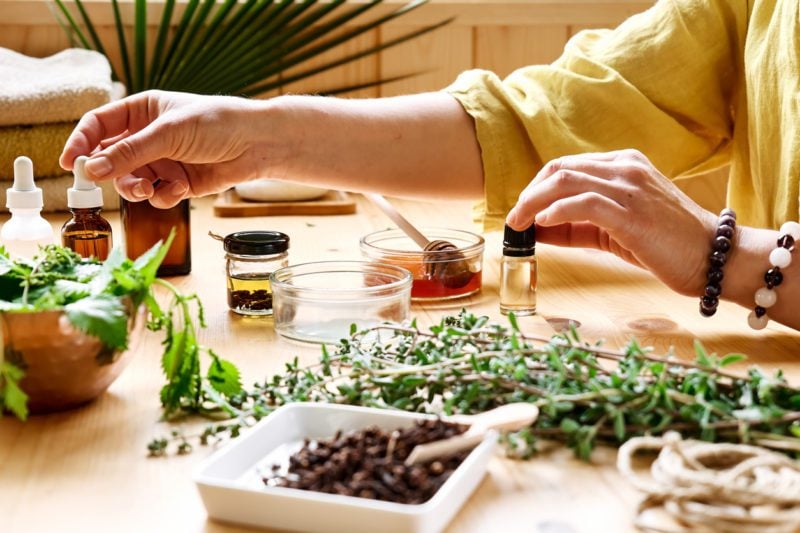 Healthcare in the United States typically revolves around prescription medication and surgical procedures. This practice is known as conventional medicine or traditional medicine and uses treatments like prescriptions, surgery, or other medical interventions to treat diseases. Conventional medicine seeks to treat a person's symptoms and not necessarily the cause of a disease or illness.
Presently, however, many developed countries, including the United States, have started to shift toward implementing more preventative care in traditional medical practice. Preventative care has long been a staple in alternative medicine.
Also Read: Preventative Care Checklist
What is Alternative Medicine?
Alternative medicine or CAM describes medical modalities that seek to treat the root of a condition and use preventative therapies. Practices like acupuncture started in Eastern countries like China and Japan. But, other alternative methods like chiropractic medicine and homeopathy started in western countries. Therefore, these medical approaches have long-reaching historical and geographical roots.
Alternative medicine is referred to as "complementary medicine" when used in addition to traditional medicine. Still, both of these terms refer to practices that are not typically used in the medical mainstream. The two terms are grouped together as CAM (complementary and alternative medicine).
CAM includes practices like:
Traditional Chinese Medicine (TCM)
Acupuncture
Chiropractic Medicine
Ayurveda
Homeopathy
When seeking medical care abroad, expats may find relief with one or some of the practices above, depending on their needs.
Alternative Medicine Practices
CAM methodologies include some techniques that have been used for thousands of years and overall, take a more holistic approach to medical care. Learn more about these practices below.
Traditional Chinese Medicine (TCM)
Traditional Chinese medicine (TCM) providers take both mental and physical approaches to addressing health and wellness. The methods focus on stimulating balance, harmony and energy within the body. TCM categorizes energy throughout the body as qi and uses yin and yang to describe energy qualities in the human body.
TCM is an integral part of China's healthcare system, but the practice is becoming more common worldwide. Methods include cupping, Chinese herbal medicine, tai chi, acupressure, meditation, moxibustion (burning herbs near the skin) and more.
Benefits of TCM can include:
Pain relief
Reduced inflammation
Improved sleep quality and decreased fatigue
Lessened nausea and better digestion
Improved mental health
TCM patients have reported experiencing relief and improved health. However, some risks are associated with specific practices like herbal medication and acupuncture.
Reported risks of TCM include:
Allergic reactions to Chinese herbal medicines
Fainting
Nausea and vomiting
Although TCM is not often covered by health insurance, check with your global health insurance provider if you're interested in trying an alternative method for your health.
Also Read: Understanding China's Healthcare System
Acupuncture 
Acupuncture is a type of traditional Chinese medicine. It involves using thin needles on specific points in the body to stimulate nerves, muscles or connective tissues. The practice is used for pain relief, stress management and more.
Acupuncture has become widely studied and widely practiced. Acupuncture is said to balance the flow of energy, known as chi or qi, throughout the body.
Patients seek out acupuncture to help treat headaches, backaches, nausea, fatigue and even menstrual cramps.
Benefits of acupuncture may include:
Pain relief
Improved sleep
Better digestive function
Reduced muscle pain
And an overall sense of well-being
Although the risks of acupuncture are quite low, they include bleeding, bruising or soreness at needle insertion sites. So going to a clean, licensed facility is important because unsterilized needles can cause infection.
Expats who have tried Western medicine and taken either prescription or over-the-counter pain relievers may want to try acupuncture as complementary medicine.
Ayurveda
The practice of Ayurveda originated in India over 3,000 years ago and is still used as a form of medicine today.  It's considered to be one of the most ancient systems of medicine.
Ayurveda seeks to bring balance to the human body through nutrition, herbs, physical therapies like massage and yoga, and meditation. Ayurvedic treatment is based on the concept of balance and interconnectedness.
Ayurveda is focused on the balance of a person's doshas, which refers to three different energies within the human body.  These three energies are tied to mental, physical and emotional health and, when out of balance, cause disease or illness.
The three Ayurvedic doshas are:
Vata: said to be connected to the central nervous system and movement
Pitta: said to be connected to digestion and biochemical processes in the body 
Kapha: Said to control body tissue, cell growth, and muscles 
Ayurvedic treatment revolves around the state of balance between the three doshas, which is said to create equilibrium and optimum health. Ayurvedic treatments vary in methods and can include dietary changes, herbal medication or other therapies used to remove toxins from the body.
Like most CAM modalities, Ayurveda approaches health by looking at holistic patterns or biocharacteristics and considering the body as a whole.
Also Read: Understanding India's Healthcare System
Chiropractic Medicine
Chiropractors aim to diagnose, treat and prevent musculoskeletal issues through physical treatment to help patients recover from injury or relieve physical pain. Chiropractors will use methods that involve stretching, pressure and spinal manipulation.
Chiropractic medicine benefits may include:
Increased joint motion
Improved joint function
Pain relief
Reduced headaches
Loosened muscles
There are, however, some skeptics of chiropractic procedures. This is because the risks of this type of medicine are typically higher than a more gentle treatment like acupressure or acupuncture.
Chiropractic risks reportedly include:
A herniated disk
Bruised muscles and bones
Compressed spinal nerves
Potential post-neck manipulation stroke
Worsening pain
After traveling for long periods or experiencing stress from living and working in a new country, expats may feel tempted to try chiropractic care. It's important to weigh the risks and benefits of any medical practice, so talk to your doctor before adding another type of medicine into your treatment plan.
Homeopathy
Homeopathy is a practice developed in 1700s Germany that is based on the belief that the body can cure itself. Generally, the practice uses natural substances and minerals in small doses to trigger the natural defenses that occur in our bodies.
Homeopathy is based on two theories; "like cures like" and the "law of minimum dose." The treatment combines these theories by using the smallest amount of a substance to cause symptoms similar to the illness. According to homeopathy, this will better prepare the body to identify the illness and protect itself.
Issues treated by homeopathy include:
Digestive issues
Chronic fatigue
Allergies
Depression
Also Read: Make Your Plan to Get Healthcare Abroad
Does Insurance Cover Alternative Medicine?
Before traveling for an extended period or moving abroad, getting a travel health insurance plan is highly recommended because they may help to cover any treatments you seek while abroad. Specifically, some insurance plans will partially or fully cover specific therapies like acupuncture or traditional Chinese medicine.
Health insurance coverage for alternative medicine practices has recently increased in large part because of the popularity of acupuncture, particularly in the United States. Between 2010 and 2019, the rate of insurance coverage for acupuncture increased by 9.1%. We always recommend that you reach out to your insurance provider to determine coverage before seeking these services.
Although insurance companies don't often cover things such as guided meditation, reiki, yoga and vitamins, it's worth exploring additional activities that may improve your health. Talk to your doctor before starting any treatments and decide how much of the cost you're willing to pay out-of-pocket. Moreover, your doctor can also help ensure you visit a clean and safe facility.
Curious about international health insurance? Let our team of experts answer your questions by requesting a quote!
Looking for international medical insurance?
Request a free quote and one of our specialists will contact you.
Related: