How to Stay Healthy on an Airplane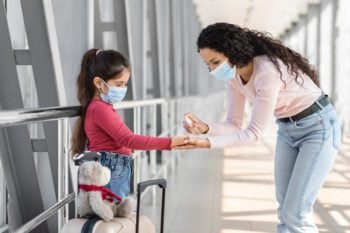 Whether you are flying down south to escape a northern winter or flying across the world on a trip of a lifetime, there is nothing worse than getting sick once you arrive at your destination. And with the pandemic, healthy air travel is more important than ever. Many travelers have been focused on COVID-19, but there are other ways you can become ill on a flight. Luckily, some steps can be taken to keep yourself – and those around you – healthy on an airplane.
Sleep Well and Get Plenty of Rest
Staying healthy while traveling begins while you are still at home. Getting a good night's sleep the night before your flight will help keep your immune system strong and ready to fight off viruses and germs.
Wear a Mask
As of this writing in January 2022, it is generally mandatory to wear a mask while flying. But masks don't just protect against COVID-19; they also protect you from colds, the flu and other airborne infections. A mask is an easy way to ensure healthy air travel.
Wash Your Hands
This may seem like a common-sense approach to staying healthy, but you would be surprised at the number of people who do not wash their hands after using the restroom. Even if you haven't used the restroom, if you are prone to resting your head on your hands or touching your face a lot, you should make a habit of washing your hands regularly. Also wash your hands immediately before you eat or handle food or drink. The CDC recommends that people should wash their hands for at least 20 seconds in order to prevent infection. If you're tired of singing the Alphabet Song or Happy Birthday (twice) to get the timing right, try "Frére Jacques." Or sing the chorus of one of these songs: Dolly Parton's "Jolene," Beyoncé's "Love on Top," Lizzo's "Truth Hurts" or Prince's "Raspberry Beret."
Carry Travel Sized Antibacterial Hand Cleanser or Wipes
If getting up to wash your hands every time you eat is not convenient while flying, consider carrying a TSA-approved-size bottle of antibacterial hand cleanser or wipes. Keep them within reach for a quick wash. People's hands carry everything from traces of fecal matter to harmful bacteria on them, and by merely touching handles, headrests, and shaking hands, you can easily pick up and digest these microscopic elements.
Wipe Down Your Tray and Armrests
Antibacterial wipes are also convenient for wiping down your seat, seatbelt, tray, armrests and anything else you may touch in your seated area. Make sure to do this as soon as you get on the airplane before everyone settles in for the flight. Wiping down your area will help eliminate your exposure to harmful bacteria, viruses, and germs.
Cover Your Sneeze or Cough and Blow Your Nose
First of all, if you have tested positive for COVID-19 you should cancel your trip and stay home. (Cancel for Any Reason travel insurance will help you if this happens.) If you have a cold and have no choice but to travel ill, be prepared. If you are entering an airplane with a cold, be considerate to other passengers by wearing a mask, sneezing into the crook of your arm and blowing your nose into disposable tissues whenever necessary. Bring a disposable bag with you to safely dispose of used tissues and ensure that you have antibacterial wipes or liquid to clean your hands (as we mentioned above, your hands will leave traces of virus on everything you touch). Just because you can fight off a cold, doesn't mean everyone else on the airplane does – nor do they want to!
Experts agree you should leave your mask on when you sneeze. An uncovered sneeze can send germ-infected droplets up to 30 feet away, which is longer than a lot of small aircraft carriers. And while you think covering it with your hands will help prevent the spread of those germs, it is easy to forget to disinfect your hands prior to touching something or someone. Instead, carry a back-up mask (or several) so that if you make your mask moist you can swap it out for a fresh one. Also make a habit of sneezing or coughing into your elbow, so that when you do touch other things you won't be spreading your germs.
Stay Hydrated
Drinking lots of water will ensure that the notoriously dry airplane air won't make you overly thirsty. Keeping your respiratory tract moist will help protect against any ingested germs and support healthy air travel. It also helps you flush out any viruses your body may already be fighting. As a bonus, it will keep your skin from getting too dry. While it is not permissible to bring liquids through airport security, you can bring an empty reusable water bottle with you and fill it with water once you are on the other side of security. Remember to keep the mouth of your water bottle away from the tap, because many other people's mouths and water bottles have touched that tap! You can also purchase bottled water in the airport, or even request a cup of water once onboard (it's usually free).
Avoid drinking water from the bathroom sink on the airplane. Although it may be treated, it is sitting in a tank, and its freshness is not guaranteed. It is fine to wash with, but not to drink. Some airplanes have a warning sticker in the restroom, advising people against drinking tap water.
Stretch Your Legs
Another good reason to drink plenty of water while flying is that it will make you have to use the restroom, which means you will get the opportunity to stretch your legs. A leg clot or deep vein thrombosis (DVT) is a potential medical condition that can occur during air travel. Prolonged periods of immobility combined with cramped legroom increase the risk of these conditions. If you cannot get up to stretch your legs, due to turbulence or other issues, simply tapping your feet will stimulate movement in your leg muscles and help prevent DVT. If you feel your legs or feet starting to "fall asleep" then it is time to get moving with simple stretches or a brief walk to the restroom and back.
Only Use Packaged Headphones and Pillows (or Your Own)
While the majority of reputable airlines offer clean and packaged blankets, pillows and earbuds (or headphones), never use airplane blankets or pillows unless they come packaged. If they are not wrapped be sure they are clean looking and smell clean. The last thing you want is to snuggle up with is a blanket that the previous person used as a tissue.
Ensure Your Vaccinations Are Up To Date
As with all travel, your best defense against life-threatening diseases and serious illness is to be up to date on your vaccinations and to ensure that you have the vaccinations designated for your area of travel.
Invest in Travel Medical Insurance
Even the best-laid plans sometimes don't work, and despite your efforts for healthy air travel, you can get sick. If you are traveling outside of your home country, it is important to buy travel medical insurance to cover yourself against illness. Travel health insurance plans can include access to an emergency assistance medical hotline, trip cancellation coverage, universal pharmacy discount savings, and help in finding a reputable hospital, doctor or medical facility. Travel medical insurance means that should you get sick while traveling you have access to quality medical care without having to unexpectedly pay a fortune. With a little preparation you can hopefully avoid getting sick from an airplane and arrive at your destination just as healthy and as germ-free as before you boarded.
Also Read: