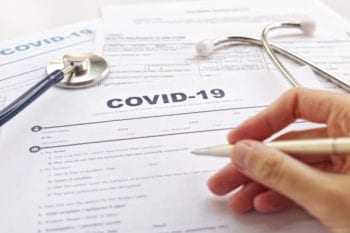 Coronavirus and Global Health Insurance Benefits
With over 100 million cases of coronavirus disease recorded in almost every country in the world, it is now certain that COVID-19 is, and will be present in our lives for quite some time now. However, after the initial standstill, people start to travel again to other countries for business, work, or family reasons. Expatriates that lived in a foreign country when the pandemic erupted might be unsure whether their current global health insurance plan covers COVID-19. Similarly, those who are only now planning to move abroad are certainly wondering whether the costs related to COVID-19 will be covered in the health insurance policy, and if yes, to what capacity?
Coronavirus (COVID-19) and Global Health Insurance
As health insurance brokers, we work with thousands of expatriates and international citizens every month. They come to us with questions, and they require a medical policy for a variety of reasons. However, one fact remains the same – health insurance covering COVID-19 is necessary for every expat who wants to ensure theirs, and their family's health is well taken care of.
Before we move forward, we want to state that we will focus on International Health Insurance policies. Such policies provide comprehensive medical benefits and are annually renewable, and they are not the same as travel insurance plans. Travel insurance plans cover medical costs differently from global policies. Here you can learn more about travel medical insurance and coronavirus coverage.
Is COVID-19 covered in an International Health Insurance Plan?
One of the most common questions we get from our clients is "Is Coronavirus, or COVID-19, covered in a global health plan?" The short answer is yes because a pandemic is not a general exclusion under medical benefits. However, the safe answer here is that it depends on the plan. Some plans are comprehensive, and some have exclusions; therefore, the best solution is to check with your agent or review the terms of your policy to be sure.
"An agent is crucial in the process of choosing an insurer and finding the right coverage for your specific needs" says Joe Cronin, President of International Citizens Insurance. "An expert broker can answer your questions about global health plans – even some you may not realize you had."
However, as a rule of thumb, if you are insured with one of the major insurance companies, such as Cigna Global, GeoBlue, or William Russell, these plans will most likely treat COVID-19 illness like any other illness and offer coverage up to your regular benefit limits. That means you will be covered for the Coronavirus in the same way you would be treated for the flu or a cold. As long as you purchased a plan with inpatient and outpatient coverage, your plan should cover your COVID-19 treatment.
Recommend Plans with COVID-19 (Coronavirus Coverage)
Best Plan for US Citizens Living Abroad or Expats Moving to the US
How Does the COVID-19 Coverage Work in Your Global Health Plan?
Since the devil's in the details, we would also encourage you to ask your insurer (or us) the following questions about covid-19 coverage in your global health insurance plan:
Does your health insurance cover the COVID-19 related treatment costs in full?
This is a fundamental question to ask, and the answer might highly depend on your current plan and its benefits. If you already have a co-pay for inpatient or outpatient treatment in your policy, your insurer might include COVID-19 treatment in that category. However, most reputable insurance companies offer to cover the treatment costs related to the novel coronavirus in full.
Will COVID-19 related costs be deducted from your annual benefit limit?
This is a natural follow-up question to the one above. It's especially important, as the costs related to the treatment of the coronavirus disease's acute case might be high, especially if you count any complications. If the answer is not, you might consider increasing your overall medical benefit limits in your plan during your renewal period.
Does your global insurance plan cover coronavirus testing?
Your global medical plan will most likely cover the cost of coronavirus testing if you get a doctor to certify your symptoms and refer you to testing. GeoBlue, as an example, provides "coverage, with no cost-share, for diagnostic testing for the virus, known officially as COVID-19, consistent with U.S. Centers for Disease Control (CDC) guidelines."
Most plans, however, will not cover a COVID-19 test if you are asymptomatic, or if you just feel like it. Another common exclusion to getting an insurance company to pay for your coronavirus test is when there is a hospital requirement for a negative COVID-19 test before an unrelated, or not covered in your plan, medical procedure.
Is there any location or age-related limitations to the coronavirus coverage?
Are there any policy limitations, such as excluded coverage outside of your primary location, or in specific, perhaps more expensive areas? If you require to travel abroad frequently, make sure your coverage is genuine of a worldwide nature.
Another common limitation might be related to age. Some insurers might exclude coronavirus coverage to elderly persons, so ensure that you are in the age brackets that will receive the coverage.
How can I receive medical care during a pandemic? What are the procedures?
This might be one of the most important questions to ask. In the end, if you are in lockdown, how can you contact a doctor and get tested? Will you need a pre-authorization from the insurer for testing and treatment for COVID-19?
How to Access Doctors and Hospitals Through an International Health Insurance Plan
Finally, a third question: How do international clients access healthcare or get a doctor's referral for testing without leaving home? You should make sure you get to a doctor or clinic if you have symptoms. Take all precautions and get to a hospital as soon as possible. One newer option that international insurers are offering is Telemedicine. One insurer, Cigna Global, is offering Global Telehealth services, which gives customers access to licensed doctors around the world for non-emergency health issues. Telemedicine services provide remote access to an insurer's global network of licensed doctors by telephone or video without needing to leave your home or office.
Make sure your plan has the telemedicine option covered or ever offered for free in your plan. This is the safest and quickest way to "see" a doctor, via telephone, video, or chat, and if necessary, get a referral to get tested or visit the nearest hospital.
Does My Global Health Insurance Plan Cover the COVID-19 Vaccine?
Similar to other vaccines, coverage aligns with governmental and health declarations and specific plan coverage.
As of January 1, 2021, all authorized COVID-19 vaccines have been pre-purchased by government agencies across the globe. Each government has created its own prioritization and distribution strategy within its respective counties and localities.
Once the vaccine is available to the general population and no longer funded exclusively by governments, private providers such as non-governmental sponsored clinics, pharmacies, and/or healthcare facilities may start distributing the vaccine. At that time, private providers will likely charge individuals for the vaccine and its administration.
Cigna Global suggests as a general rule, you should check your specific policy documentation to determine if vaccination cover is available. If so, and once available privately, coverage of the COVID-19 vaccine will align with the coverage included for any other preventative vaccine.
Can You Get Health Insurance if You Have Been Diagnosed With COVID-19?
Yes, most likely, you can still get health insurance if you have been diagnosed with COVID-19, but the insurance company might exclude Coronavirus from your coverage. This is because insurance companies will consider COVID-19 as a pre-existing condition. In general, global health insurance plans become more challenging to buy and more expensive once you have been diagnosed with a couple of medical issues, called pre-existing conditions.
Having COVID-19 excluded from your coverage is especially risky, as the disease is still very new, and we do not know much about any potential long-term health complications arising from the disease. This is because having a pre-existing condition excluded from your plan extends to any treatment that the doctor will deem to result from the said condition (Coronavirus in this case).
One way to avoid being excluded from COVID-19 coverage is to secure an insurance plan when you are still young and healthy (and never been diagnosed with Coronavirus). Coverage might still be possible even if you have been previously diagnosed with the disease, however, expect higher premiums, and/or waiting time or high deductibles for the coverage.
For more information about health insurance plans and pricing, feel free to contact us directly to get a free quote and plan comparisons. You will be matched with one of our agents who will answer all your insurance questions and ensure you are getting the coverage you want.
Related: