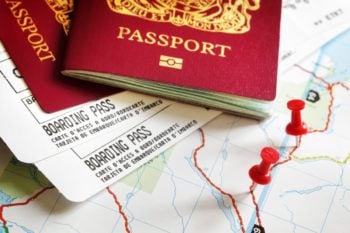 Short Term Insurance for Travel Abroad
You've worked hard. You've researched and planned. Your bags are packed, and your passport is in your hand. It is finally time for your international vacation! International trips can be exhilarating! From the beginning stages, when deciding where to travel and making travel arrangements, to finally arriving at your destination, the experience can be highly satisfying. One thing you can't plan for is illness or accidents – both of which can result in overwhelming medical bills when you are traveling internationally. Many short-term international health insurance plans can help protect you from the high cost of medical care, help you access high-quality medical services, and ease some of the stress of dealing with unfamiliar medical systems.
Short-term international health insurance provides medical benefits for those traveling outside their home country or country of permanent residence for periods of 5 days to as long as 12 months.
Best Short Term International Health Insurance Plans
Atlas Travel Insurance and Seven Corners Travel Insurance policies offer excellent short-term medical cover for travelers abroad for short trips, vacations, or business travel abroad. The plans offer emergency medical coverage, trip interruption, evacuation, and other benefits. The Patriot Platinum Travel Insurance offers similar coverage with much higher benefits and medical limits, providing a much higher level of coverage for short-term travelers.
Affordable Short-Term International Health Insurance Options
Best Short Term Travel Insurance for US Citizens Abroad
For US citizens taking a brief trip abroad, the GeoBlue Voyager plan is an excellent option as they provide superior service, excellent benefits, and comprehensive coverage for travelers.
What Is the Coverage Period for Short-Term Plans?
These plans can cover you for periods as short as five days to as long as 364 days.  You can purchase coverage for a specific period and then extend coverage as needed. Many of these plans also offer the option to renew your plan for an additional year after the initial policy term expires.
Travel Medical Insurance Versus Trip Insurance for Short Trips Abroad
Short-term travel health insurance plans will be trip or travel medical insurance plans. Typically, trip insurance covers details such as trip cancellation insurance and some limited emergency medical coverage. These plans are usually available for five to 60 days maximum trip length.
Travel medical insurance focuses primarily on providing comprehensive emergency medical insurance during travel. Travel medical insurance plans can often be purchased for periods of between five days and one year, sometimes renewable for up to 3 years.
Related: Compare Travel Insurance Plans
It can be overwhelming to choose between the trip insurance and travel medical insurance policies that are available. Many insurance providers are offering a wide range of products at a variety of price points.
Holiday Insurance gives you peace of mind prior to your trip, during your trip, and on your way home. Visitor Coverage is a great option for travelers from abroad visiting you in your home country.
Who Needs Short Term International Health Insurance?
The easy answer is everyone traveling internationally needs global medical insurance coverage in case they get sick or injured during their trip abroad. If you will be traveling outside of your home country for business or pleasure, it is essential to have Travel Medical Insurance. Likely, your existing health insurance plan will not cover you for travel abroad; if the coverage does exist, it is probably relatively minimal.
Since anyone is susceptible to accidents or illnesses, insurance is a worthwhile purchase.
Need Long Term Cover: Research International Health Insurance Plans
Factors to Consider When Investing in Travel Medical Insurance
Single or Multi-Trip Insurance
Short-term travel medical insurance is available as a single-trip plan that covers a specific trip for a specified number of days or months.
If you travel more frequently, you may wish to consider an Annual Travel Insurance policy that provides you with travel medical insurance for up to a year and a maximum number of days per trip. This can be a more cost-effective option for frequent travelers.
Best Annual Multi-Trip Travel Insurance Plan for Short Trips
For those of you who take multiple trips each year, an annual travel insurance plan will cover you, or your family, on each trip for the entire year. These plans offer the same benefits as a single trip travel insurance plan but save you time and money if you take multiple trips. The Seven Corners Frequent Traveler is a great option for any traveler. The GeoBlue Trekker plan is a premium option for US citizens.
What do the Best Short Term Travel Health Insurance Plans Include?
Freedom to choose the doctor or hospital you want
Maximum Limits from $50,000 to $2,000,000
Deductible options from $0 to $2,500
Universal pharmacy discounts
24/7 access to an emergency assistance medical hotline to speak with medical experts
Repatriation and emergency evacuation
Trip interruption, and more…
As you consider the insurance coverage that is most suitable for your short-term trip abroad and your budget, remember that you can ask your sales representative lots of questions. They can also give you information about extra add-ons that may be available, such as for extreme sports coverage.
You have worked hard for your vacation! Having the best short-term travel health insurance plan will help protect you so you can relax without worrying if you get sick or your trip is interrupted.
Read: