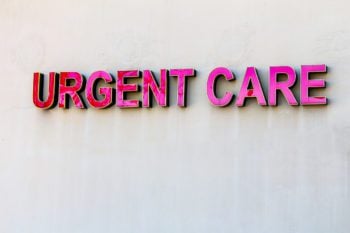 When traveling abroad for a long period or after moving overseas, you may find yourself needing health care at night or on a weekend. But it may not be a full-scale emergency. It could be anything from feeling flulike symptoms to slipping and injuring yourself. That's when you need urgent care, sometimes known as an outpatient care center.
Urgent Care: What is It?
Before you travel or move abroad, you've probably already visited your home doctors to discuss your vaccinations, current health status, annual screenings and concerns such as getting your prescriptions overseas. Sometimes, however, you develop a condition requiring care after you've already crossed the border. That's when you need urgent care.
Urgent care falls in between emergency health care, which is usually for life-threatening conditions, and standard care, such as visiting your provider for an annual wellness visit. A condition that's not life-threatening but is causing enough concern you don't want to wait can be treated at an urgent care center.
Typically, urgent care centers have the same types of doctors and nurses you'd meet with if you visited an emergency care center or a normal office. The benefit of these centers is that you can receive care on days, nights, weekends, and most holidays when other offices are closed. You can also receive care even if you don't have a local doctor. These outpatient centers also come without the long emergency wait times and high costs associated with inpatient care centers.
You can go to urgent care for:
Accidents and falls
Non-life-threatening cuts that might need stitches
Non-severe breathing difficulties
Diagnostic exams such as X-rays and lab tests
Eye irritation and redness
Fever or flu symptoms such as sore throat or cough
Minor broken bones and fractures in fingers or toes
Skin rashes and infections
Sprains and strains
Symptoms of infections such as a UTI
Vomiting, diarrhea, or dehydration
Urgent care providers can normally prescribe medication to help with the above conditions or run tests to try and get to the root of your issue. Sometimes, urgent care can help you get some immediate answers while you wait to meet with a provider from your doctor's office during normal hours. Urgent care, for example, can prescribe antibiotics for an illness such as pneumonia, but you'll still want to follow up with a specialist to check on your lungs.
Urgent Care Versus Emergency Care
Sometimes, you can wait to see your doctor during normal business hours for a certain illness or injury you experience while abroad. Other times, you need care immediately and can't wait to find an urgent care center.
Once you get to a new country, make sure you learn what emergency number to dial. Generally, an injury or sickness is considered an emergency when your life could be severely impaired or endangered. You can either call the number and wait for care or visit the closest hospital.
Severe bone breaks
Loss of consciousness
Knife or gunshot wounds
Heavy, uncontrollable bleeding
Moderate to severe burns
Poisoning
Serious head, neck, or back injury
Severe stomach or chest pain
Difficulty breathing
Loss of vision, sudden numbness, weakness, slurred speech or confusion
It's important to distinguish an emergency from an urgent care situation to make sure you seek the right type of care.
How to Find Urgent Care
To find an urgent care center, contact your health insurance provider to help you locate an outpatient facility that accepts your insurance. If you are in a country where you don't speak the language, they may also be able to provide translation services. You can also do a quick search on your laptop, phone or other device to find the closest center to you. Give the center a call before you arrive to make sure they accept your insurance and can treat your condition.
You can also contact your home country's embassy or consulate to help you locate medical services, including outpatient care or urgent care centers. Sometimes, a local hotel can also recommend providers.
Looking for international medical insurance?
Request a free quote and one of our specialists will contact you.
Urgent Care and Travel Insurance
International health insurance is a must for all expats, especially when you may need to seek care in a new country unexpectedly. A solid health insurance plan is the best way to ensure you're financially covered in case you need urgent care.
Before moving or traveling, find a medical plan that covers outpatient treatment, which could include any urgent care visits. International health insurance allows you to choose the hospital or doctor for your medical evaluation and treatment. Additionally, with global medical insurance, you have the flexibility to choose an urgent care center run by a private hospital instead of a public facility and potentially receive faster, more comprehensive healthcare.
Although you can't prepare for every potential medical situation, you'll encounter abroad, securing insurance and locating a few urgent care facilities before you arrive or soon after you move is a good start. Before becoming an expat, you can also prepare for unexpected illness or injury by bringing a kit with essentials such as anti-diarrheal medication and pain relievers and making sure you're up-to-date on all your vaccines to avoid certain illnesses.
Read Also: