Remote Working Tips: How to Stay Healthy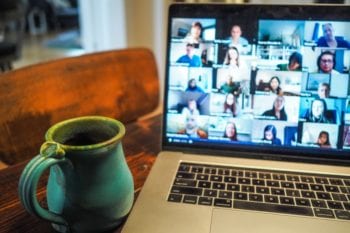 Working remotely offers the best of both worlds. You can work in the environment of your choosing, customizing your surroundings to maximize creativity and productivity. You can take charge of your own schedule, which makes you feel like your own boss. But you still have colleagues to connect with online, as well as an actual boss that takes care of payroll. It's a win-win situation. However, sometimes it feels like it's the worst of both worlds, not the best. You're online 24/7, a boss you never see insists on tracking your every keystroke, and your work and home life collide. It's no wonder more and more people are feeling the impact of remote working fatigue. Here are some tips to help manage your work-from-home experience.
Embrace Your Remote Workspace, No Matter the Size
Design magazines make work-from-home spaces feel very homey and organized. Who wouldn't work better with a hand-carved oak desk and their very own "office" espresso machine? However, the reality of tight budgets and even tighter spaces tell a different tale. Before long, you're working out of a corner of your bedroom, using the laundry basket to store your files.
Setting up a personalized, dedicated workspace makes remote workers feel better during work and personal hours alike. An inexpensive storage box keeps workplace odds and ends corralled by day. Come night, they tuck neatly out of sight. A large, inexpensive art print is the perfect warm backdrop for video calls without sharing the private interior of your home. Remote workers in teeny-tiny spaces like studio apartments have been known to use reversible bedspreads to help transform their space and avoid remote working fatigue. When one color is facing up, the studio is their workspace. When flipped over, a different color signifies that their space has once again returned to a home.
New Realities When Working Remotely
At first glance, remote work feels like absolute freedom. You don't have to get up early and bad weather means nothing to those who don't have to drive into the office. Early bird and night owls alike love being able to adjust their hours to their own internal clock. Plus, being able to shift your lunch hour as needed to run errands or complete chores is the kind of common-sense flexibility that attracts many people to remote work in the first place. It's not uncommon to hear new remote workers say things like how they're going to use their coffee break to power walk around the block or that they're going to start cooking more, now that they can easily prepare ingredients throughout the day at home.
Reality is much different. It doesn't take much for flexibility to soon give way to pliancy when the boundaries between work and home erode. It starts innocently enough when you check emails first thing in the morning or just before bed. A willingness to chat with colleagues in their time zone soon gives way to 12 hour days, where remote workers are always somewhat online and thus on-call.
Reigning In Your Work From Home Schedule
Remote workers can rein in their hours by setting meeting hours for mid-day instead of early morning and late afternoon. They can establish dedicated blocks of time where they are offline and unavailable in order to complete tasks like research and editing in peace. They can also set up dedicated days where they vow to sign off at a certain time, no matter what. Putting an older computer into service as a personal device will keep colleagues from assuming you're free for "just a quick chat" when you're online shopping or searching for recipes.
Remember, even remote workers need sick days and vacation days. It's nice that you can cozily work from home with pajamas and extra tea when you have a mild cold but you shouldn't push through a major illness any more than a non-remote worker should. And while your "vacation" may be nothing more than a few quiet days of reading and gardening, there's no reason why that's not as valid a break as traveling around the world. Feel free to suggest to your colleagues that you're participating in a silent meditation retreat in case they don't take the hint to leave you alone in order to avoid further remote working fatigue.
Setting Boundaries With Co-Workers
As any remote worker with a toddler at home can attest, setting boundaries between your work life and personal life is easier said than done. However, older children can learn to respect signals that parents are busy with work. For instance, wearing headphones means "do not disturb" and an egg timer shows how many minutes remain until it's break time. But setting boundaries isn't just about having family members respect your workspace. It can go the other way.
When your work-life includes video calls and semi-mandatory "tours" of your home, remote working can feel like an invasion of privacy. Let colleagues and bosses know that you'd rather play things low key. Make a point of using photos in lieu of videos now and then for online calls in order to break up the pressure that you have to be "on" at all times.
Embrace Remote Social Time
Even the busiest office environment comes with built-in socializing. You chat with colleagues on the elevator, in the cafeteria line, while walking to the subway. It's hard to quantify how important this is until you don't have it anymore. New remote workers often say that it's been so long since they actually TALKED with another human – even though, of course, they're talking business all day long.
Break up workplace monotony and isolation by incorporating social activities into your everyday work routine. Set up a dedicated chat thread that's devoted to anything but work. Establish it up as a place to chat about food, sports, pets, movies, and more. When possible, arrange a time to meet up in person to talk about these very things. An afternoon in the park or a colleague's backyard costs nothing and allows for social distancing where mandated.
You can further break up the workday routine and add some good cheer to your virtual workspace by coming up with weekly challenges for everyone to enjoy. Silly hat day and costume day are fun ways to break up the usual routine. But remember that not everyone's sense of humor lines up with your own. Some co-workers may be so busy or stressed that the idea of coming up with a quirky hairdo might be too much to handle. Keep social activities optional and embrace some low-key options for engagements, like polls on who had the best silly outfit.
Take Care of Your Remote Employees
Managers and supervisors can foster a sense of community by finding alternative ways to replicate in-office experiences like Monday coffee hour or Friday's pizza lunch. For instance, managers can send e-gift cards for take-out pizza or popular food delivery chains so each person can have their own individual treats while sharing a group video chat. And in lieu of birthday cakes and other celebratory fare, e-gifts of electronic books, magazine subscriptions, or a small charitable donation are easy ways to brighten someone's day.
Read: Need Insurance for Global Nomads
Reaching Out for Help
Remote workers often feel uneasy or even ashamed to reach out for help. It's easy for them to compare the relative comfort of their surroundings to more dangerous workspaces. As such, they often conclude that they have nothing to complain about. The reality is that every occupation or every kind of workspace has pros and cons. You can still feel empathy for other workers while acknowledging that you need help, support, and more resources. Normalizing workplace mental health needs benefits everyone, no matter their circumstances.
Related: