8 Tips for Staying Healthy While Traveling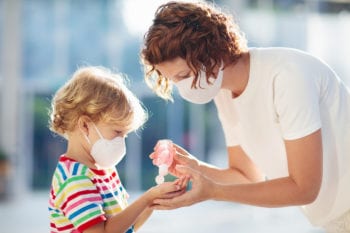 Staying healthy while traveling has never been more challenging. Serious health threats like COVID-19 have everyone worried. It doesn't help that travel is known for being a crowded, congested activity. Busy airport terminals, tiny airplane seats, bustling hotel lobbies, and swelling streets certainly don't allow for much in the way of social distancing. However, if travel is in your plans, there are many tips and tricks you can employ to feel more comfortable and stay healthy while traveling.
1. Remember All the Basics
Wearing a non-medical cloth mask, frequently cleaning your hands, and keeping a distance of six feet from other people are still critical steps for avoiding transmission of COVID-19. What's more, they make for a more comfortable, pleasant travel experience. There's no denying that travelers are more anxious than usual. However, tensions ease when it's evident that everyone is doing their best to spread disease transmission.
For instance, it's not always possible to maintain social distancing in an airplane. But within the airport itself, you can take steps to avoid crowding other people in shops, lines, and restrooms. If you need to remove your mask to eat, you can do so at a safe distance. When other passengers see you using your hand sanitizer, they'll be encouraged to do the same. The same applies to cafes and restaurants. Wearing a mask until your food is served reassures staff and other patrons that everyone is doing their part to make dining out a welcoming experience.
And don't forget the most important fundamental piece of travel advice: If you're feeling unwell, stay home and contact your doctor for advice. Sometimes the most important part of staying healthy while traveling is to delay your trip.
2. Put Germs in Their Place
Over the past several months, cleaning standards in airports and airplanes have improved. However, there are several hot spots with germs that inevitably remain. Some spots to look out for are the check-in area counter with the free paper luggage tags (You don't want to use any of those pens!), the bins which hold your belongings at airport security, and the washroom door handles and surfaces. Sanitize your hands after you move from one section of the airport to another for maximum protection.
You can stay healthy on the airplane by making your space cleaner. Savvy folks who are interested in staying healthy while traveling have been using disinfectant wipes to clean airplane seat buckles, tray tables, and touch screens for years. It's time to follow their lead! If you don't have disinfectant wipes, hand sanitizer applied with napkins is a good second choice. Your caution doesn't just benefit you. You are leaving things cleaner for the next passenger, which is always a good thing.
Hotels and restaurants have also dramatically increased cleaning efforts. As such, some amenities you're used to (coffee machines in hotel rooms, condiment caddies in restaurants) might be gone. However, other germy spots remain. Doorknobs and handles, remote controls, plastic key cards, debit machine pin pads, and mini-fridge doors are all areas deserving of a little extra attention.
3. Make Healthy Choices at Airports
If there was ever a time to justify stress eating some potato chips and ice cream, it's being in an airport. There's something about these crowded, chaotic spaces that make all healthy resolutions fly out the window! However, taking care of your health and wellbeing has never been so important. Whenever possible, opt for non-alcoholic and non-caffeinated drinks. More and more airports now feature water fountains designed to make refilling a personal water bottle an easy task. As well, herbal tea (hot and iced), fruit-infused sparkling water, and flavored almond milk are generally very easy to find. They can help you hydrate and break the monotony of water at the same time.
4. Stay Healthy by Packing Homemade Snacks
Airplane food isn't great at the best of times. Now, to stop unnecessary person-to-person interactions, most airlines have suspended or greatly reduced food services. Use this change in service to take your own travel snack game to the next level and make staying healthy while traveling a priority. Homemade pasta, quinoa, couscous, and bean salad are filling, nutritious alternatives to airport fast food. Veggie sticks and chopped fruit prepared at home are crunchy, refreshing, and infinitely fresher than anything found in the airport. Bringing your own trail mix, granola bars, protein powder, or muffins is dramatically cheaper than buying them at the airport. All these snacks would work equally well for road trippers who have the added benefit of bringing along a cooler in order to minimize unnecessary stops.
5. Say Goodbye to Breakfast Buffets
You'll likely see some big changes to hotel breakfast stations and even room service menus. Self-serve buffets are out and pre-packaged breakfasts in brown paper bags are in. Room service menus – if they still exist – feature simpler meals that can be left outside hotel doors. If this is something you're concerned about, call your hotel directly. Speak with the staff about their new procedures and your options. Whether you're on a restricted diet or just want a kettle in your room, chances are the staff can help so long as you give them a bit of extra time.
Most mobile delivery services will bring food orders to your hotel room. Before you order, check with the hotel staff if there are any restrictions. They may also be able to recommend a local delivery service that minimizes fees for small businesses. This is a pro for travelers as many restaurants that are unwilling to sign up with big-name delivery services will make an exception for a local company. A DIY travel picnic kit consisting of some reusable chopsticks, "sporks", hand wipes, and a collapsible travel bowl can transform any take out experience and minimize your plastic waste.
6. Get Outside and Stay Healthy
Outdoor transmission rates of COVID-19 are a fraction of those for indoor transmission. That makes travel activities like hiking, camping, and birdwatching more popular than ever. But even if you're not a keen outdoors person, there are still plenty of things you can do in fresh air without having to go into the woods. Public theatre performances like Shakespeare In The Park, small group urban cycling tours, open-air farmers markets, and vineyard based wine tastings are just some of the creative ways travelers are maximizing their time outdoors.
Things that were once considered expensive and exclusive, like private walking tours, canoe trips, helicopter rides, and horseback riding lessons are now more affordable and flexible. They allow families to maintain their bubble while enjoying travel activities that might have been out of reach before.
As always, the fundamental rules still apply. Maintain social distancing, take precautions by wearing a mask, and wash your hands frequently. And if you have a history of seasonal allergies, bring along your medication. A public sneezing fit is the last thing you need!
7. Avoid Crowds to Stay Healthy
In travel, it pays to be flexible. When possible, avoid rush hour during the hotel check out and the busiest times at restaurants, cafes, or any other attraction you wish to visit. This strategy helps you minimize social contact and comes with some unexpected perks. Your overall travel experience will be calmer and more enjoyable. Plus, you are easing the strain on small businesses who would much rather have a small, steady stream of customers all day long than several hectic rush hours. Social media is a fantastic tool – Simply sending an online message is sufficient to find out what time your favorite store, market, bakery, or museum is most quiet.
8. Plan for Pit Stops
There aren't always a lot of public toilets on the road less traveled and that's especially true during COVID-19. Restaurants that are opened for take-out no longer allow guests to enter and use their facilities. Public parks and beaches may be open for swimming and hiking but changing rooms have been shut down. Whether you're road-tripping in the family car or just expecting a long day exploring around town, make a pit stop plan.
Speak to other travelers, especially parents, about their experiences. Double-check the policies of cafes and fast-food restaurants by reaching out on social media. Send an email to the local tourism board. Believe it or not, this is a question they have a lot of experience answering! Your toilet-related questions might seem silly or awkward to you but the tourism board is ready and eager to give you all the advice and information you could possibly need and staying healthy while traveling is their top priority.
Related: