2023's Best International Group Medical Insurance Plans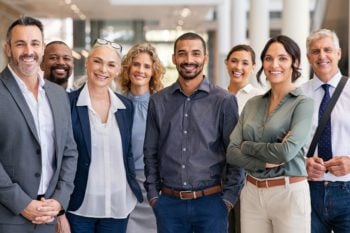 Are you sending employees abroad to open new offices as your company expands globally? Maybe you're heading a group of volunteers traveling to build housing in Haiti after a hurricane. Or perhaps you supervise a sales team working on a six-month project in Singapore.
Whatever your situation, if you're sending staff out of the country, or hiring international employees, protecting their health is a must. The best international group health insurance plans will cover your people so they can focus on doing great work in any country worldwide. But with so many insurers, all with different requirements for their clients, it can be difficult to know which to choose. To help you get started, we have put together the following list of leading international providers.
The list of the best international group medical insurance plans below is designed to meet the needs of most international employers, from small, growing startups to established businesses with over 1,000 employees. After reviewing the list, request a quote from our brokerage, and we will provide you with pricing and expert guidance in choosing the best plan for your organization.
Top 10 Group International Health Insurance Companies
| | | | |
| --- | --- | --- | --- |
| Rank | Insurance Carrier | Best For | Cost |
| #1 | Cigna Global | Organizations seeking an extensive network and highly customizable benefits | $$$ |
| #2 | GeoBlue | Companies based in the United States with staff coming to the U.S. or relocating abroad | $$$ |
| #3 | Aetna | Organizations that want to give groups of 2-10 employees access to an extensive network and wellness services | $$$ |
| #4 | United Healthcare | Organizations that need long-term and short-term coverage as well as security services. | $$$ |
| #5 | Unisure | Organizations looking for flexibility in benefits, especially local nationals (inpats) with or remote workers | $$ |
| #6 | IMG | Organizations needing a wide array of options at a budget-friendly price | $ |
| #7 | William Russell | Businesses whose staff will have little or no travel to the USA | $$ |
| #8 | Now Health | Organizations needing an affordable plan with simple options and no USA coverage | $$ |
| #9 | Allianz | Great plan for health coverage in Central/South America and the Caribbean | $$ |
| #10 | WorldTrips | Businesses searching for short-term travel medical insurance for remote employees | $ |
Request a Quote for Your Group
---
Our agency, International Citizens Insurance, has researched and analyzed the top providers to bring you this list of the best insurers. We ranked them based on the following criteria:
Network size, including the number and quality of doctors and hospitals available to employees
The breadth of benefits available
Added features such as telemedicine, vision and dental, life and disability benefits
Ease of filing a claim and overall customer service
The ability to adjust your premium through copays and deductibles
A.M. Best rating, which indicates the financial stability of each insurer
---
What Makes a Global Group Medical Insurance Plan Great?
Just because a group international health insurance company is ranked doesn't mean it's the best for your organization's needs. Every organization is unique and needs a plan that is the right fit for them. Each company below has a specific strength that makes it a superb solution for specific scenarios. Here are additional details about each one, along with what types of organizations they may be best for.
Cigna Global Health Advantage (GHA)
Best for Organizations Seeking a Large Worldwide Health Network
Do you want your employees to have access to one of the largest worldwide networks of healthcare professionals? Then Cigna GHA may be the right plan for you. The GHA plan is group international health insurance designed to cover groups of two to 20 employees living and working worldwide.
Benefits include:
An extensive health network with more than one million doctors and hospitals around the globe
Will establish guarantees of payment for customers with doctors and hospitals, ensuring access to care worldwide
The service center and in-house medical team operate 24/7/365
Plans that are fully compliant with regional requirements
Quick claims payments and excellent customer service
Mental and emotional assistance via International Employee Assistance Program
Optional benefits: dental, long-term disability, life, accidental death and dismemberment, and evacuation/repatriation coverage
Additional services: remote second opinions from the Cleveland Clinic, international pharmacy fulfillment, and more
Eligibility:
At least two eligible employees must be enrolled at all times
US employers must have 50+ employees on a worldwide basis
at least 50% of employees enrolled must be expatriates living outside of their country of residence
---
GeoBlue Expat Group Insurance Plans
Best for Organizations Based in the USA with International Employees
If your company is based in the USA and you have staff going abroad for six months or more, GeoBlue may be the right fit for your organization. This group international health insurance plan provides comprehensive international health benefits, including telemedicine, wellness coaching, evacuation benefits, alerts about safety and health, and more.
Benefits Include:
Primary major medical plan offered in partnership with Blue Cross Blue Shield and BUPA International
Worldwide coverage or coverage by country of assignment
Rich benefits that cover everything from medical evacuation to maternity care and wellness visits
Flexible coverage for U.S. employees outside the U.S., foreign nationals on assignment in the U.S., and third-country nationals, as well as their families
Eligibility:
Available to groups of two or more
Must have headquarters or an office in the U.S.
Must meet a minimum threshold of global employees
GeoBlue also offers a group traveler insurance plan for short-term coverage and trips abroad: GeoBlue Traveler.
---
Aetna Ascent Group Medical Insurance Plan
Best for Smaller Organizations Seeking Simplicity
Aetna Ascent group international health insurance plans are designed for groups of two or more expatriate employees. The company offers comprehensive, global healthcare coverage and innovative wellness programs wherever your employees go. Plans are global and can cover internationals residing throughout the world.
Benefits Include:
Simple plan administration and implementation, with annual renewal dates
Compliance with fronting arrangements and local requirements
Member access to their network of more than 1.1 million global providers
Comprehensive member services are available 24/7
Convenient web and mobile tools for people on the go
Access to the CARE Team, a team of clinicians available to support members pre-trip, post-trip, and anytime in between by helping get prescriptions filled, coordinating urgent medical care, and more
Eligibility:
At least two eligible employees must be enrolled at all times
The employer must have 51+ employees worldwide
Must have headquarters or and office located in the U.S.
---
United Healthcare Group Plans
Best for a Full Array of Solutions
One of the largest insurers in the world, United Healthcare provides an array of plans that can cover your staff, no matter their needs. They offer coverage for assignments of 6 months or more, as well as shorter assignments and business trips. And if you have concerns about employee safety and security in remote areas, United Healthcare offers solutions for that, too.
Benefits include:
Short-term, long-term, travel and security coverage
Options for including Inpatient care, outpatient treatment, prescriptions, maternity vision and dental, accident death & dismemberment, long-term disability, life insurance, evacuation, worldwide cover
Support before, during, and after staff assignments
Large global provider network
Medical and security intelligence to help you support your staff
Eligibility:
Available to groups of two or more
Must have a tie to a U.S. organization, a U.S. headquarters or local office, and a minimum number of employees worldwide
Request a Quote for Your Group
---
Unisure Group Global Medical
Best for Remote Teams of Local Nationals (Inpats) With Some International Travel
Unisure offers plans with a modular system, which allows you to create a benefits package that covers only what you need. It has plans specific to the energy and mining sectors and great options for staff in many other industries. This is a great option for smaller companies with large numbers of local nationals in more than one country and expatriate employees globally.
Benefits include:
Multiple package options to choose from and combine
Benefits modules include: inpatient and outpatient care, family/maternity, health and wellness, and vision and dental coverage
Flexible excess (deductible) options
24/7 multilingual call center to help with treatment, claims, or plan questions
Eligibility:
Groups as small as two people may be covered; however, Unisure may require a minimum percentage of staff to be enrolled to qualify
The plan can cover local nationals, along with expatriates, in most countries
Request a Quote for Your Group
---
International Medical Group
Insurance and Security for the Budget-Minded
Suppose you have two or more international employees and want to balance your benefits against your budget. In that case, IMG offers customizable plans that can include telemedicine, dental, disability, life insurance, travel assistance, and more. They also provide security solutions for staff overseas and compensation case management for employees injured on the job.
Benefits include:
Custom plan designs offer the flexibility to choose the level and type of coverage desired
Optional add-ons include telemedicine, dental, disability, and life insurance
Emergency travel assistance
A network of over 18,550 physicians and facilities outside the U.S. that offer direct billing — meaning less paperwork for you and your employees
Options for groups such as marine crew members, schools, volunteer organizations, and more
Eligibility:
Some plans have a minimum of two or more employees
Specialized plans may require proof of eligibility
Request a Quote for Your Group
---
William Russell
Best for Organizations Seeking Seamless Benefits
William Russell offers health, life, and income protection plans so you can seamlessly provide all employee benefits. They combine a personal touch with an extensive global network. This is a good option if your group is larger than ten people. In that case, you can easily add new staff to your insurance with Medical History Disregarded underwriting, which allows you to enroll employees without providing their health records.
Benefits include:
Inpatient treatment, day-patient treatment (when the person has a hospital procedure but does not stay overnight), cancer treatment, kidney dialysis, transplants, and basic Medevac
Option to include pre-existing and chronic conditions with Medical History Disregarded underwriting
Network of over 40,000 hospitals around the world, many of which offer direct billing — meaning your staff will never see a bill
Options to add maternity cover, optical and dental coverage, enhanced medevac services, and more
Eligibility:
Must have three or more employees needing coverage to qualify
No more than 50% of individuals living full-time in their country of citizenship
Request a Quote for Your Group
---
Now Health International
For Budget-Conscious Organizations
If your budget is tight, but you want to provide international benefits to retain your employees, Now Health's group plans may be the right solution. Your organization can choose anything from basic plans that cover emergency scenarios to full-fledged plans that will take care of every eventuality. Now Health has solid plan options in Africa, China, Singapore, and Dubai.
Benefits include:
24/7 multilingual customer care
Network of over 1 million medical facilities and providers
Claims may be submitted online
Choose a level of benefits appropriate to the needs of your organization and your budget level
Eligibility:
Groups as small as three people may be covered
We may need a minimum percentage of staff receiving coverage to enroll
Request a Quote for Your Group
---
Allianz Group Plans
Best For Coverage in Africa, Asia, Central, and South America as well as Local Nationals
Allianz offers group international health insurance with many different geographic options. It is especially strong in Africa, Asia, and Central and South America. If your staff is likely to travel, you can opt for Worldwide coverage. If they're likely to stay in one country or region, Allianz also offers geographically limited plans, so you only pay for the coverage area you need.
Benefits include:
Telehealth portal for arranging medical treatment abroad
24/7 customer service with multi-lingual support call center staff
Network of full-time medical staff offering day-to-day and emergency medical support through their internal worldwide assistance company
Second medical opinion options
A simple pre-authorized claims process so staff won't have to wait long for reimbursement or treatment
Summit Plans that cover staff for in-patient, out-patient, and wellness benefits, with  optional add-ons (Dental, Optical, Maternity, and Repatriation)
Eligibility:
Groups as small as three people may be covered; however, Allianz may require that a minimum percentage of staff participate
Request a Quote for Your Group
---
WorldTrips
The Best Business Group Travel Medical Insurance for Single Trips
If you are looking for a plan for a group going on a trip or for a set of employees traveling to different locales, the Atlas Travel Insurance Plans from WorldTrips are the top choice. These travel plans are available to all nationalities, which makes them stand out from many other insurers and is especially helpful for international organizations. This is a short-term international travel medical plan for trips as short as five days to as long as a year.
Benefits include:
Medical coverage for any urgent medical need
Emergency medical and political evacuation
Trip interruption, travel delay, and lost baggage coverage
Optional crisis response add-on for groups going to unstable parts of the world
Eligibility:
Must be traveling outside of the employee's home country
Available in monthly or 15-day increments
The maximum coverage period is 12 months
Request a Quote for Your Group
---
Review Your Options for Global Benefits With a Licensed Group Broker
Once you request a quote, you will be assigned a licensed agent expert in global benefits. Your agent will work with you to determine your specific needs, budget, and relevant insurers who can provide you with a customized quote. We will then work with you to refine your benefits and quote, compare group coverage options, and secure coverage. As your brokers, we work for you and will be able to assist you throughout your policy period to ensure you get the level of service you desire.