GeoBlue International Health and Travel Insurance Products
GeoBlue international health insurance products provide travelers and expats living abroad anywhere in the world peace of mind via an elite network of healthcare providers, innovative mobile and online tools, and outstanding customer service.
GeoBlue Comprehensive Global Medical Health Insurance
GeoBlue Xplorer offers comprehensive international health and medical insurance to US citizens living abroad and foreigners living in the USA. This plan is an excellent option that will provide annual coverage for people living abroad for a year or longer.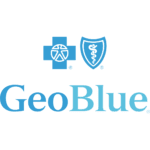 Premium Benefits, Coverage and Service
Define your deductible and prescription benefits
For Foreigners in the US or US Citizens Abroad
Plan Details
|
View Brochure
GeoBlue International Travel Health Insurance Plans
The GeoBlue Voyager plan will cover a single trip for a period of 5 days to 6 months. If you make multiple trips abroad each year, the GeoBlue Trekker plan is a great option covering you throughout the year with a single annual plan.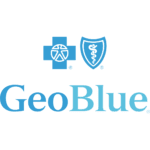 COVID-19 coverage outside your home country
Great option for US citizens traveling abroad
For trips up to 6 months for ages up to 84
May cover pre-existing conditions for medical services
Plan Details
|
View Brochure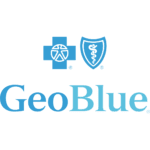 Up to $500,000 for sickness and accidents
$500,000 medical evacuation benefit
Covers Covid-19 and pre-existing conditions
Plan Details
|
View Brochure
GeoBlue International Student Insurance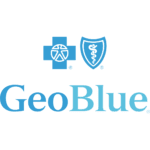 Worldwide medical coverage built for students and faculty in the U.S. and Abroad.
Select from a range of deductibles and rates.
Choose providers either in or out of our elite network.
Plan Details
|
View Brochure
GeoBlue Insurance Plans for International Medical Coverage
GeoBlue offers long and short-term individual and group products under the Blue Cross Blue Shield Global brand with the Blue Cross Blue Shield Association and Bupa Global. This allows them to extend their global reach and enhances their ability to offer comprehensive and compliant international healthcare solutions for employees and their dependents, giving them confidence that the care they need is available when and where they need it.
Review: GeoBlue Group Plans at Expatriate Group Options.
Geo Blue International is the trade name of Worldwide Insurance Services, LLC (Worldwide Services Insurance Agency, LLC in California and New York), an independent licensee of the Blue Cross and Blue Shield Association. GeoBlue is the administrator of coverage provided under global health insurance policies issued by 4 Ever Life International Limited, Bermuda, an independent licensee of the Blue Cross Blue Shield Association.