GeoBlue: International Travel and Medical Insurance Services
Customers have rated GeoBlue plans: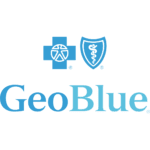 GeoBlue ® International Insurance offers quality plans for global travelers like you. Providing top-notch service, comprehensive coverage and access to the best medical care no matter what country or time zone in which you find yourself. GeoBlue has a variety of plans to meet your specific needs and circumstances.
For the past 20 years, GeoBlue has been dedicated to simplifying the international healthcare experience for the globally mobile. They offer long-term coverage for those living abroad (Xplorer Global Medical), short-term travel coverage plans for both single (Voyager Travel Insurance) and multi-trips (Trekker Annual Travel Insurance) and specialists solutions for missionaries, yacht crew, faculty and students (Navigator). Their health insurance plans provide members with access to our hand-picked network of high-quality medical providers outside the U.S. Coupled with leading-edge technology and 24/7 world-class medical assistance, GeoBlue provides members with the confidence and peace of mind to carry out their international aspirations.
Note: International Citizens Insurance is an authorized agent of GeoBlue
GeoBlue Features
24/7 Customer Support via Phone and Web
Detailed Health and Travel Guides for your Destination
Prompt Access to Trusted Doctors and Hospitals
Simplified and Paperless Resolution of Claims
High Quality Plans
GeoBlue has specialized in providing global health insurance for 20 years. It is their commitment to serving world travelers' unique needs that makes them an industry leader. Their mission is to provide peace of mind to long- and short-term global travelers with a community of carefully selected, contracted doctors and hospitals in almost every country in the world as well as signature destination databases, mobile tools, and concierge-level services. Geo Blue Plans Include:
GeoBlue Xplorer – Annually renewable, comprehensive, medical insurance for US expatriates or international citizens living abroad or internationals residing in the USA. Includes coverage in the USA for up to 9 months each year.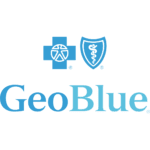 Premium Benefits, Coverage and Service
Define your deductible and prescription benefits
For Foreigners in the US or US Citizens Abroad
Plan Details
|
View Brochure
Voyager – Geo Blue Travel Insurance for trips lasting 7 days to a max of 6 months. The plan provides emergency medical coverage along with a package of travel insurance benefits to help care for you while abroad.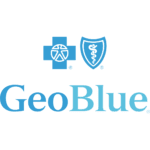 COVID-19 coverage outside your home country
Great option for US citizens traveling abroad
For trips up to 6 months for ages up to 84
May cover pre-existing conditions for medical services
Plan Details
|
View Brochure
Trekker – An annual "multi-trip" travel medical plan for US citizens traveling abroad multiple times each year.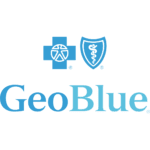 Up to $500,000 for sickness and accidents
$500,000 medical evacuation benefit
Covers Covid-19 and pre-existing conditions
Plan Details
|
View Brochure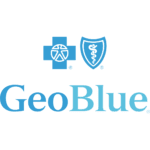 Worldwide medical coverage built for students and faculty in the U.S. and Abroad.
Select from a range of deductibles and rates.
Choose providers either in or out of our elite network.
Plan Details
|
View Brochure
GeoBlue is a worldwide, all-access pass to an exclusive level of care. Use your mobile device to quickly and conveniently connect to quality care across the globe for anything from emergency needs to filling a simple prescription, to translating your symptoms, to finding the right doctor at home or abroad. With a few simple clicks, get detailed profiles of carefully selected primary care physicians and specialists, as well as a broad network of hospitals, pharmacies, even dentists-where you are, when you need it. Review qualifications, make an appointment, and get directions, right from the App or a mobile device. Plus, proof of coverage is always at your fingertips, ready to show and share with providers. Mobile Assistance is backed 24/7 via a toll-free assistance line.
Run a free quote for pricing.
GeoBlue Video Overview
GeoBlue is the trade name of Worldwide Insurance Services, LLC (Worldwide Services Insurance Agency, LLC in California and New York), an independent licensee of the Blue Cross and Blue Shield Association. GeoBlue is the administrator of coverage provided under insurance policies issued by 4 Ever Life International Limited, Bermuda, an independent licensee of the Blue Cross Blue Shield Association.