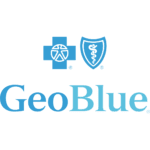 Eligibility for the Geo Blue Voyager Travel Medical Plan
Short-term international travel medical plan for leisure, educational, missionary or business travel.
Eligibility Requirements
Home Country is the U.S.; and
You must be under Age 85 and;
Enrolled in a Primary Plan*; and
Children under age 6 must be enrolled with a parent and;
Initial purchase must be made within the U.S. prior to travel. The plan can be extended while abroad if needed.
Family Members included in your Plan (if applicable) must be:
Your spouse; civil union partner or domestic partner age 85 or younger, and/or your eligible child(ren) or other eligible dependents.
Resident(s) of the United States.
Traveling outside the U.S. and scheduled to spend at least 24 hours away from his/her home.
* Primary Plan is a Group Health Benefit Plan, an individual health benefit plan, or a governmental health plan designed to be the first payer of claims (such as Medicare) for an Insured Person prior to the responsibility of this Plan. Such plans must have coverage limits in excess of $50,000 per incident or per year to be considered a Primary Plan.
**Eligible Dependents
An Eligible Dependent means a person who is the Eligible Participant's:
spouse; civil union partner, or domestic partner;
natural child, stepchild or a legally adopted child who has not yet reached age 26;
own or spouse's, civil union partner's or domestic partner's own child, of any age, enrolled prior to age 26, who is incapable of self-support due to continuing mental retardation or physical disability and who is chiefly dependent on the Eligible Participant. The Insurer requires written proof from a Physician of such disability and dependency within 31 days of the child's 26th birthday and annually thereafter;
For a person who becomes an Eligible Dependent (as described above) after the date the Eligible Participant's coverage begins, coverage for the Eligible Dependent will become effective in accordance with the following provisions:
a. Newborn Children: Coverage will be automatic for the first 31 days following the birth of an Insured Participant's Newborn Child. To continue coverage beyond 31 days, the Newborn child must be enrolled within 31 days of birth.
b. Adopted Children: An Insured Participant's adopted child is automatically covered for Illness or Injury for 31 days from either date of placement of the child in the home, or the date of the final decree of adoption, whichever is earlier. To continue coverage beyond 31 days, as Insured Participant must enroll the adopted child within 31 days either from the date of placement or the final decree of adoption.
c. Court Ordered Coverage for a Dependent: If a court has ordered an Insured Participant to provide coverage for an Eligible Dependent who is a spouse, civil union partner, domestic partner or minor child, coverage will be automatic for the first 31 days following the date which the court order is issued. To continue coverage beyond 31 days, and Insured Participant must enroll the Eligible Dependent within that 31 day period;
d. grandchild, niece or nephew who otherwise qualifies as a dependent child, if: (i) the child is under the primary care of the Insured Participant; and (ii) the legal guardian of the child, if other than the Insured Participant, is not covered by an accident or sickness policy.
The term "primary care" means that the Insured Participant provides food, clothing, and shelter on a regular and continuous basis.
A person may not be an Insured Dependent for more than one Insured Participant.
YOUR SATISFACTION IS GUARANTEED. We are so confident in our products that we offer the best guarantee in the business! If you are not completely satisfied with our GeoBlue Travel Insurance Voyager Product, simply return your Certificate of Insurance and your ID Card to GeoBlue within 10 days of receipt and include a letter indicating your desire to cancel. If you have not already left for your trip before the date of your letter, you will receive a full refund.
Geo Blue International Insurance, in our list for Best Travel Insurance Companies, is the trade name of Worldwide Insurance Services, LLC (Worldwide Services Insurance Agency, LLC in California and New York), an independent licensee of the Blue Cross and Blue Shield Association. GeoBlue is the administrator of coverage provided under insurance policies issued by 4 Ever Life International Limited, Bermuda, an independent licensee of the Blue Cross Blue Shield Association.