Understanding Air Pollution and Smog In China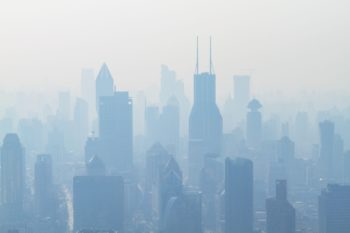 Chinese Premier Li Keqiang said in a speech that China was 'waging war'- a war against air pollution and smog in China. Suddenly, one of China's best-known but rarely acknowledged problems was out in the open. The country's long-standing position that there was nothing to be discussed was suddenly reversed. Smog, pollution, and air quality were all open for debate.
Since then, the Chinese government says that more than 4 million homes have been converted from "dirty" fuel such as coal and wood to "clean" fuel like natural gas and electricity. Progress is indeed being made – but how fast and how thoroughly remains a question mark. For the majority of travelers and expats in China, air quality and smog remain a significant concern.
Just How Serious Is It?
In a word: Deadly. China accounts for more than 40% of global air pollution deaths. This amounts to more than 1.3 million people each year. Burning coal alone has been linked to some 366,000 premature deaths in 2013. And in 2015, some residents of Beijing went viral for being 'smog refugees', leaving the city because they feared for their lives on account of massive levels of air pollution. Smog has closed schools, caused agricultural complications, and led to major attractions being shuttered. In short, it's dangerous and it's disruptive.
Understanding Sources of Smog and Pollution
Ask anyone in China what their opinion is about the source of smog and you'll likely hear a strong opinion. Everyone has a theory about what the problem is. But the truth is that a combination of factors is in play. In Beijing, more than 50% of all energy production has been moved out of the city in an effort to clean up the capital's air. Unfortunately, the plan didn't necessarily proceed as expected. For instance, there is now increased water scarcity in rural areas, which have to provide water to the relocated coal plants. And rural residents, with fewer financial resources and far less political clout than their urban compatriots, are now bearing the brunt of the pollution. In effect, pollution hasn't been reduced. It's just been relocated and further compounded by water shortage problems.
Complicating the problem of smog and visibility is natural gas. While cleaner than coal, natural gas produces water and carbon dioxide when burnt. This sounds much better than the smoke and dust of coal. However, the increased water molecules in the atmosphere are thought to speed up chemical reactions. There is indeed less coal dust in the air but there are still consequences to high fuel use, even when that fuel is natural gas.
Another hopeful project, the establishment of large-scale wind farms, also appears to have had unwanted complications. One theory is that, by interrupting the natural wind patterns through the use of windmills, near-surface wind speeds have declined, hampering air circulation and allowing smog to settle. In Beijing, the situation is further complicated by the fact that the city is bordered by the Xishan and Yanshan mountains. When a high-pressure weather system moves in, it cannot easily leave.
A Hopeful Future
The situation in China is getting better. The danger of smog can be measured in part by examining a person's exposure to PM2.5, a unit of measurement for the most dangerous, microscopic particles contained in air pollution which destroy lung tissue. China's efforts to transition to cleaner fuels has cut the average person's PM2.5 exposure by 30% to 47% – a huge improvement. By 2017, particulate air pollution in Beijing was reduced by 25 percent. These are all hopeful signs for the future.
What Travelers Need To Know
From "dirty" fuel like coal being used to heat houses in rural areas to massive power plants and factories, there's not one easy culprit to point to when assessing the sources of smog in China. And most travelers will feel the effects no matter where they go. Those with asthma and other respiratory conditions should speak with their doctor before they travel. They should also bring along an extra supply of medication in case they use more than usual. A comprehensive travel insurance policy will provide extra peace of mind should you find yourself needing to accessing emergency services.
Travelers with mild asthma or sports-induced asthma will also want to bring along both preventative medications and relief medications. It might feel like overkill for travelers who are used to never having to use this kind of medication while on the road but if there's ever a location where they might have a flare-up, this is it.
Visiting during the winter months is generally considered the worst, as both urban and rural areas still rely heavily on coal for heating. As well, during winter the demand for electricity for both heat and light soars.
Do Face Masks Really Help?
Wearing a face mask is both a help and a hindrance in China. It is certainly beneficial in filtering out some, if not all, environmental pollutants. Looking at a used mask at the end of the day, and seeing it covered in dusty air born particles, will make you mighty glad that the dirt was trapped on the mask and not in your lungs. However, some travelers feel a sense of false confidence. They feel like they can go anywhere and do anything just because they are wearing a mask. And that's definitely not the case! Mask or no mask, you need to be cautious of your health.
3M manufactures the hugely popular 9332 face mask. It has several key advantages, including being cheap, accessible, easy to travel with, comfortable, and form-fitting. Travelers who want to combine clean air with cute designs will love Vogmask. These fashionable masks feature a wide variety of jaunty designs, generally last 6 months, are washable, and are made with organic cotton. Finally, the Respro brand has masks that look a little intense ("Darth Vader" is a common descriptor) but they offer superb performance for anyone into cycling, hiking, and other high-intensity activities. They're also machine washable and come with replacement filters so you don't have to dispose of the entire mask when it gets dirty.
Practical Tips For Traveling In Smog Zones
Before you travel, connect with local, ecologically friendly businesses and social organizations. They often host environmentally-minded activities, such as guided hikes, nature walks, market tours, and lectures. These programs combine education, community building, and sightseeing in a fun, accessible way.  And they can be a great way to discover a destination in a sustainable way, free from crowds.
A flexible schedule is key for traveling in a smog zone like China. Make a list of all the outdoor activities you want to experience and have an alternative day for each in case you are 'smogged-out'. The Air Matters app is a terrific source of environmental information and is popular with expats. It will help you plan your days closer to your trip. Museums, art galleries, cooking classes, theatre performances, and social clubs are all, for the most part, indoor activities. They provide fun, memorable ways to discover China's cities and towns that require little to no time outside.
Related: