Advice for Making the Most of your Trip to Natal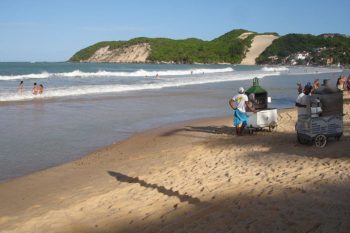 Natal, Brazil, one of the hosts of the 2014 FIFA World Cup, is one of the closest parts of South America to Europe. This, naturally, led to visits by the Portuguese when they traveled west during their expedition to the Americas in 1501. French pirates took over what is now known as Natal until 1597 when they were banished by Brazilian Governor-General Francisco de Sousa. During colonial times, much of the Brazilian land was used for growing sugar cane, but Natal's soil was too sandy to produce the money-making export. Beef was raised in Natal instead, and Natal's "carne de sol," or sun meat, is its version of jerked beef. Today, Natal is an eclectic place comprised of growing urban centers set among stunning natural geography. As of July 2009, Natal's greater area population exceeded 1 million people, all of whom are cheering on the Brazilian team in the 2014 FIFA World Cup. Let's have an unforgettable time in Natal, Brazil!
Things to Do and See in Natal
One of the nicest things about Natal is that although the city is large, it is also clean. It's still not as popular with tourists coming in from abroad, but Natal is a very popular vacation spot for Brazilians, and many Brazilian families choose to spend some relaxing time off in Natal. There is much to do in Natal, and the city's beaches prove repeatedly to be the primary reason people visit.
Ponta Negra is Natal's most popular beach spot, and it is a visual representation of why the city is frequently called "the City of the Dunes." Ponta Negra beach sits next to the Morro do Careca, a large and iconic sand dune. The beach itself is filled with "barracas," which are food and drink huts available to all beachgoers. If you desire something other than what the barracas are serving, the beach is also lined with bars, nightclubs, and restaurants as well as shops to satisfy your retail cravings.
Other natural outdoor activities in Natal include two other notable beaches, the Pipa and Genipabu, and the Parque das Dunas, an urban park area that holds the distinction of being the second largest in Brazil. There are 27,607 acres of Atlantic forestland and dunes for you to explore, and considering that Natal's temperature averages around 81 degrees Fahrenheit all year round, you'll be thankful for the park's innumerable shady trees.
For those of you who are history buffs, Natal offers monuments ready to teach you about the city's interesting past. The Forte dos Reis Magos, which means "Fortress of Three Wise Men," served as the city's fortress beginning on Dec. 25, 1599. Rio Grande do Norte lists Natal's Alberto Maranh Theatre as part of the state's Institute of Historical and Artistic Heritage. Architect Josde Berredo designed the 19th-century building, which was officially opened in 1904.
Although considered quiet by some, Natal does know how to throw a party. Carnatal is one of Brazil's largest off-season carnivals. Usually scheduled in November or December, Carnatal is Natal's answer to Rio's Carnival, with loud music, dancing, jumping, and singing in the streets. If you prefer music festivals, Natal offers its visitors two choices: the Mada national pop-rock festival, and the summer festival called Ver de Todos.
Where to Eat
Natal offers a wide range of cuisine that locals and visitors thoroughly enjoy, and dining with the locals at their favorite eateries is one of the best ways to have an unforgettable time anywhere. Of course, you must try some authentic Brazilian cuisine while in Natal, but there are also buffets and pizzerias for those wanting to dine on a budget.
The Casa de Taipa offers local tapioca creations that are very different from the tapioca we eat here in the U.S. The chefs make a tapioca pancake, fry it, and fill it with vegetables, cheese, and grilled meat or prawns. The Peixada de Comadre is where the locals eat their seafood. In fact, the locals consider this restaurant the best fish place in town, and the recipes are straight from the kitchen of the owner's mother.
If you are traveling on a budget and wish to get the most for your money, Natal offers two notable buffets. Mangai serves a wide variety of regional dishes, so you are sure to find something that will please your palate. For dessert, try the "cartola," a local favorite made by caramelizing bananas, cinnamon, and cheese. Those spending your day at the Ponta Negra beachfront will find the Tranquilo buffet offering plenty of salad, beans, and rice, alongside garlic shrimp and onion beef.
Even though you are in South America, you can still enjoy pizza, both authentic and Brazilian style. Natal's Piazzale Itia is the place for authentic Italian pizza, and believe me, it gets crowded, so get there early. The restaurant serves pizza, of course, as well as pasta and seafood. CipBrasil serves its pizzas on a sesame crust, and your possibilities are endless. Start your meal with a shrimp and four cheese pizza, and finish it with a banana-chocolate pizza.
You Are Safe in Netal
One of the nicest things about visiting Natal is that it remains the safest of all large Brazilian cities. This does not mean, however, that you shouldn't take certain precautions. As with any large city, Natal does experience its fair share of robberies, so you'll be wise to keep your valuables locked up in your hotel room safe and do not carry cash with you.
Also Read: Safety and Travel Insurance Advice for Travel to Brazil
It is also wise to avoid walking around after dark, especially by yourself, or within the city's more troubled neighborhoods. In Natal's case, the west side of the city is the poorest and most downtrodden. If you have a long way to go, take a cab rather than walk. Don't risk getting lost, and ensure that you are always aware of your surroundings and the people within them.
Finally, make certain that you, your family, and your belongings are adequately insured while on your trip. You never know when someone might become ill and require medical care. This being said, Natal is a breathtaking and peaceful beach town. Of course, during the World Cup, expect the charming city to be far more excitable. No matter when you choose to visit Natal, however, you're sure to have a wonderful and unforgettable time!
Also Read: