Measles Is On The Rise: How Travelers and Expats Can Prepare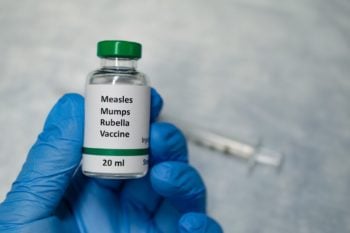 In 2019, the country of Samoa was making news for something other than it's beautiful, tranquil scenery. This small nation of 200,000 people was in the midst of a catastrophic measles outbreak. According to the government, there were an estimated 4,200 cases of measles. The death toll as of December was more than 60 people. Tragically, more than 50 of the dead were children. While, on a global scale, the rate of measles infections has dropped significantly since the 1960s, in recent years the disease has had a resurgence. The measles outbreak in Samoa is especially troubling, but people all around the world have been infected. Here is what travelers and expats need to know about the resurgence of measles.
Which Countries Had Measles Outbreaks?
Measles remains a common disease worldwide. An estimated 10 million people are infected each year. In 2018 alone, 140,000 died as a result. While the measles outbreak in Samoa has been in the news, recently there have been outbreaks in Israel, Democratic Republic of Congo, Thailand, Vietnam, Japan, Ukraine, and the Philippines.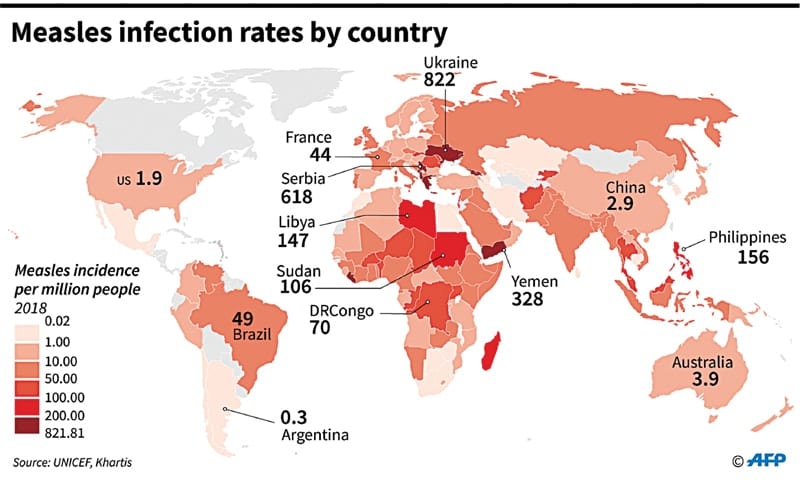 Source: UNICEF, Khartis, https://www.dawn.com/news/1472375
Common Symptoms of Measles
Measles is sometimes a disease which is looked upon as minor, as nothing more than an aggravating rash. But there is much more to measles than a rash. Symptoms include a high fever, sometimes higher than 104 degrees, which can be fatal. Such a fever leads to serious dehydration. Secondary infections like pneumonia are common. Even in mild cases, a combination of congestion, cough, and conjunctivitis makes patients feel miserable.
Who Can Contract Measles?
Contracting measles is more likely among poorly nourished children compared to those with adequate nutrition. In particular, inadequate Vitamin A is a contributing factor in increased contraction levels for malnourished and vulnerable children. As well, people with compromised immune systems, especially those living with HIV/AIDS, are more prone to contracting measles.
More than 95% of measles deaths occur in countries with low per capita incomes and inadequate public healthcare systems. Measles outbreaks are especially deadly in the wake of natural disasters or conflict in low-income countries due to the added strain the already weak healthcare system experiences. Not only are early warning signs of breakouts missed in the wake of more pressing catastrophes but the resources to run vaccine programs are also compromised.
How Can Travelers and Expats Protect Themselves
According to the Centers for Disease Control, most cases of measles in the United States are introduced by returning international travelers. When you travel to areas where measles is present and you have not been fully vaccinated, you risk putting yourself and others in harm's way.
In North America, the measles vaccine is offered as a combination shot in conjunction with vaccines for mumps and rubella. One injection is considered 93% effective. Two shots boost efficacy to 97%. Therefore, while you should ideally have two shots before you depart, if you have little time to prepare even one shot will offer significant protection.
Older travelers might recall that the standard for the measles, mumps, rubella – or MMR – vaccine used to be just one shot. If you only received one shot in childhood, you are eligible for a booster as an adult.
Where To Get Vaccinated
While most travelers associate vaccines with a trip to a travel medicine clinic, the MMR vaccine is available from your family doctor or any walk-in clinic. Many public health units also have vaccine awareness campaigns that offer free vaccinations and other health services.
Protective Measures Beyond Vaccines
Vaccinations are the primary line of defense. Measles is so contagious that if one person has it, 90% of the non-immune people they come into contact with will also become infected. However, as an airborne virus, it is only contagious for two hours on surfaces. Thus, while handwashing and surface disinfecting are both good general hygiene practices, they offer minimal protection against highly contagious diseases such as the measles. There are a lot of benefits to frequent hand washing with hot water and soap, but they are not an adequate strategy of defense.
How To Tell If You Have Been Infected by a Measles Outbreak
Unfortunately, you do not know you have measles until long after you have been exposed. The first sign, a high fever, usually begins 10 to 12 days after exposure. The fever period lasts 4 to 7 days. It is followed by cough, congestion, conjunctivitis, and small white spots inside the cheeks. Only several days after the fever begins does the trademark red rash begin. The rash usually starts on the face and neck. It takes about three days to spread to extremities like hands and feet. On average, the rash is not in full bloom until two weeks after initial contact with the virus.
Infected travelers should contact a doctor as soon as they suspect they have measles. This is usually when the white spots appear in their cheeks or they hear from others in their party that they were exposed to a measles outbreak. As well, measles or no measles, the Mayo Clinic recommends medical attention for fevers of 103 degrees and higher.
Possible Complications and Treatments
Severe diarrhea, dehydration, ear infections, and respiratory infections like pneumonia are the most common complications from measles. These complications contribute to measles-related deaths.
Unfortunately, there is no one specific treatment or medication to treat the measles. Rest, rehydration, and fever medication are most commonly prescribed. Infected children should also receive Vitamin A supplements. Travelers who are worried that they have measles should contact their travel medical insurance provider right away to seek advice and assistance.
Travelers who have been infected can expect a long recovery period with fatigue and low energy, even when they are long past the most dangerous period of infection. Once cleared to leave a clinic or hospital, upgrading your accommodations to surround yourself with more comfort can go a long way in making your recovery period more pleasant.
Best Health Insurance for Expats and Travelers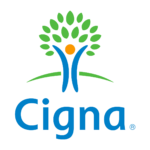 The flexibility to tailor a plan to suit your individual needs
Access to Cigna Global's trusted network of hospitals and doctors
The convenience and confidence of 24/7/365 customer service
Plan Details
|
View Brochure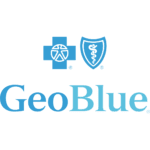 Premium Benefits, Coverage and Service
Define your deductible and prescription benefits
For Foreigners in the US or US citizens abroad
Plan Details
|
View Brochure
How Travelers Can Help Combat Measles
The Measles and Rubella (or M&R) Initiative is a global partnership of the American Red Cross, the United Nations Foundation, the Centers for Disease Control, UNICEF, and the World Health Organization. The M&R Initiative is dedicated to ensuring that no child dies from measles or is born with congenital rubella syndrome. Together with Gavi: The Vaccine Alliance, the M&R Initiative has helped vaccinate 346 million children through vaccination campaigns in 2018.
Recovering From Samoa's Measles Outbreak
While the previous rate of MMR vaccination in Samoa sat at just 31%, a massive public vaccine campaign is underway in hopes of vaccinating nearly 60,000 people. After two weeks of an emergency vaccination drive, there is hopeful news. 76% of children under 4 years old on the main islands of Upolu and Savaii have been vaccinated. And as mobile vaccination teams go door to door, businesses and public bodies have closed as a show of support and to aid in the project logistics. There is good reason to believe Samoa will soon reach its goal of 95% coverage and protection against a measles outbreak.
Related: