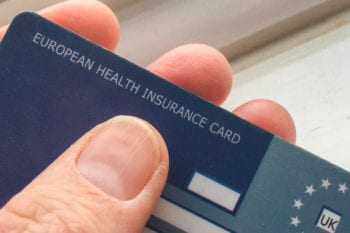 EHIC and Brexit: What Are the Effects?
EHIC (European Health Insurance Card) is a free health insurance card for European Union citizens, including Switzerland, Iceland, Liechtenstein, and Norway, where the scheme also applies. It provides the same free or low-cost healthcare in participating countries as it would for residents of those countries.
Until December 2020, UK citizens enjoyed the same privileges as the rest of the European Union members with EHIC agreements. However, Brexit means that the UK is no longer part of the EU, and many trade and union treaties, including the one relating to EHIC, will no longer be valid. Read on to find out the details on what has happened to EHIC post-Brexit.
EHIC Status After December 2020 for UK Nationals
The UK and the EU have agreed that the EHIC cards can still be used until their expiration dates; however, UK citizens can no longer apply for a new EHIC card. Even though EHICs that are still valid can continue to be used until the expiration date on the card, they will no longer work in Norway, Iceland, Liechtenstein, and Switzerland.
In addition, the following European countries do not accept EHIC at all:
The Isle of Man
The Channel Islands
Monaco
The Vatican
San Marino
If you plan to travel to one of these countries, whether you are an EU citizen or not, it is recommended to have a private international medical insurance plan at hand.
What is the Global Health Insurance Card
After Brexit, the UK government issued a new Global Health Insurance Card (GHIC), which will offer similar benefits to EHIC for the majority of UK citizens. It gives the holder access to "necessary healthcare" in EU countries, at the same price as citizens of that country.
What do EHIC & GHIC cards cover?
An EHIC or GHIC card covers state healthcare, not private healthcare treatment, and the coverage differs depending on the country you're visiting. The EHIC & GHIC cards cover the cost of medically necessary treatments, and that includes:
Treatment for pre-existing medical conditions
Routine medical care for pre-existing conditions that need monitoring
Routine maternity care (if you're not planning to give birth abroad)
Emergency care and emergency treatment
These benefits are valid during the cardholder's temporary visit to the EU member country. For example, individuals with chronic illnesses, those who require dialysis, can travel knowing they will receive treatment on the same terms as the citizens of the country they are visiting. Not all public healthcare is free in the European Union; therefore, you should check the rules and costs for the country you intend to visit before your go.
How to use EHIC or GHIC?
All you have to do is present your EHIC or GHIC card before receiving your treatment in a public or state-run healthcare facility. If, however, you end up in a private health center or hospital, you will probably have to pay the entire bill yourself unless you're covered for this by private medical insurance.
EHIC & GHIC Plans Are Not Travel or Medical Insurance
European Health Insurance Card and Global Health Insurance Card are not an alternative to travel or global health insurance. Having either of each will not cover any of the following:
Any treatment in a private medical center or hospital
Being flown back home (repatriation)
Lost or stolen property, such as luggage
Rescue operations, for example, from a ski resort
State-provided healthcare in non-EU countries
Therefore, it is important to have both an EHIC/ GHIC and a valid private travel medical insurance policy or even an international health insurance plan to cover all your travel and medical needs.
Recommended International Health Insurance Plans for UK Citizens
Best Global Medical Plan for UK Citizens Living in the USA
Can EU members use EHIC in the UK?
EHIC will still be valid for EU member nationals in England for treatment that becomes medically necessary during their visit. It also covers the treatment of pre-existing medical conditions and routine maternity care, providing the reason for the visit is not specifically to give birth or receive treatment. However, the EHIC might not cover everything in the UK that you would expect to get for free back home.
Visitors from Iceland, Norway, Liechtenstein, and Switzerland
From 1 January 2021, visitors from Iceland, Liechtenstein, and Switzerland may need to pay for their healthcare in the UK (NHS healthcare). Any treatment you have to pay for will be charged at 150% of the national NHS rate.
How Can Other Nationals Secure Medical Care in the UK and in the European Union?
The above information relates to European Union member countries and other European countries that are not in the EU but have healthcare exchange contracts with the EU; namely Iceland, Norway, Lichtenstein, and Switzerland.
Before deciding to travel to the European Union or the United Kingdom, all other nationals should purchase beforehand some sort of medical insurance. The recommended bare minimum of coverage should come in the form of travel insurance. However, especially because of the pandemic, it is recommended that travelers obtain a more comprehensive international health insurance policy. As public hospitals and medical centers might be overwhelmed with the Covid-19 cases, visitors would need to visit private healthcare providers anyway.
Besides, travel benefits are usually limited to medical emergencies only, and global healthcare plans can give you access to private medical care and even telemedicine consultations. For more information about traveling to Europe and related health insurance options, request a free quote and free consultation.
International Health Insurance for EU Citizens Moving to the UK
Related: