How to Prepare for a Ziplining Adventure Around the World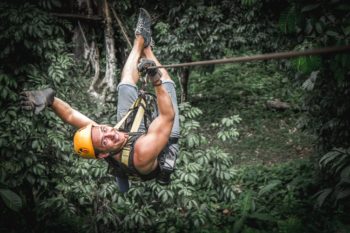 As fans of the TV show The Office can attest, sometimes expat life and ziplining don't mix. The hapless Toby Flenderson, played by Paul Lieberstein, breaks his neck while ziplining on day three of his new expat life in Costa Rica. For television fans, this plot twist is good news, but for expats dreaming of adventure and adrenaline, it brings up the jitters. Is a ziplining adventure safe? What happens if something goes wrong?
Thankfully, Toby's misfortune is only for dramatic effect. For most world travelers, ziplining is a safe, fun, unforgettable way to see the world. But in case you're seeking additional reassurance, here's what you should know about zip-lining around the world.
Every Ziplining Adventure Starts with Great Staff
How do you pick a great ziplining outfitter? Longevity matters. A company that has been in business for years has the experience and resources to prevent accidents and also to respond to them when happen. Hawaii's Zipline Tours were the first commercial zip line tour operators in the United States and have been in business since 2002. Well established businesses like this will have a long history of customer reviews for you to peruse and can easily answer any questions you might have, such as zip-lining for people with mobility restrictions, providing allergy-free food on the treks, and what kind of first aid training all the staff has.
Trust your research – and your gut. How do the staff make you feel? The most reputable adventure outfitters don't employ wild staff that fit the stereotypical image of an extreme adrenaline junkie. The best of the best are calm, patient, encouraging, and have a deep respect for nature. Therefore, they shouldn't make fun of your worries and only motivate through positive reinforcement.
Know Yourself – And Your Limits
Adventure activities like zip-lining are all about pushing yourself but never to the point of discomfort. To have the best possible experience, be honest about your expectations, your desires, and your fitness levels.
The ziplining itself is the easy part of the day. You just let go and let gravity do all the work! But first, you have to climb up to the platform. And before that, you need to hike through the forest or maybe go through a set of obstacle courses like rope bridges, or perhaps you need to navigate city streets or suspension bridges. Or maybe both! There's a good chance that you'll use up a lot of your energy and moxie before you arrive at the zip line itself. Don't be afraid to ask about shorter courses or beginner options. Alternatively, if you've got a group together, it might be more economical to inquire about a private custom tour experience.
What to Wear When on a Zipline
Wear comfortable, breathable clothing. Long trousers and long sleeve shirts are best. Choose closed-toe shoes. Eliminate all unnecessary odds and ends – jewelry, skirts, and scarves have no place here! Scouring the outfitter's website pictures will help you too – what are people wearing? (PS: Don't forget sunscreen and bug spray!)
Finally, keep a steady stomach. You don't want to zip-line when you're hungover or when you've had a huge, greasy breakfast. Harnesses are snug! You want to be as comfortable as you can.
How Safe is a Zipline -Safety is a Team Sport
Always listen to the staff. Their safety instructions are rules, not suggestions. When they say to never disconnect both your safety lines at the same time, they mean it! The participants are as much a part of the safety process as the staff is.
Remember, most zip line courses include plenty of climbing and hiking over uneven terrain. Sprained ankles and knees are not uncommon here. Make sure your insurance policy includes adventure sports activities like zip-lining. Thankfully, injuries like what the fictional Toby suffered are infrequent, but you want to be covered for every eventuality.
Related: