Travel Advice for Pregnant Women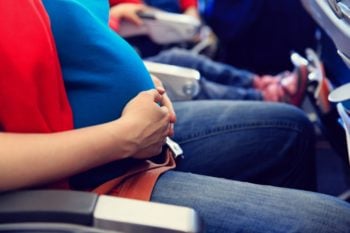 Are you considering international travel while pregnant? If you'd like to go abroad while pregnant, you may need to consider many things. However, a wide range of travel plans can be adjusted to ensure your health and safety while you are expecting. Let's look at some key factors that go into an international itinerary during pregnancy.
Getting Advice From Your Physician
The first thing you should do when thinking about going abroad is to speak to the physician in charge of your prenatal care. Many countries require certain vaccinations or other precautions, which you may not be able to take while expecting. If there are alternative ways of staying healthy, your doctor will outline them for you. Be sure to be as specific as possible about the dates and locations of your trip.
Air and Seaports
You can often arrange for priority boarding on airplanes and even some cruise ships if you are pregnant and require additional time or assistance to get to your seats or accommodations. For air travel, making such arrangements in advance is usually unnecessary: Simply speak to a representative from your airline. If you need help navigating the airport itself, you can easily place a call to the airport itself before your arrival.
Some seaports and cruise lines may be able to accommodate priority boarding for women during pregnancy, although this usually requires notice. If you are traveling with a partner, be prepared for the possibility that you may be temporarily separated. If you travel with young children, they will be allowed to use any priority services with you.
Be aware that if you are bringing durable medical equipment such as a breast pump, you will usually need to remove this from your baggage during the security screening. You might face questioning about your pregnancy, so be ready to share the approximate time you will be expecting.
Virtually all air and seaports throughout North America and Western Europe provide appropriate space for women who are nursing, need to change diapers or have other needs relating to pregnancy and child-rearing. However, if you are traveling anywhere east of Germany, research the facilities that may be available before departure.
Is It Safe to Fly While Pregnant
Whether or not you can fly while pregnant depends on several factors, including how far along you are in your pregnancy, your overall health, and the airline's policies. Checking with your healthcare provider before flying during pregnancy is always a good idea.
Generally, air travel is considered safe for women with a healthy pregnancy and not experiencing any complications. However, most airlines restrict flying during the later stages of pregnancy. For example, many airlines will not allow women to fly after 36 weeks of pregnancy.
Flying during pregnancy can also increase the risk of blood clots, so staying hydrated and moving around frequently during the flight is important. It is also a good idea to wear compression stockings and to take breaks to stretch and walk around.
Ultimately, it is up to you and your healthcare provider to determine whether air travel is safe for you during pregnancy.
Air Travel During Pregnancy
Air travel may be unhealthy for some people who have blood pressure issues, heart issues, and other conditions, whether temporary or chronic. Once again, your physician is the best guide here. Although most women can travel actively within the first trimester, the latter part of pregnancy can make travel difficult or impossible.
If you are traveling by air in the later stages of pregnancy, consider booking two side-by-side seats to give you more room and comfort. As with priority boarding, you may also be permitted to deplane earlier than other passengers; ask your flight attendant or airline representative about that during boarding.
Remember that under Federal Aviation Administration rules, women who are more than three months into pregnancy should try to avoid booking exit-row seats. Passengers in exit-row seats are subject to significant physical strain in the event of an emergency since they must help to operate the emergency exit doors during an evacuation.
Sea Travel While Pregnant
During pregnancy, sea travel can present some special hardships. Under certain circumstances, cruise lines may bar you from booking passage with them if you cannot undergo destination-appropriate vaccinations. Even while aboard, however, there are some things to bear in mind.
During pregnancy, you may be especially susceptible to seasickness, even if you haven't suffered it before. To reduce the odds of seasickness, book an interior cabin located as close as possible to the center of the ship. This is the most stable location on any large vessel. While most cruise lines maintain a supply of seasickness medication, check warning labels carefully before use.
If you have mobility issues related to an advanced state of pregnancy, consider looking for a cruise line that focuses on barrier-free accommodations. "Barrier-free" is a term related to accessible travel and providing ease of movement for individuals who have temporary or permanent movement challenges.
It is also important to be aware of the shore excursions offered by your cruise. Excursions may involve stairs, hiking, and other things that can be physically challenging. Before booking a cruise, be sure to speak to a representative and confirm that the excursions will be appropriate.
Insurance Tip: Most insurance companies will exclude coverage for maternity benefits for traveling. The GeoBlue Voyager Travel Insurance plan does cover emergency onset of complications as any other medical expense. Learn More: GeoBlue Voyager (for US citizens Only). Review travel medical plans for other options.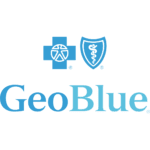 For U.S. citizens up to age 95
Coverage for COVID and pre-existing conditions
24/7/365 service and assistance
Plan Details
|
View Brochure
General International Travel Tips for Pregnant Women
One of the most important things you can do to support a safe and healthy experience abroad while expecting is to ensure that you always remain hydrated. In many destinations, this might require you to carry a relatively large amount of bottled water, but the advantages are worthwhile.
Heatstroke and heat sickness are also concerns during pregnancy. If you are traveling in a warmer climate, be sure to wear a hat. Whether you are traveling in a warm or temperate area, be prepared to take frequent rest breaks. Exhaustion can set in quickly and may require emergency care.
Medical care is important to everyone, but it is particularly critical when expecting. At International Insurance, my team and I have worked to make affordable health insurance available for a vast and growing range of travel plans. To maximize your safety, consider one of our plans. No matter when your bundle of joy is due, I hope you'll have a safe and memorable trip!
Related: Finding Maternity Insurance when Living Abroad (Advice: Buy coverage before you get pregnant!!)