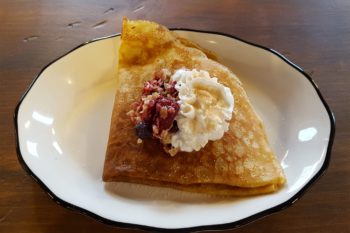 For many people, the best part of international travel is savoring decadent local foods. Unfortunately, indulging a little too much can cause health issues, especially if you already have high blood pressure or high cholesterol. So, if you travel just for the food make sure you are eating well and know what exactly you are consuming. To help, here are some of the most decadent foods around the world, where to find them and a breakdown of what exactly they are:
Churros (from Spain)
Definitely not the healthiest option for breakfast, churros are a deep-fried pastry dipped in sugar and cinnamon, and then dipped into a cup of hot chocolate. This decadent breakfast certainly makes for a scrumptious start to the day, but keep the high-calorie content in mind when choosing what to eat for the rest of the day and make sure to add some fruits and vegetables into the mix.
Khachapuri (from Georgia)
Another delicious breakfast-type dish is the Khachapuri from the country of Georgia. In essence, it is a bread boat filled with melted cheese and topped with an egg sunny side up with lots of butter! While this breakfast is high in protein, it is also high in trans fats and does not have a lot of fiber.
Crepes (from France)
True Northern France crepes are made with decadent cheeses, but sugary crepes are becoming increasingly popular as well. The good news is that while crepes are basically a thin pancake and therefore not very high in fiber, they are filled with a variety of fruits, nuts and meats (and sometimes whipped cream and Nutella), so you can make this treat a bit healthier by increasing its fiber content with a selection of fruits or vegetables.
Jalebi (from India)
Never mind that this food is simply deep fried dough (which by itself is unhealthy) this decadent treat is also soaked in sugary syrup, so consume in moderation – even though it will be tempting to eat a lot of it.
Ramen (from Japan)
You may be thinking Ramen is a soup – it has to be healthy! Unfortunately, the broth is often made from lard and oil, which are really fatty. So, even if the noodles are not fried the broth part itself isn't always the healthiest. Thankfully this decadent dish is also made with a variety of vegetables.
The key to indulging in decadent foods while traveling is doing so while maintaining a balanced diet and including lots of water, fruits, and vegetables whenever possible. You should also make sure you are in fine health prior to departure, with particular attention to your cholesterol and heart health.
It is also important to invest in travel medical insurance. This way should one of those decadent foods send you to the hospital, whether due to food poisoning or otherwise, you can rest assured that you are financially covered to pay for international medical care and prescriptions.
The right travel medical insurance plan will not only cover you for those unexpected visits to an overseas medical facility but will also ensure you are fully covered should you see yourself in the unfortunate position of having to return home unexpectedly or should you have to cancel your trip.
Just as you research and plan must-eat foods and restaurants while traveling, you should also research and invest in the right travel insurance – doing so will ensure you have the time of your life while savoring the most decadent foods around the world!