Travel Gift Ideas for Those Going Abroad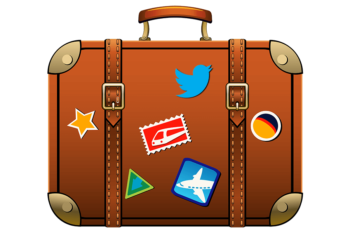 Summer is one of the more popular times of year to travel, especially for all you hard workers who finally take a break from your work schedule and want to explore the world. Before your loved one leaves on a jet plane make sure they are well packed. If they are on a trip of a lifetime, mark the occasion with healthy travel-themed gifts such as one of these:
First Aid Kits
Regardless of how old you are, traveling with a first aid kit is one way to ensure you have everything you need in case of a minor injury or accident. Why not gift a novice international traveler with a homemade or pre-packaged first aid kit that includes bandages of various sizes, antibiotic cream, sterile gauze pads, adhesive tape, a splint, and antiseptic wipes. Just make sure you don't include any liquids that could be confiscated at airport security or leak all over a suitcase.
Reusable Water Bottle with Filter
Reusable water bottles are not only environmentally friendly and easy to carry with you while traveling, the addition of a filter means easier access to safe water – very important when traveling to foreign countries where water safety may be a concern. Having access to water on a consistent basis is important to stay hydrated – especially when traveling to warmer destinations.
Some reusable water bottles are even collapsible, so they can easily be packed in a carry-on and filled once a traveler has passed airport security.
Mobile Food Kits
If you know, there are certain foods the traveler will miss or can't live without why not create a mobile food kit filled with healthy snacks and favorite treats? There are also mobile food kits for spices – so if someone you know will be overseas for a prolonged period stock them with the herbs and spices they love in containers small enough they can be carried anywhere in the world! Traveling with your food ensures it is safe and ensures you can still eat reasonably well – just make sure you don't pack fresh food as a lot of that cannot be carried across international borders.
Hand Sanitizer
Between door handles, airplane seats, car doors and more, hand sanitizer makes a great gift for the traveler who may be too busy trying to figure out how to read their menu to wash their hands before eating. Purchase a small, travel-safe sized hand sanitizer for carrying on and then a larger bottle (placed in a plastic bag so it won't leak) that can be used to refill the smaller bottle. Even is someone snubs their nose at hand sanitizer while at home, chances are they will appreciate the convenience of clean hands while they are traveling overseas!
Gift Certificate for Insurance
If the person traveling abroad, is new to traveling, or if they are young and do not understand what they may be getting themselves into, they may have forgotten something vital: travel medical insurance. The best gift you can give anyone traveling overseas is peace of mind, so why not give the gift of travel medical insurance? If the provider you have in mind does not issue gift certificates, offer to assist the person traveling to research and purchase the travel insurance plan that is right for them.
When someone does not purchase travel medical insurance, it is often due to misinformation, such as thinking they will be covered by their domestic insurance plan or misunderstanding, such as thinking that travel insurance is only good for lost luggage and nothing more.
With some education as to why travel insurance is beneficial and emphasizing that it will cover you should you need international medical assistance or access to a universal pharmacy, the gift of insurance will be very much appreciated.
Travel-Friendly Clothes
If someone is new to a destination that requires special clothing, such as UV coverage for the desert or rain gear for the rainforest, why not ensure they are appropriately packed by gifting them the clothes and attire they will need for a comfortable trip. This could be outerwear or even something as simple as wrinkle-free clothing that still looks great after being packed in a suitcase for days on end.
There are also jackets that can fit into a medium-purse sized bag that are super packable yet function as a reliable outer layer or mid-layer for colder climates without taking up the room of a full winter coat.
Travel Pillow and Travel Towel
An ergonomic travel pillow is a welcome addition to any long international flight and most are quite portable since they either attach to a suitcase or come with their handy carry on bag. Gifting someone a travel pillow will not only save them from a sore neck but will also help prevent the spread of lice and other communicable diseases and germs.
A travel towel is a great gift for the traveler heading somewhere like the Australian Outback or another exotic outdoor location that may not have easy access to life's simple luxuries such as a hand towel. You can purchase travel towels that are not only antibacterial but quick drying as well.
Power Adapters and Power Packs

What does a power adapter have to do with health-themed gifts for international travelers? Imagine bringing your smartphone with you overseas only to discover you can't charge it because you don't have an adaptor. A power adapter is an ideal gift if you want to ensure your globetrotter has no excuses for letting mom and dad know they arrived safely and had checked into their accommodations.
Similarly, power packs are a portable power outlet that will save your phone or tablet on the go because they don't require an outlet!
Giving travelers gifts that provide them health and wellness while overseas is not all about food and water, it's about giving them the tools and equipment they need to ensure they can maintain their health while away and seek the appropriate medical treatment should their health fail them or should they be in an accident. When shopping for a "Bon Voyage" gift think outside the box and think about what you could have used the last time you took a big trip.
Instead of buying them a travel journal or another handbag think about ways to ensure they have the time of their lives while still being safeguarded against life's unexpected perils.