Medicine and First Aid Items to Pack for an International Trip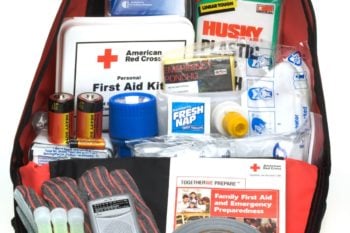 When you travel what is the first thing you pack? If you make a list of what to bring with you on an international trip, what items are priorities? A first aid or travel health kit should always be packed and your health should always be a priority, regardless of your travel destination. First aid supplies, medications and quality healthcare are not always easily attainable in other countries and may be different from what is available in the United States.
A good first aid kit will cover you until you can receive proper medical treatment and contain enough medical supplies that it will prevent illness, assist with the cleaning and treatment of minor abrasions and illness, and manage any pre-existing medical conditions. Your kit should have enough supplies to cover you for longer than you're the duration of your trip.
A first aid kit for the international traveler should include:
Basic First Aid Kit Supplies
Tweezers (especially in warmer climates where ticks are present)
Mercury free, portable thermometer
Tensor bandages (especially if you plan on participating in physical activities conducive to sprains)
Scissors (to cut bandages and gauze)
Gauze
Disposable gloves
Multiple sized bandages
Blister pads (for long hikes or new walking shoes that could produce unexpected blisters)
Antiseptic cleaners (pads or travel size rubbing alcohol)
Hand sanitizer
Medications
Enough prescription and over-the-counter medication to cover you for BEYOND the duration of your trip
Anti-itch cream to treat skin irritations, bug bites and common skin ailments such as poison ivy
Medication to prevent motion sickness
Gastrointestinal medications to prevent and treat diarrhea, nausea and upset stomach
Anti-inflammatory and pain medication such as ibuprofen and acetaminophen
Additional Supplies
Sunscreen, hat and sunglasses (especially for hot destinations)
Aloe to treat sunburns
Bug repellent
Water purification tablets or filters
Contraceptive products including condoms to prevent sexually transmitted diseases and pregnancy
In addition to the above list, your first aid kit should also contain a contact and information card that can be easily accessed and is legible in case of an emergency. This card should contain information such as: the name and contact information of a family member of close friend back home, the name and contact information for your general practitioner or health care provider, the name and location of your travel accommodations, information pertaining to any allergies as well as a copy of your immunization records.
This information found on this card will be used should you be found alone and unable to speak. You should also create a card for yourself that contains the address and contact information for reputable hospitals or medical facilities at your travel destination as well as the contact information for the nearest U.S. embassy. Both cards should contain the contact information for your travel insurance company and representative, as well as their 24-hour support line, if applicable.
The perfect travel first aid kit will not weigh too much and will easily fit into a handbag. You can also create two kits – a portable version (with the basic necessities, such as bandages and medical information) and a larger version that can be left behind at your accommodations. Ideally your larger kit will be able to supply your smaller kit with items as they are used. Your kit should also be tailored to the climate of your destination as well as the activities you plan on participating in while there. For example, if your trip is going to be spent hiking then you will want to ensure your first aid kit includes blister packs, sunscreen, insect repellent and water purification supplies.
Just as you would pack according to your travel destination and trip activities, you should also make sure you have the insurance coverage needed to protect you should something go wrong while you are overseas. Even if you already have private domestic insurance coverage, a trip abroad usually requires the purchase of additional travel medical insurance.
Travel medical plans combine the benefits of traditional insurance plans, such as coverage against lost baggage or baggage delay as well as trip delay and cancellation services and protection, with additional health and medical coverage. The best health travel insurance plans include:
24/7 access to an emergency medical assistance hotline to speak with medical experts
Deductible options from $0 to $2500
Medical treatment from the hospital or doctor of your choice
Maximum limits from $50,000 to $2,000,000
24 month renewable timeline
Universal Rx pharmacy discounts savings
Repatriation and emergency evacuation coverage
There are many elements to a complete first aid kid for international travel. Having the travel medical insurance to cover you in case of illness, injury or accident will ensure you and your loved ones back home have the peace of mind needed should a medical emergency arise. A physical first aid kit will supply you with healthcare items that may not otherwise be easy to obtain while overseas, and that you will be grateful to have on you if an accident does occur.
Related Articles on First Aid, Safety and International Travel: