Tips, Resources, and Advice for Travelers with Disabilities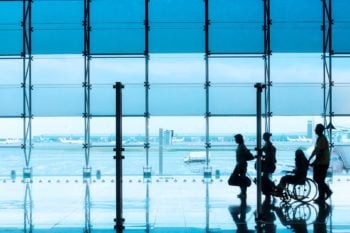 Over the past few years, more and more disabled travelers have been finding ways to journey around the world. Whether you are in a wheelchair, use medical equipment, or have a chronic health condition, you still have great opportunities to travel worldwide. Let's review some of the most important topics in accessible travel and some great tips for making the most of each trip!
Hotels and Accessibility
Under the Americans With Disabilities Act, hotels throughout the United States are required to provide necessary accommodations for those who have mobility challenges or other issues. To ensure that a hotel will meet your needs, call the front desk and discuss your requirements before you book – even if you are planning to book through a third-party site. Accommodations can include "barrier-free" rooms, shower rails, and much more. Under new rules, hotel swimming pools will soon be required to have accessible features for people with limited mobility.
Airport Security for Disabled Travelers
If you anticipate difficulty traveling through the airport, you can call for assistance ahead of your arrival. You will usually be connected with your airline, which can meet you at the entrance to provide wheelchairs and other services. When traveling through airport security, make sure to follow the rules about storage of travel-sized gels and liquids. Keep medication separate from your other baggage so you can access it more quickly. Remember, the drugs must be stored in the original prescription bottle. If you have a prosthetic or another item that may set off a metal detector, remember that you can request a private security screening.
Air Travel
People with chronic conditions and disabilities are often welcome to board the airplane early, but they should inform the gate crew in advance of a flight. Individuals who use wheelchairs can typically board first and debark sooner than other passengers. Airline personnel can assist wheelchair users in getting to a seat, getting acclimated, and moving baggage to and from the overhead compartment. The key to the best service is to call your airline in advance and notify the gate crew when you arrive, even if it is well before the airplane's arrival.
Train Travel
Throughout the United States, Amtrak provides the majority of passenger rail service. Amtrak trains have a wide range of services for people with disabilities and can accommodate passengers in wheelchairs. Notice for these services is helpful. In major cities, commuter rail services often provide a designated number of accessible spaces for people with mobility issues. In countries where train travel is more common, such as the United Kingdom, extensive disabled access is usually required by law and porters will assist you to enter and exit trains.
Bus and Car Travel
Many cities have specialized bus and car services that cater to the needs of passengers who use medical equipment or wheelchairs. Unfortunately, these can be expensive, and arrangements need to be made as early as possible. If you require a rental car with hand controls or wheelchair access, the best approach is to call several different rental companies for a good deal. In cities where buses are used, a limited percentage of the fleet usually offers full accessibility. Call bus services to determine which routes are accessible before you make plans.
Taxis
Recent legislation has mandated that New York City's taxi fleet work harder to provide accessible service to those with disabilities. However, there is still a long way to go before fully accessible taxis become commonplace in major U.S. cities. When traveling with physical or cognitive disabilities, it is usually a good idea to avoid taxis if you can. In most cities, you will have challenges hailing an accessible taxi and will usually have to call a company's dispatch line to summon one. Some cities, such as London, are moving toward full accessibility for all taxis.
Medication and Medical Equipment
Before leaving home, make sure that you have a sufficient amount of medication for your trip and then some. In case of unforeseen circumstances, it is a good idea to have extra medication – at least a week's worth. While most of your medication can go in your carry-on bag, it is a good idea to keep some on your person at all times in case something happens to your luggage. Travel insurance during your trip can help you in case you need to replace or refill medication. For those with mobility issues, many cities worldwide offer wheelchair rental. Oxygen users should carefully research suppliers in advance of a trip.
Destination Ideas for Travelers with Disabilities
Generally speaking, economically developed countries are most likely to offer robust accessibility to disabled travelers. Countries that are less developed or mostly rural may not be able to provide quality service to all travelers; however, national and regional capitals may exceed the norm. Before you go, ensure that your destination has laws that protect the disabled. If laws are lacking, get in contact with potential hotels or tour groups to help you. It's unwise to travel to a less accessible destination without some local support, especially if there's a language barrier. Before you leave, consult with a physician for any vaccinations you may need.
Tour Groups
Tour groups offer a wide variety of different services. If you are going to be touring "one on one" with your guide or with a small group, simply discuss your needs with your tour leader to ensure that the itinerary will be right for you. Consider things such as the accessibility of the area, whether the terrain is difficult, what the weather will be like, and when you will be able to stop for water, food, and the restroom. An experienced tour guide will be able to develop an itinerary that meets your needs, even if your destination presents some challenges. During your tour, be vocal if you have any concerns or feel unwell.
Accessible Tourism
There are accessible tourism groups to be found all throughout the world, even in the most rugged locations. These specialized businesses provide guided tours and customized itineraries for those who have mobility challenges, the deaf or hard of hearing, the blind, and those with cognitive impairments. Although it can be more expensive, partnering with a business like this can make your trip much more convenient. Some accessible tourism groups handle everything for you, allowing you to focus on enjoying your trip.