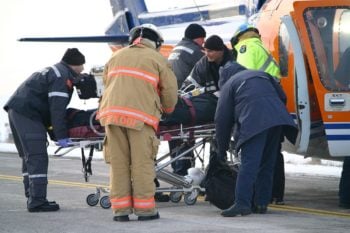 Vacationing in a foreign country can be an exciting and rewarding experience, but even well-planned trips can turn into a nightmare should an unforeseen medical emergency occur. If you find yourself away from home with a broken limb or suddenly become severely ill and are unable to speak the language, then your best protection against disaster starts at home with some pre-travel planning. Before you depart for your overseas vacation make sure to:
Pack Pertinent Medications and a First Aid Kit
Don't leave home without all prescription medications as well as any over the counter drugs you take on a regular basis, such as ibuprofen or acetaminophen. Fill a Ziploc bag with all of the essentials, including any vitamins you take on a daily basis, ointments and bandages. It's better to pack a mini-pharmacy than to struggle to try to find one and then communicate your needs in a foreign language.
You should also carry a list of the prescription medications you take, as well as your doctor's name, contact information, and brief medical history. Be sure to emphasize if you have any allergies or life-threatening medical conditions, such as an allergy to penicillin. Even though the medical staff may not be able to read the list, they should be able to find someone who can, taking the pressure off you or the injured/ill person to verbally communicate important medical details.
Familiarize Yourself with the Language
While learning a new language may not always be an option, you should still make an effort to familiarize yourself with the language and know how to speak and read common words and phrases such as, "I need help!" or "Where is the closest hospital?" Knowing simple emergency phrases could save you from frustration during an overwhelming situation.
You may want to also invest in a translation dictionary and carry it with you or if a translator app is available, download it to your smartphone for easy access. Worst case; if you cannot properly pronounce something, you will have the ability to point to the word and hopefully communicate your needs.
Update Your Vaccinations
Before you book your trip make sure to research any health issues and epidemics that may be prevalent at your travel destination. You should also ensure your vaccinations are up to date and if there are additional vaccinations required or recommended in that area of the world that you have them and have enough time to cover any incubation period.
Invest in Quality Travel Medical Insurance
Whether you are a frequent traveler or a novice traveler if you break a bone the ability to find quality medical treatment overseas relies on whether or not you are financially able to cover the expenses.
Research travel medical insurance plans as soon as you book your trip, and know exactly what is and what is not covered by the plan. Some insurance companies will also want to make sure you have the appropriate vaccinations, etc. so start researching insurance plans as soon as you book your trip. Your insurance should cover all necessary medical expenses, such as healthcare from a doctor or hospital of your choice, access to an emergency medical hotline, and the ability to work with a translator so you can understand what is happening and have the ability to make informed choices.
Your travel medical insurance will provide an emergency medical assistance hotline that you can call for assistance in emergency situations.
Don't learn the hard way what it is like to be unprepared for an emergency situation while traveling. Do your research, pack appropriately, and plan accordingly – should an emergency situation arise and you cannot speak the language, you will be better off because of your planning.
Related: