Travel and Safety Advice for Visitors to Hong Kong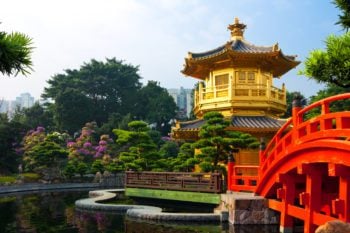 Formerly a British colony, Hong Kong is now an independent part of the People's Republic of China and ranks as one of the top world cities. Home to more than seven million people, it is one of the most important centers of finance, second only to New York and London. It also hosts to more than fifty million visitors each year.
At InternationalInsurance.com, my team and I strive to ensure you have all the information you need to travel safely to the most sought-after destinations in the world. Hong Kong travel insurance can go a long way in protecting your health while you're abroad, but there are also a few things you should keep in mind while getting ready for your trip to Hong Kong.
1) Air Quality
Air quality in Hong Kong is among the poorest in the industrialized world. Travelers who are prone to asthma or bronchial infection should take special precautions. Plan to minimize time spent outdoors. Daily air quality index updates are available through news media and smartphone apps, so stay indoors during the worst conditions. Use a mask to reduce pollution intake.
One important thing to remember about Hong Kong air quality is that it can drastically reduce visibility. During the worst pollution, smog significantly reduces the number of daylight hours. For that reason, plan to return to your hotel early if you are not comfortable navigating Hong Kong in the dark. The summer months tend to be the best regarding air quality.
2) Typhoon Season
Typhoon season can be unpredictable throughout much of Asia. Luckily, Hong Kong's advanced early warning system reports typhoons on all TV channels and in many major buildings. Typhoons are ranked between T1 and T10, with T3 typhoons considered serious enough to avoid coastal areas and take shelter. During a rare T8 typhoon, most workers will be excused.
If a typhoon of at least strength T3 is reported, return to your hotel to take shelter. Hotel staff can direct you to other shelters if needed, but this is very rare. Typhoon seasons run from May through September, but most storms skirt Hong Kong and create minimal disruption. A T10 typhoon occurred in 2012, but before that, the last T10 was all the way back in 1999.
3) Pickpockets & Scams
As with any major destination, con artists are always at work to relieve tourists of their money. Pickpockets in particular focus on visitors from abroad, not locals. Use a safe at your hotel to avoid carrying valuables into crowded city streets or public transportation. When carrying a wallet, keep your IDs separate, so you do not lose them in the event of theft.
There are more than 18,000 taxis in Hong Kong, most of them driven by independent owner-operators. As in other cities, you should be alert to unlicensed taxis. Insist that your taxi driver use the meter to determine your fare. A semicircular, green emblem positioned on the front grill and rear of a vehicle indicates a licensed taxi, with the number of available seats displayed.
4) Vaccinations
According to the Centers for Disease Control, travelers should strongly consider hepatitis A and typhoid vaccinations before traveling to Hong Kong. Hepatitis is frequently passed to visitors through contaminated food, especially street food, as well as contaminated water. Typhoid is particularly important if you will be traveling anywhere outside of central Hong Kong.
5) Medical Care
Hong Kong is one of the most advanced areas of medical care in Asia. However, care can be costly. In the event of an emergency, you will be transported to a government-run hospital which typically charges a flat fee of over $500 (USD) for services. Other costs may also apply. Emergency care is guaranteed, so you will be billed later if you cannot pay immediately.
By contacting your local consulate or the private hospital of your choice, you can find a variety of doctors, dentists, and others who speak English. Private care is less expensive than a public hospital for visitors to Hong Kong; however, appropriate travel insurance can help you to significantly reduce what could be very hefty bills for specialized treatment.
Despite the precautions, Hong Kong is a very rewarding place to visit for business or pleasure. I hope you will find your trip goes even more smoothly with these details in mind.
Related: