"GeoBlue Travels with You"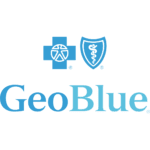 It's a worldwide, all-access pass to an exclusive level of care. Use your mobile device to quickly and conveniently connect to quality care across the globe for anything from emergency needs to filling a simple prescription, to translating your symptoms, to finding the right doctor at home or abroad.
With a few simple clicks, get detailed profiles of carefully selected primary care physicians and specialists, as well as a broad range of hospitals, pharmacies, even dentists-where you are, when you need it. Review qualifications, make an appointment, and get directions, right from the App or a mobile device.
Plus, proof of coverage is always at your fingertips, ready to show and share with providers. Mobile Assistance is backed 24/7 by our toll-free assistance line.
Communicate with Confidence
As a member, your computer or mobile device becomes a powerful translation tool. Our database consists of over 5,000 commonly used medical terms and 4,000 medical health phrases in dozens of languages.
It's easy to find the term or phrase you need, and once you do, audio files allow you to play a precise translation of the world's most widely spoken languages.
Rely on GeoBlue to help you translate brand names or find generic, and get accurate dosing information in the world's top destinations. GeoBlue's Equivalency Guide covers the most commonly used and prescribed medicines. If you can't find the medication you need, our Global Health and Safety team can help.
So don't think of it as just one more thing to carry with you, but something to carry you past medical misunderstandings. GeoBlue provides the best tools available to navigate the complexities of healthcare and arrive at the best decisions for personal care.
Backed By Blue Cross / Blue Shield
GeoBlue is the trade name for the international health insurance programs of Worldwide Insurance Services, an independent licensee of the Blue Cross Blue Shield Association. While GeoBlue health plans are offered in cooperation with certain local Blue Cross and Blue Shield companies, you do not have to be currently enrolled in a Blue Cross and/or Blue Shield medical plan to purchase a GeoBlue plan.