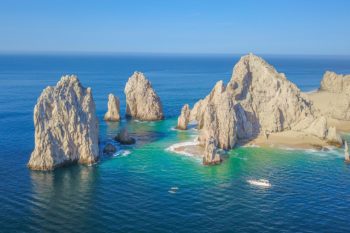 Travel Insurance Mexico: Advice for Visitors and Safety Tips
If you are dreaming of a getaway or vacation, Mexico remains a very popular destination thanks to its rich culture, friendly people, and breathtaking natural scenery. However, travelers should be aware of safety concerns facing visitors in the country. You may ask, is Mexico travel insurance necessary? Due to the different safety issues and illnesses that can arise, we recommend purchasing insurance when traveling to Mexico.
Travel Insurance in Mexico for Visitors
In order to avoid a potentially large doctor's bill, visitors to Mexico are wise to obtain some form of travel health insurance that is accepted by providers in the country.
For residents of the United States and certain other countries, some private insurance carriers extend their domestic coverage to treatment abroad. Such coverage typically has strict limits, however; it generally will not cover long visits, and travelers may be dramatically limited in the clinics or hospitals that they can visit in Mexico. Moreover, a patient is typically required to pay upfront for services and wait for reimbursement from their domestic insurance provider.
Because of the limitations of such coverage, it is often beneficial to purchase Mexican travel insurance that provides emergency medical coverage during your stay. The particular type of travel insurance that is best depends on the expected length of your visit. Short-term visitors should look into travel insurance plans, while those planning on residing in Mexico for an extended period should consider an international health insurance plan. Mexican trip cancellation plans for tourists cover the cost of your Mexican holiday, including flights and hotel expenses.
Mexican Travel Insurance Plans
Before arriving, we've compiled a comprehensive guide on all things you should know and consider when it comes to safety guidelines and travel medical insurance for short-term stays in Mexico. Purchasing a Mexico travel insurance plan to cover your stay in Mexico will relieve unnecessary hassles.
Knowing what to look for in a travel insurance plan is important as well. Ensuring that the insurance company has the proper infrastructure in place to serve travelers is critical. One key component of this is a toll-free number that provides assistance in your home language 24 hours a day. Providing assistance in locating a doctor who speaks English or another language is another point to look into. If you are concerned about covering the cost of your trip if you have to cancel, consider one of the trip cancellation plans listed below.
Mexican Travel Health Insurance Plans
The Atlas Travel Insurance Plan is available to most nationalities (excluding Canadian and Australian citizens) and provides excellent benefits at an affordable price.  The Atlas plan provides travelers to Mexico with the following benefits and coverage: Flexible deductible options, hospitalization and outpatient coverage, personal liability, prescription medication, evacuation and repatriation, and mountaineering (up to 4,500 meters!), and trip interruption benefits up to $10,000. Covid-19 is covered as well.
Travel Insurance for Canadians and Australians Visiting Mexico
Canadians and Australians traveling to Mexico are not eligible for the Atlas plan listed above. A great alternative is the Seven Corners Travel Insurance plan.
Travel Insurance for US Citizens Visiting Mexico
Mexico is the number one destination for travelers from the USA. It is affordable, close, warm, and has great beaches. There are also risks that come with traveling to Mexico. US citizens need comprehensive travel insurance to cover any surprises while visiting. Here we recommend two travel insurance plans for US citizens visiting Mexico.
Trip Cancellation for US Citizens Traveling to Mexico
Travel Insurance for Visitors from the USA to Mexico
Read: Health Insurance in Mexico for US Citizens and Foreigners
Safety Concerns Facing Travel to Mexico
International news stations often cover stories on the tolls of the drug war in Mexico, and concerns about this potential safety issue often give would-be visitors pause. However, keep in mind that the violence related to the drug war is typically contained to those involved in Mexico's drug trade and Mexico's security forces; visitors to the country are rarely targeted. Paying attention to emerging news stories, traveling to Mexico during the day, and sticking to major highways can help mitigate the risk of falling victim to drug-related violence.
Pickpockets and bag snatchers are more common threats to visitors. Crowded buses and trains, bus stops and terminals, airports, local markets, and crowded streets and plazas in large cities are common locations for pickpockets to find their targets. These thieves generally work in teams to distract would-be victims. Staying alert to your surroundings, minimizing the cash and valuables you keep on your person, and avoiding having any expensive gadgets in plain view can lessen your risk of pickpocketing.
For the most up-to-date information about specific threats in particular regions, consulting the warnings issued by the U.S. State Department or U.K. Foreign Office can provide more detailed guidance for those about to leave for Mexico and those already in the country.
Vaccinations Required for Travel to Mexico
Mexico does not require that those entering the country show proof of vaccinations; however, certain vaccines are well-advised for all visitors due to common health concerns in the region, while those traveling to particular areas might need additional vaccinations.
Hepatitis A: Vaccination against hepatitis A is recommended for most travelers to Mexico as this disease can be transmitted via contaminated water or food throughout the country, whether you are planning to stay in a rural village or a luxury resort.
Typhoid: Like hepatitis A, typhoid can be contracted via contaminated water or food throughout the country. Vaccination is recommended for most travelers, particularly those who are planning to stay in a local's home, those who are visiting Mexico's rural areas and smaller cities, and those who enjoy sampling local, adventurous dishes.
Hepatitis B: Transmission of hepatitis B is possible via contaminated needles, sexual contact, and exposure to bodily fluids (such as blood). Vaccination is recommended for those travelers who are planning on getting a new tattoo or piercing or having a new sexual partner while in the country, as well as those who might have a medical procedure while in the country.
Malaria: Avoiding mosquito bites is the best way to prevent malaria. If you're planning on spending significant time outdoors–and particularly if you plan to camp outdoors–you may need to take prescription medication before and during your trip in order to prevent malaria.
Rabies: Bats, dogs, and other mammals throughout Mexico do carry rabies, but the risk is small for most travelers. However, those who are planning on spending significant amounts of time outdoors (such as hiking), those who are planning a long stay in a remote area, and those who will be working around animals are recommended to have their rabies vaccination up-to-date.
Water and Food Safety in Mexico
Mexico's water supply is known to cause issues with tourists. It is important that you exercise every possible caution when using tap water. Brush your teeth using sealed bottled water, and inquire about the water and ice served in restaurants and bars. Be sure it is from a safe source. Also, you may not think of this but some juices or mixers in drinks are made with water, you should probably stay away from them. It is safe to drink things that come out of a can or bottle, taps are best to stay away from.
In terms of food, take the same precautions that you would with any food. Make sure the meat is not undercooked and that you eat in popular places as they will not have food that is laying around too much. Eating salads and raw vegetables can be risky, however. Both of these need to be washed and you can assume they will be washed in Mexico's water supply. Be careful.
Travel to Mexico with Medication and Visiting Pharmacies
The airport TSA usually requires that you carry your prescriptions in their original bottle and have a note from your doctor or a copy of the prescription. You are only allowed to bring enough medication that you need for the length of your stay.
It is suggested that you bring an antidiarrheal medicine with you in case you run into an issue. If you forgot it or could not get it in time, visit a local pharmacy to buy an over-the-counter version.
Finding Emergency Assistance in Mexico
The primary number for all types of emergencies in Mexico is 911; calling this number will connect you with emergency assistance from the police, fire department, or doctors as needed.
In certain emergency situations, your home country's embassy or consulate can provide invaluable assistance. Over 80 countries maintain embassies in Mexico City; here are links to the contact information for some of the largest:
Resources for Travel to Mexico:
Related:
Author: Joe Cronin, Founder and President of International Citizens Insurance. Mr. Cronin, a former expat, is an authority in the areas of international travel, and global health, life, and travel insurance, with expertise in advising individuals and groups on benefits for today's global workforce. Follow him on LinkedIn or Twitter.