How to Keep Up To Date on Global Safety and World Health Updates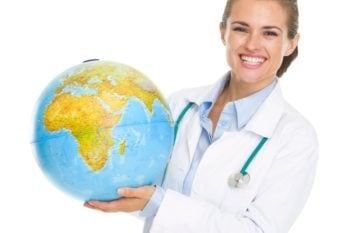 Before traveling internationally, it is important to understand whether there are any health and safety risks to be concerned about. Many countries have certain ongoing problems, such as a prevalence of a particular illness, that travelers should strive to prepare for in advance. When looking for information about a destination, check the following factors:
Are there any local diseases that require inoculation before you go?
Are weather conditions relatively safe and favorable for your trip?
How much violent crime takes place near your destination?
Is the government stable, with low unrest and high security?
How does the average person there feel about your country?
Of all of the potential risks that might befall a person during international travel, the risk of illness is perhaps the most serious. The human immune system is often not well-prepared to deal with bacterial and viral infectious agents found a long way from home. This being the case, it is important to take precautions and know what you are getting into.
Finding World Health and Safety Updates Online
As you plan a trip, it's a good idea to seek out world health and safety updates from trusted sources online. There are several organizations around the world that focus on providing safety updates to travelers, including some agencies of the U.S. federal government. As the date of your trip approaches, be sure to keep an eye on any warnings that might arise.
There are several valuable websites that you should be aware of:
The World Health Organization: The World Health Organization is the most extensive global organization focused on tracking and preventing the spread of infectious diseases. By searching for the name of a country in the top navigation bar's search box, you can get recent information on any particular health concerns.
The U.S. Department of State: The Department of State publishes recent travel advisories and warnings. Use the search phrase "travel advisory" in the search bar on any page to get results that include the latest information, or just visit the site's Alerts and Warnings Index to review current issues by country.
USA.gov: This official U.S. government website provides a wide range of content on how to safely travel around the world. Among other things, it can help American travelers find the closest U.S. embassy or consulate to get emergency assistance in various countries.
Using News Sources to Find Travel Warnings
Sometimes, there are concerns about a particular destination that don't quite rise to the level of an official travel warning. To find these, use your favorite news aggregators, such as Google News or The Huffington Post. Just search the name of your destination to find some of the latest headlines. Remember, each news item comes from a different site, so consider whether the source is a trustworthy one!
Also See: About Travel Warnings
Don't Leave Home Without Travel Insurance
At International Insurance, we strive to develop travel insurance offerings that will help protect you if you encounter a "worst-case scenario" while you are journeying abroad. Before you go on any trip – especially somewhere you've never been before – I hope you'll take the opportunity to review our offerings and gather the critical information you'll need to stay safe.
Also Read: